Community Health
How the annual Healthy Community Day brings free health care to a community
Healthy communities don't just happen. They must be built.
That's why an event called Healthy Community Day, held annually in June at one of The Ohio State University Wexner Medical Center's outpatient campuses, is so important. By providing free health screenings, medical care and community engagement, the event ensures that the free assessments have an immediate and critical impact on the health of the participants.
This June, Healthy Community Day was held on Columbus' East Side. It was likely the only time that many of the participants would see a doctor during the year.
"The aim of Healthy Community Day is to address the health issues associated with lack of access to care," says Mary Howard, DNP, RN, who grew up on Columbus' East Side and now serves as executive director of the Ohio State Wexner Medical Center East Hospital. "People who lack access to primary care providers often turn to emergency departments for non-emergencies. Additionally, lack of regular preventive care can result in emergency health visits to hospital emergency departments and increases the risk of disease, disabilities and even death."
Healthy Community Day started in 2000 as a health fair at Ohio State East Hospital. It's grown over the years to offer free health and wellness resources to hundreds of people at its new location, Ohio State Outpatient Care East. During the pandemic, it was transformed into a drive-thru health fair providing free flu and COVID-19 vaccinations, fresh produce and health information.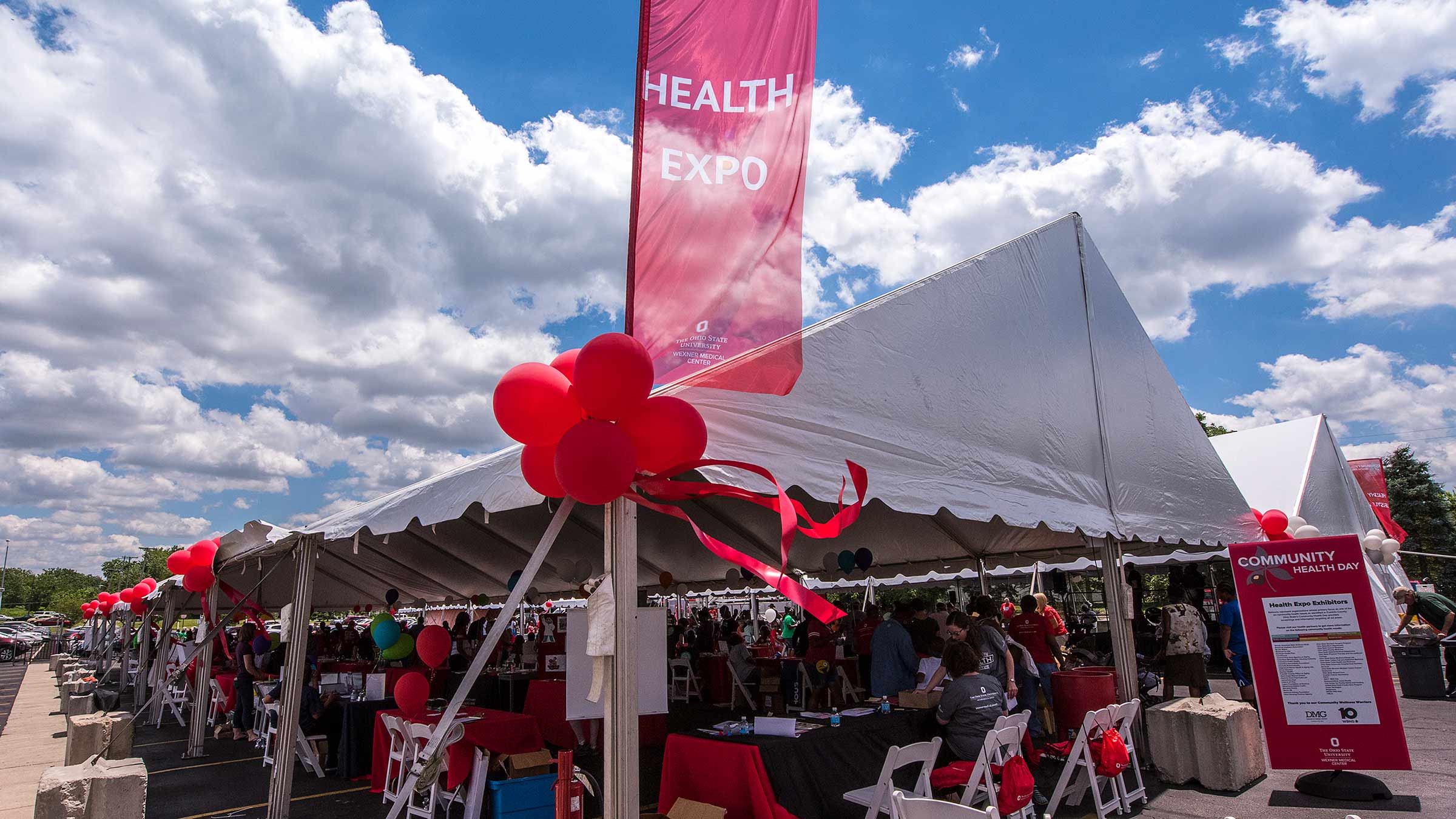 This year's event included free screenings and consultations, health information from more than 50 organizations, food and cooking demonstrations, fitness demonstrations and family entertainment. It allowed 650 people to connect with local services and educational resources; 300 people received health screenings, and 200 school-aged residents had sports physicals.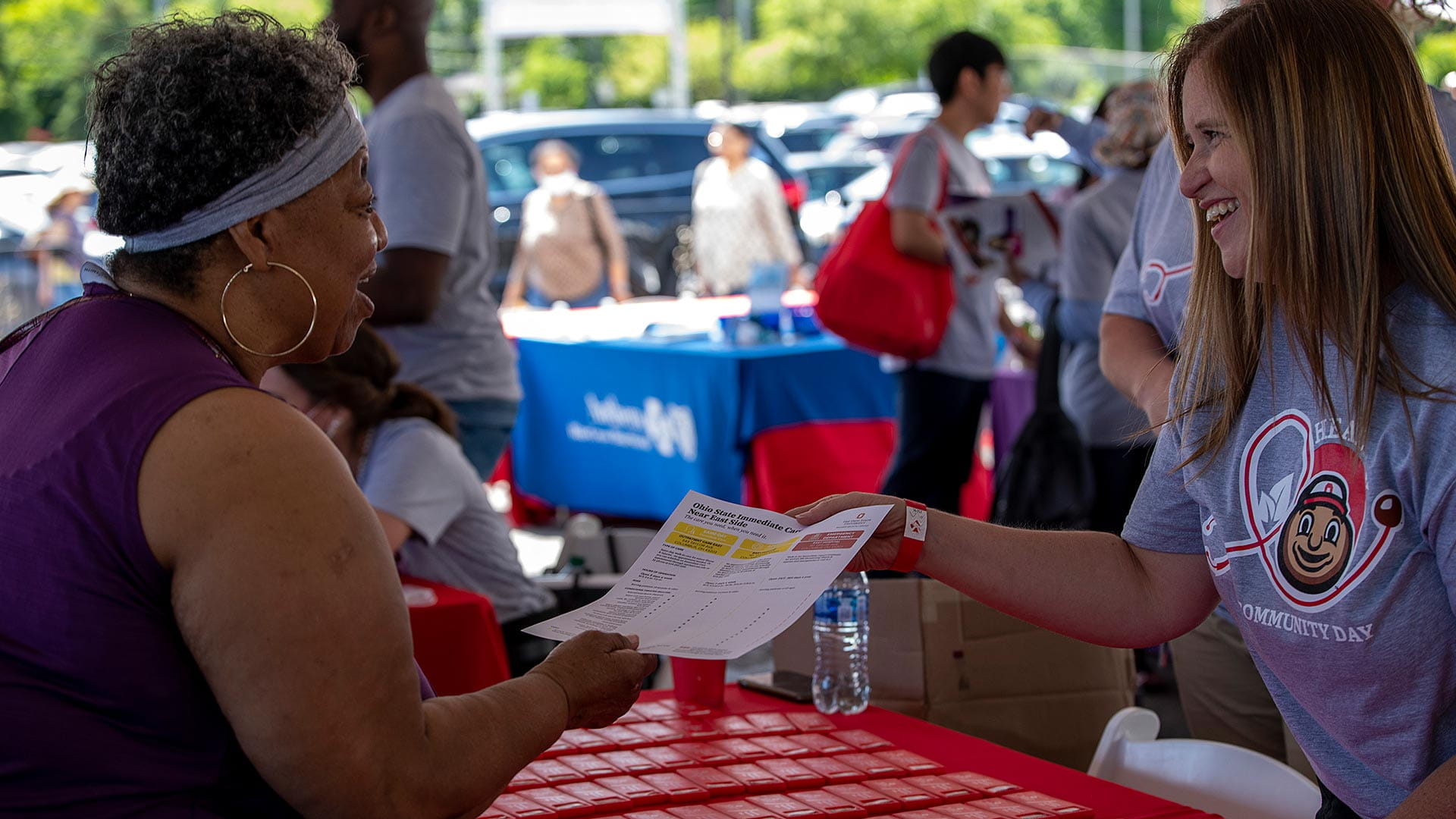 Columbus' Near East Side is a neighborhood in which social determinants of health — including access to health care and healthful foods, the availability of transportation, housing stability, income levels and education quality — can play a big role in the physical health of the residents, says Chasity Washington, director of Ohio State's Center for Cancer Health Equity.
The neighborhood is home to institutions such as the Lincoln Theatre, King Arts Complex, Martin Luther King Library and Maroon Arts Group BoxPark. The community also has the oldest Black faith congregation in Columbus and boasts five community gardens.
"Having Healthy Community Day in the community allows us to offer services right in the neighborhood where people live, work and worship," says Beth NeCamp, executive director of Civic and Community Engagement. "We also can partner with community-based organizations to make the day even better. For example, the Maroon Arts Group provided activities and crafts in the children's area, the East High School band provided entertainment and more than 40 community organizations were on hand to share information."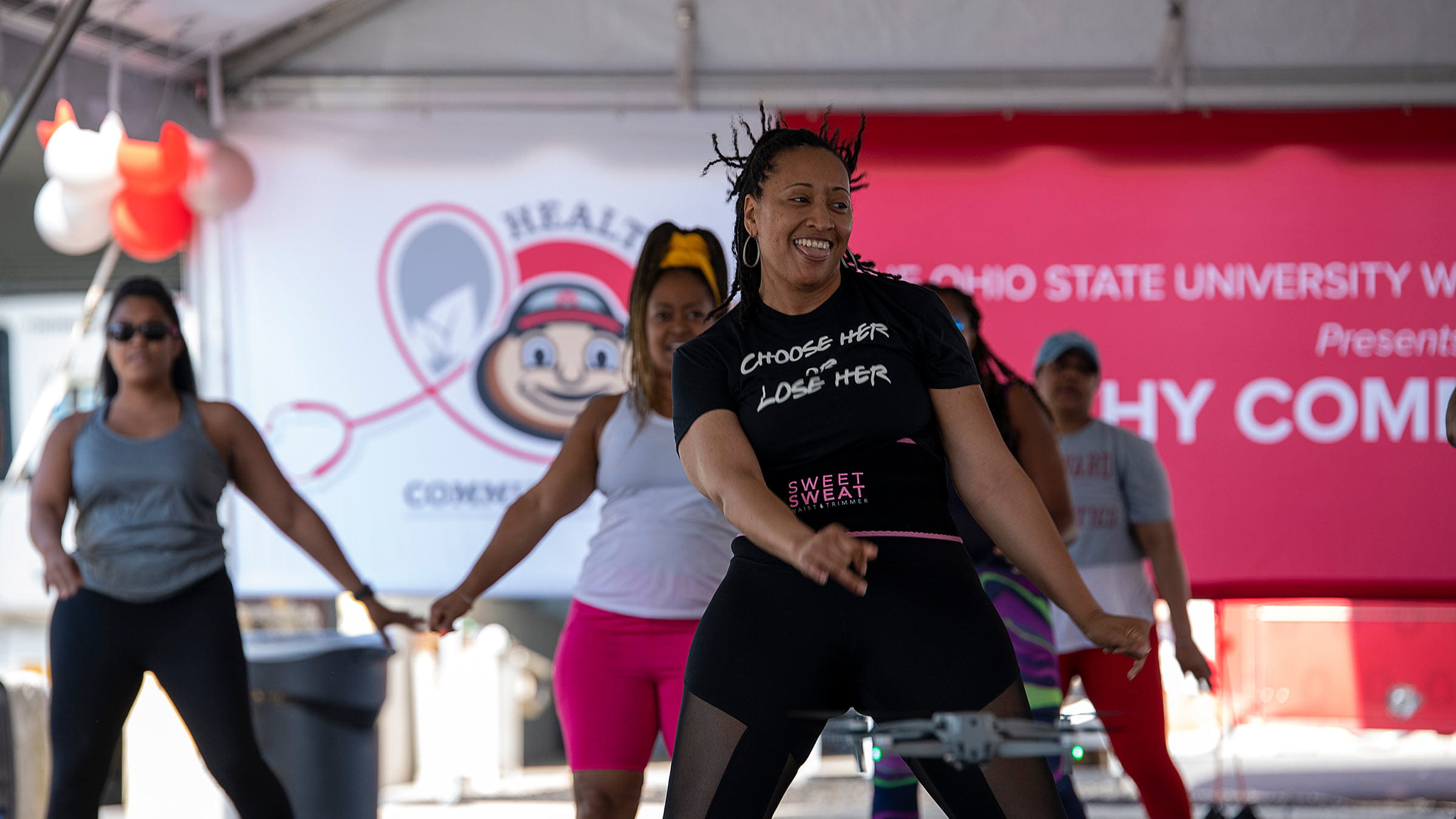 There was a huge variety of free screenings by experts from the Ohio State Wexner Medical Center. They included blood pressure readings, breast exams, vision tests and height, weight and body mass index data. Consultations were available in several areas, including dentistry, foot care, hearing, general health, medication review, smoking cessation and stroke awareness.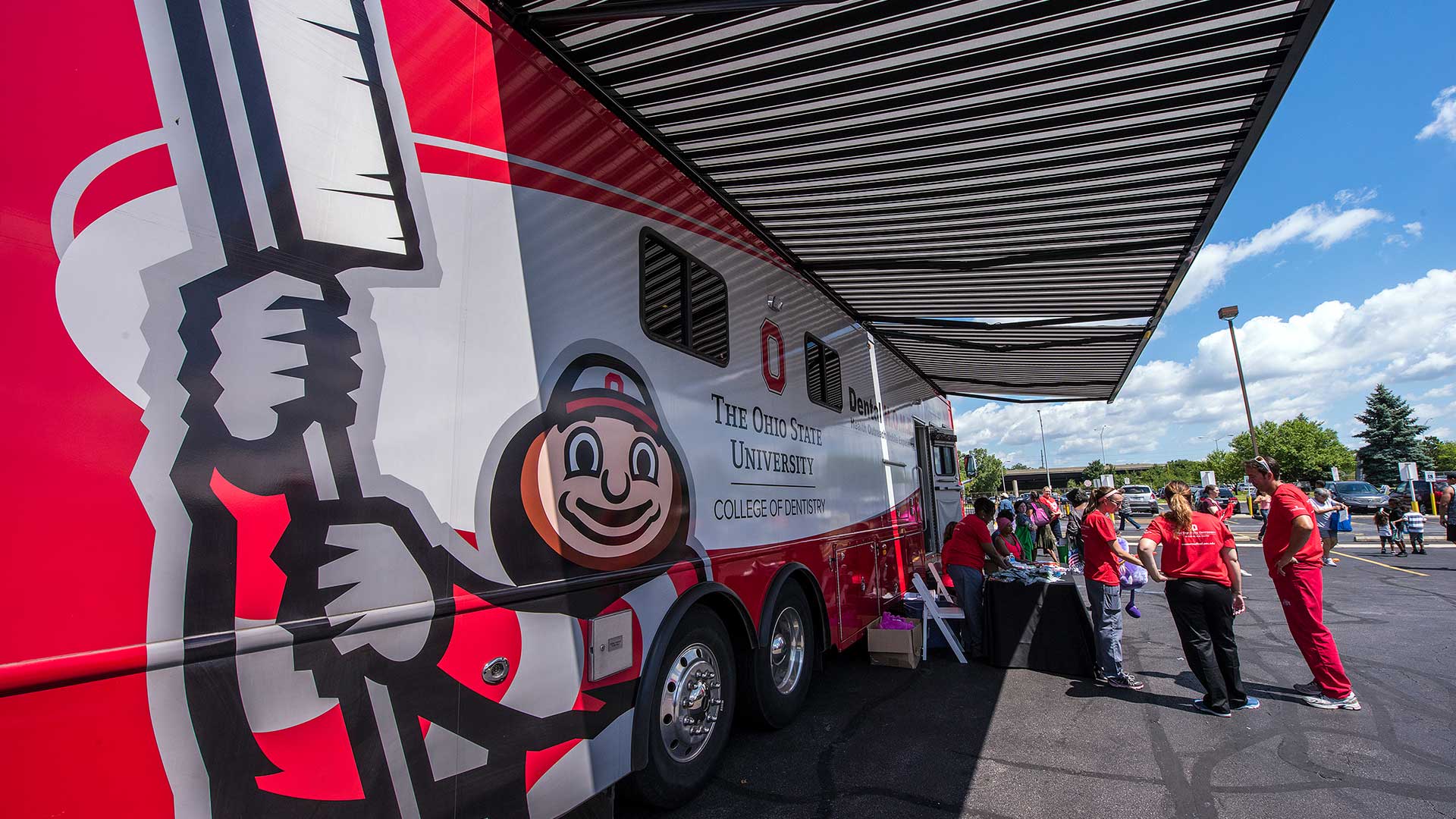 "The event is so wonderful," says Kamilah Dixon, MD, clinical assistant professor of Obstetrics and Gynecology in the College of Medicine and leader of the Wexner Medical Center's Moms2B program. "It's extremely important to show the community which resources are available and give them the opportunity to interact with various organizations."
The Wexner Medical Center's Moms2B program aims to reduce racial and economic disparities among expectant mothers in Columbus by providing them and their families with food, education and support. More than 22,000 babies die before their first birthday each year in the United States, and the infant mortality rate is twice as high among Black babies compared to white babies. However, experts say many of these deaths are preventable, and prevention starts with taking care of expectant mothers.
"What we have seen in Moms2B is that the consistency of our care and building trust are essential when it comes to connecting our moms to resources," Dr. Dixon says. "Often when you try to navigate on your own, it can be really overwhelming and time consuming. Having key organizations and screenings available on a Saturday while providing fun activities for the family and food creates a warm way for the community to get connected to the services they need.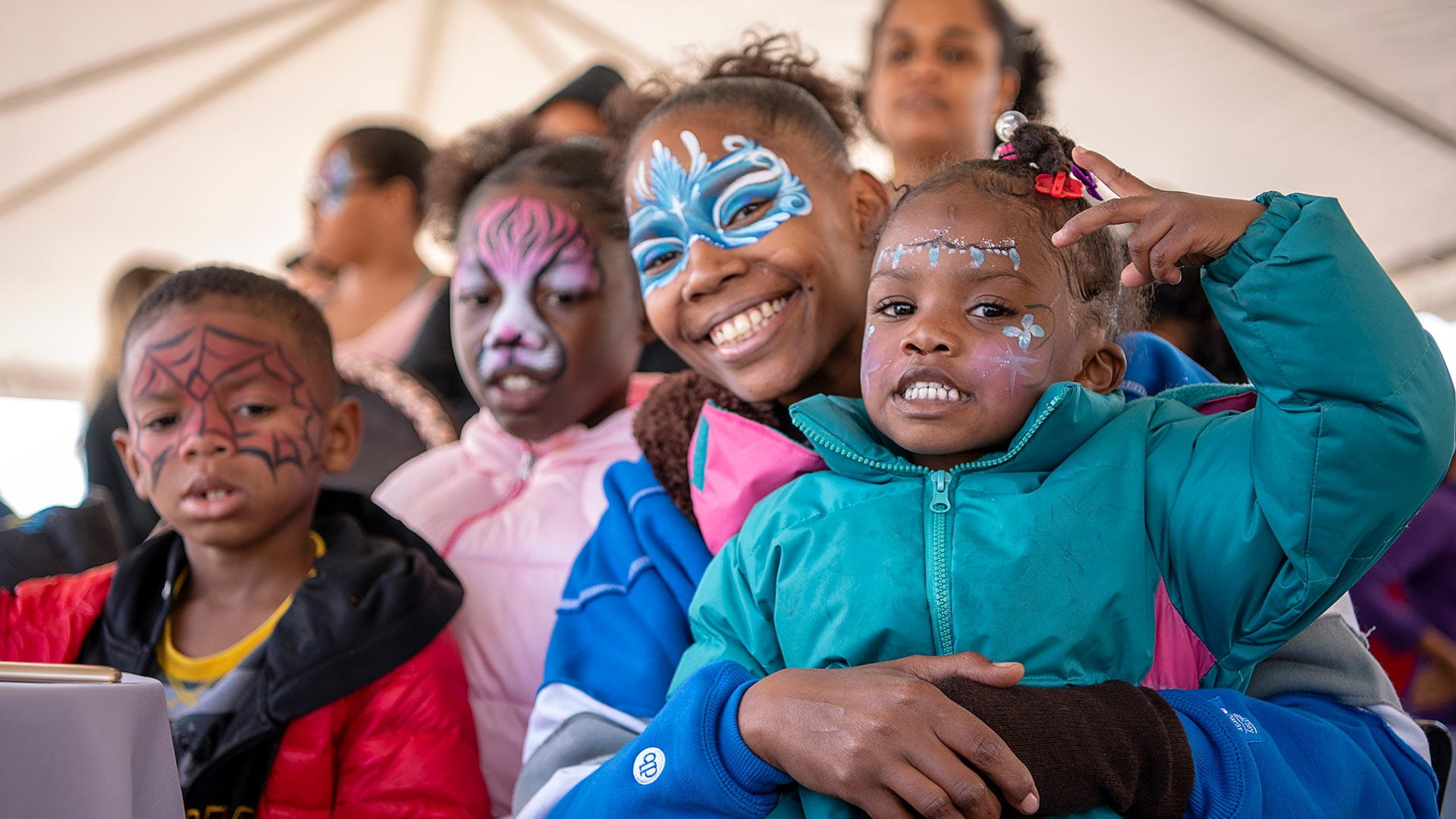 "I know from my practice and with moms at Moms2B, it can be difficult to make it to health maintenance appointments especially when you must travel far, have work constraints and can't find childcare. By creating a one-stop shop, Healthy Community Day helps bridge that gap and gets people connected to necessary health screenings to empower them to live healthy lives."
Being in the community is key, says Sophia Hammonds, MD, MPH, clinical assistant professor of Family and Community Medicine in the College of Medicine.
"Healthy Community Day has been a great intersection point for clinicians, the community and community organizations to get together and further promote the idea that good health is local, and it starts in the community," she says. "The health of individuals often follows the health and well-being of the community, so if I as a physician can understand the community that I serve at a basic level, I can then begin to truly treat the hearts of the matter — food insecurity, medical illiteracy and other social determinants of health — we then start to fight chronic disease with strength and power."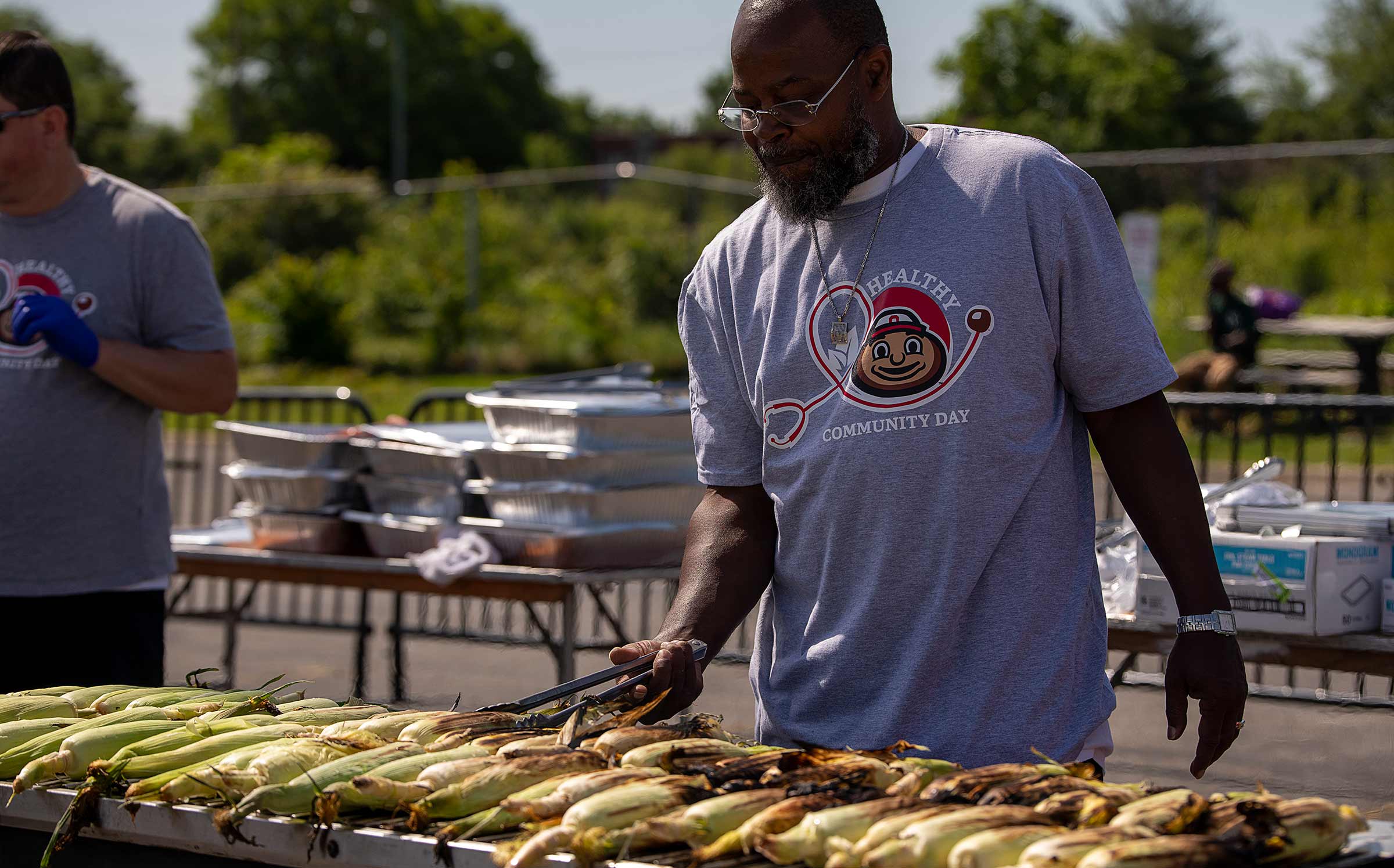 Volunteers across the medical center take part in Healthy Community Day, including Angel Edwards-Hedberg, RN, manager of Case Management in Ohio State's Department of Family and Community Medicine.
"Free health screenings offer so many opportunities to catch health issues early, such as hypertension and diabetes, but also things like hearing, vision and memory screening are so important to let patients know there are options for care," says Edwards-Hedberg. "Getting that physical and linkage with a primary care provider can be the start of a trusted health care relationship and open up avenues of support patients may not be aware of."
The event also offers medical students an opportunity to put what they're learning into practice. Ferdinand Vilson, a student in the Ohio State College of Medicine, screened community members for their vitals and performed stroke assessments. He said it's important to educate the community on practices that promote a healthy life for themselves and their loved ones.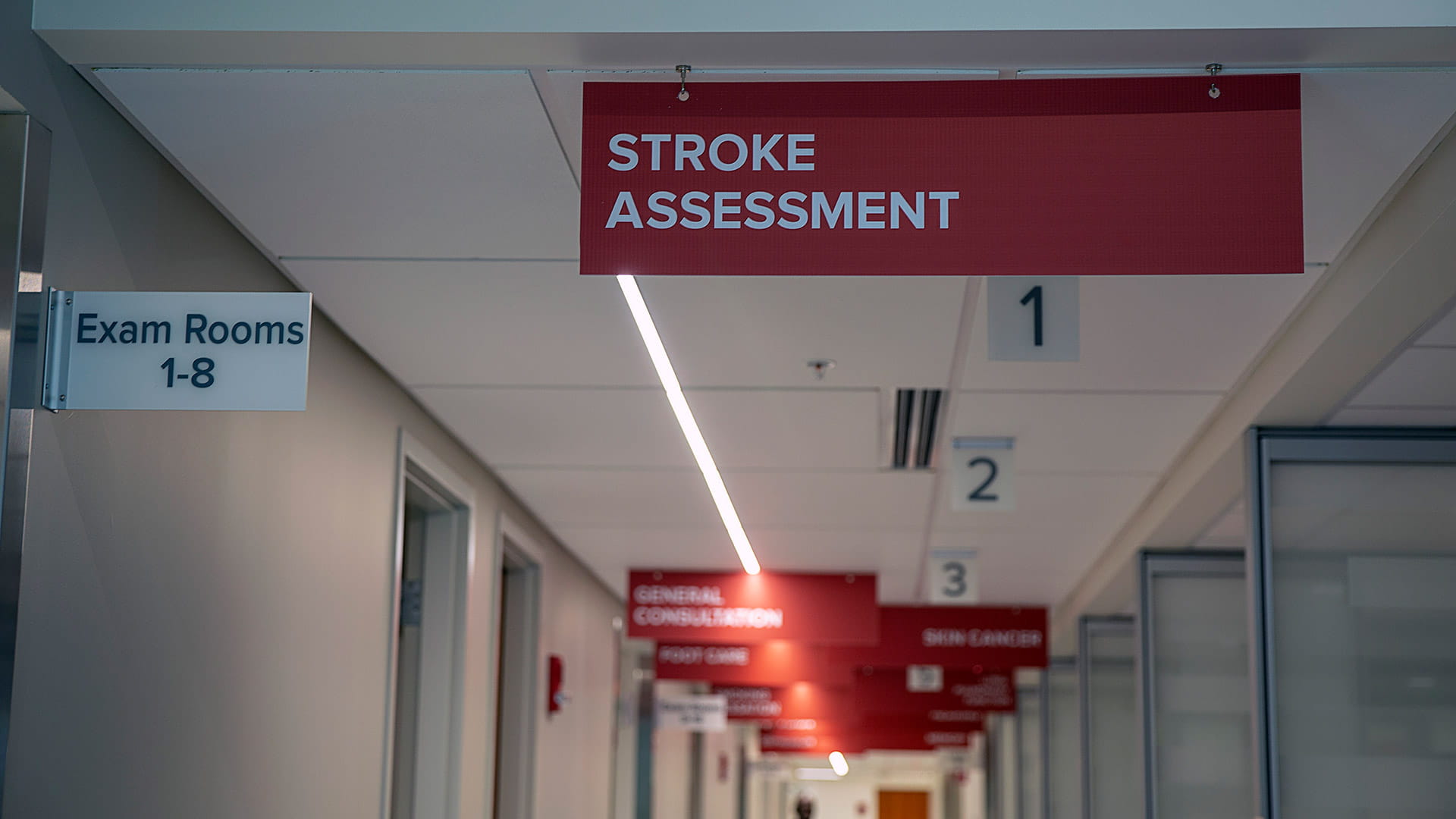 "Medical education doesn't just happen in the classroom — it happens every day in our lives," Vilson says. "I'm so grateful to have the opportunity to participate at Healthy Community Day because I want members of our community to know that we're just like them and we're advocates for health equity. This experience taught me the importance of being on the front lines of health care and the impact that it has on the longitudinal health outcomes of our patients."
The Ohio State Wexner Medical Center helps to provide increased access to underserved residents in several ways, including health fairs such as Healthy Community Day, free and reduced-cost clinics, clinics focused on specific ethnicities and underserved populations, health screenings for homeless people, screenings for those receiving mental health treatment, patient navigator programs and interactive programs for children in school.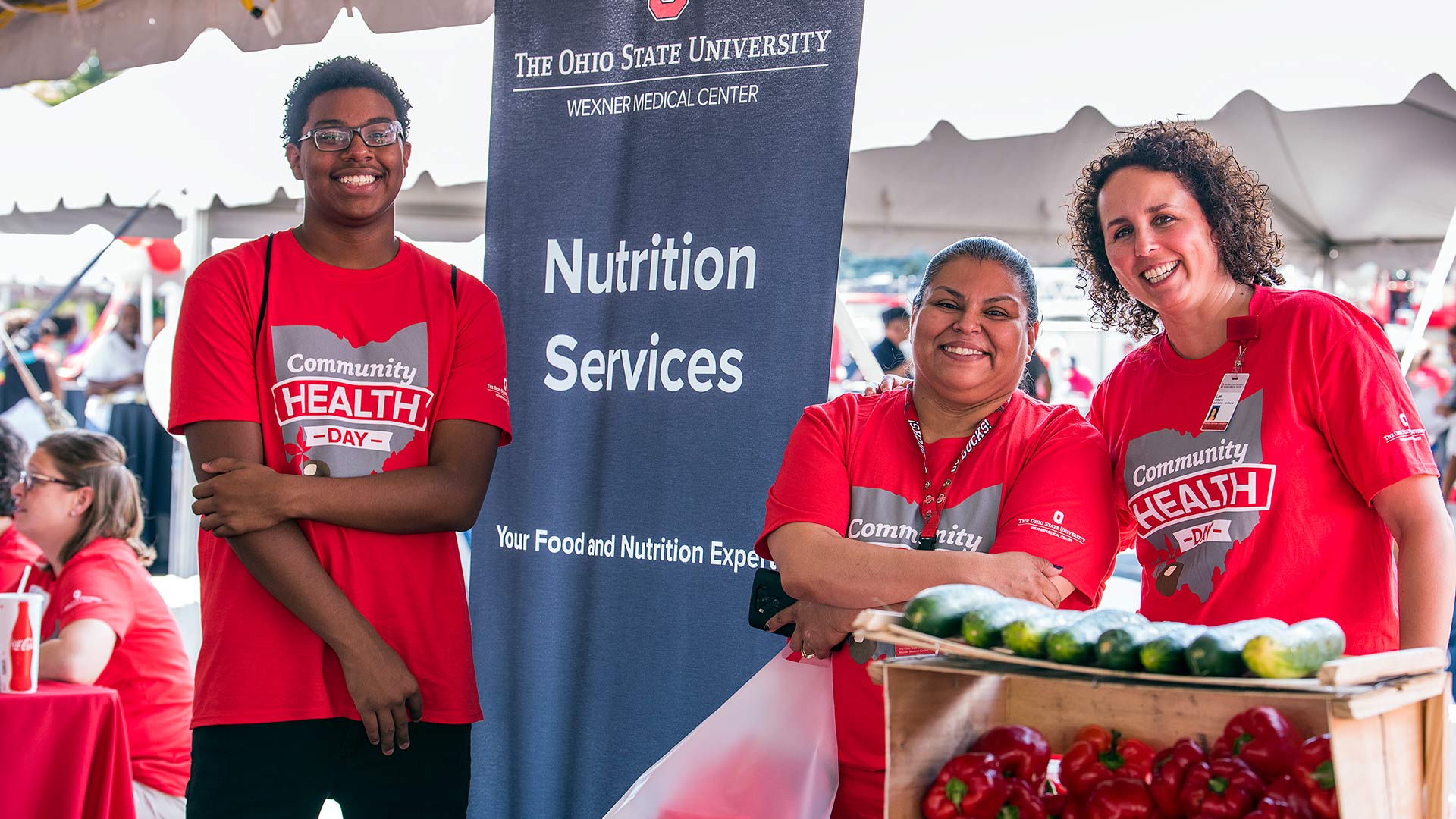 The medical center plans to open a healthy community center in spring 2023 on Columbus' Near East Side. The medical center purchased the former Martin Luther King Library there in early 2019 in alignment with the PACT Blueprint for Community Transformation, a long-term strategy designed to help the Near East Side prosper as a diverse neighborhood.
The center is intended to provide education, skills, knowledge and support and encouragement. It'll have a kitchen for food presentations and demonstrations for up to 50 people. These sessions will cover nutritional topics related to such diseases as diabetes, cancer, heart disease and obesity.
It all adds up to a commitment that the Ohio State Wexner Medical Center promises as an academic health center.
"By partnering with the community, we can all work together toward our mutual goals of improving health and prosperity," NeCamp says.
Committed to improving health and wellness in our Ohio communities
Learn How