Community Health
Building an increasingly anti-racist health care system benefiting Ohio State patients, staff and the community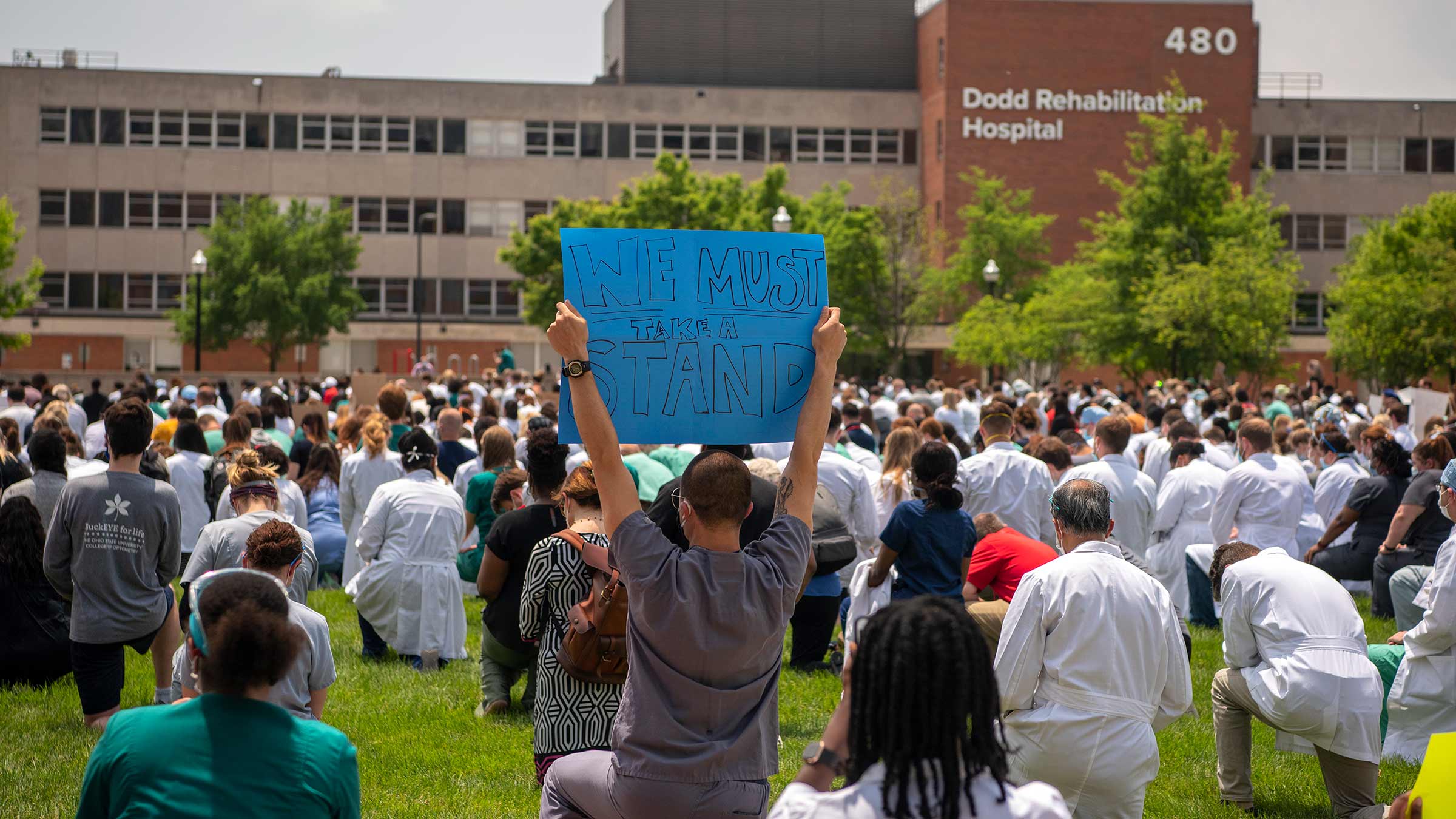 Editor's note: This article is part of a series for The Ohio State University Wexner Medical Center's 2022 Health Equity and Anti-Racism annual report. Read all stories in this series on the Anti-Racism Initiatives page.
---
Racism is a social determinant of health.
That's the declaration The Ohio State University Wexner Medical Center has made in response to overwhelming evidence that racism is a driving force behind inequities in where people live, work and learn, among other social determinants that lead to poorer health outcomes among communities of color, especially.
As an academic health center that has the power and influence to help rectify the racism present in society — but especially in health care — the Ohio State Wexner Medical Center in 2020 developed an ambitious Anti-Racism Action Plan (ARAP).
View the Ohio State Wexner Medical Center's Anti-Racism Action Plan (PDF)
The plan was designed to build a foundation for structural and systemic change, then carry out advancements in equity in health and well-being via dedicated action plan workgroups of passionate faculty and staff from myriad backgrounds.
Two years later, the medical center's focus is on sustained momentum, says Leon McDougle, MD, MPH, chief diversity officer and co-chair of the ARAP for the Ohio State Wexner Medical Center and associate dean for Diversity and Inclusion at The Ohio State University College of Medicine.
"The ARAP has served as a catalyst to drive innovation and collaboration across the medical center, The James and Ohio State's health science colleges, advancing justice, equity, diversity, inclusion and belonging in support of our mission to improve people's lives," Dr. McDougle says.
"Now, the momentum must continue. We have excellent leadership and service established by our many ARAP champions, and we're continuing to build an increasingly anti-racist culture throughout institutions of Ohio State's health sciences and health care system."
In the ARAP's second year, accomplishments include strides in diversity hiring, leader mentoring programs, protocols for discriminatory practices and new avenues to gather feedback from the communities we serve.
Anti-Racism Community Advisory Board
The Ohio State Wexner Medical Center's community advisory board was established this year, launching with its first meeting in March 2022. The goal of the board is to bring together voices from several central Ohio neighborhoods to help guide further development and implementation of the medical center's Anti-Racism Action Plan.
This group of citizens from diverse ethnic and socioeconomic backgrounds is able to give direct feedback and advice to the ARAP's nine action groups and oversight committee, says Beth NeCamp, MHI, executive director of Community and Civic Engagement for the Ohio State Wexner Medical Center.
"They're engaging in open dialogue about how to eliminate racism and improve health equity in the central Ohio community, and their varied perspectives and experience in community and civic engagement are so valuable," NeCamp says.
The nine inaugural community advisory board members were nominated by Ohio State employees, community leaders and partner agencies and approved by the ARAP's Oversight Committee. Their perspectives represent not just different central Ohio locales and different racial and ethnic backgrounds, but also different areas of passion, including the effects of racism on youth, food insecurity, addiction, housing and access to health care.
The advisory board will be asked to evaluate ideas from the ARAP's action groups and provide feedback based on their lived experience. The group is expected to grow, too, says NeCamp — community members who would like to join can be nominated or self-nominate by contacting Volunteer Services Associate Director Liz Solomon (Liz.Solomon@osumc.edu).
"We're really looking forward to working with and expanding this engaged group of community members that can help the Wexner Medical Center be better connected to the communities we serve," NeCamp says.
Buckeye Diversity Summer Internship
Welcoming its inaugural cohort in summer 2022 is the Ohio State Wexner Medical Center's Buckeye Diversity Summer Internship program. The initiative emerged from a proposal brought to the Employee Engagement and Advancement ARAP action group from Franklin Owusu, MBA, MPA, an administrator in Hospital Operations at the Ohio State Wexner Medical Center.
In this program supported and funded through the ARAP, five undergraduate students have the opportunity to participate in meaningful project implementations and volunteer opportunities in the Ohio State health system. The first cohort is made up of students from three different universities, all entering their senior years. Owusu says the program received immense interest in its first year from applying students.
"This is more like a compressed residency than an internship," he says. "They will be exposed to meaningful experiences and work in a variety of areas with executive oversight. We hope the students gain a wonderful experience during their time with us."
Each student is assigned to an executive mentor from the medical center:
Reducing bias in hiring and advancement
Among the Ohio State Wexner Medical Center's efforts to increase diversity and inclusion in hiring new talent for its staff is wider publicity of open positions on diversity-focused job forums. Medical center recruiters are now expanding postings and searches and holding virtual job fairs with sites dedicated to helping identify job opportunities for candidates who are Black, Asian, Latino, LGBTQ+, American Indian, native Hawaiian, veterans, women and those who have disabilities.
Talent management teams also have adopted artificial intelligence software that helps the writers of job descriptions correct unconscious gender bias language in these postings. Creating gender-neutral job descriptions helps recruiters find and fill positions faster, and it also encourages a more diverse applicant pool.
New tools to support staff safety
In September 2021, the Ohio State Wexner Medical Center updated its Patient Rights and Responsibilities policy to promote the medical center's stance that discrimination against patients, visitors and staff will not be tolerated. As part of this update, the ARAP's Patient Experience & Clinical Services workgroup developed a resource tool that helps support staff in clinical environments by helping them respond to and report incidents as well as find support more easily.
The resource tool includes scripting for staff who experience discrimination as well as for bystanders who witness it happening to others. Each response also offers three levels of appropriate escalation, such as contacting the medical center's specially trained Behavioral Emergency Response Team (BERT) for help, resolving conflicts with critical events officers or simply explaining and setting boundaries in patient environments.
"The strategies we have in place for medical center staff give them the tools to respond appropriately to a variety of situations, from discriminatory remarks toward staff to biased requests for a different provider due to race, ethnicity, gender identity and other demographic attributes," Dr. McDougle says. "This more effectively equips our workforce to respond to and prevent bias in the hospital setting."

New forums for learning
The ARAP's Faculty and Staff Training and Development action workgroup, building on a foundation of robust trainings in implicit bias and cultural competency, has launched an online experience called ARISE (Anti-Racism, Inclusion, Support, Education).
At hslguides.osu.edu/arise, visitors enter a museum-like online space designed to give them an immersive, safe area to explore, learn about and reflect on ARISE's topic areas, says Rachel Arpin, EdD, a learning and development consultant for the Ohio State Comprehensive Cancer Center – James Cancer Hospital and Solove Research Institute. Arpin helped lead a subcommittee dedicated to developing and launching the virtual experience.
"You can go directly to an art exhibit, the library or Reflection Café within ARISE," she says. "We currently have three exhibits (art, microaggressions and implicit bias) and would love to expand if there's interest."
Art exhibits include pieces from the Smithsonian as well as local central Ohio art.
"Because there are so many Ohio State resources in these areas, we wanted to make sure we partnered here to share the already-valuable resources and not just creating something all-new," Arpin says. "So, for example, we include helpful videos from The Ohio State University Kirwan Institute for the Study of Race and Ethnicity and Project Implicit's implicit association tests."
The goal, Arpin says, is simply to provide a safe space to further reflect on the education and values of the ARAP on individuals' own timelines.
Improving health equity through anti-racism efforts
Read More