Community Health
How Ohio State is responding to climate change and helping slow its effects through health care
Editor's note: This article is part of a series for The Ohio State University Wexner Medical Center's 2022 Health Equity and Anti-Racism annual report. Read all stories in this series on the Anti-Racism Initiatives page.
---
We're increasingly learning the extent of how much climate change affects public health. In April 2022, the United Nations released its latest findings from the Intergovernmental Panel on Climate Change, and it cautioned a future of "unprecedented heat waves, terrifying storms, widespread water shortages and the extinction of a million species of plants and animals" because of Earth's path toward higher and higher amounts of global warming.
Medical journal The Lancet also explained in its 2021 report on health and climate how these weather events and the extinction of animals have huge effects on the health of humans, through food shortages, increased rates of disease and temperatures that are too extreme for safety, for example.
That's why it's imperative that the health care industry and health care systems like The Ohio State University Wexner Medical Center take steps to curb their outsized carbon footprints.
Here's how Ohio State has progressed in the past year:
Influencing the future of health care through education
The Ohio State University College of Medicine's Sustainability in Medicine group, founded in 2018, is made up of students who are committed to making big changes in sustainable practices during their time studying to become physicians.
It began with local changes to the school environment, says Elizabeth Auckley '18 BA, Med 3, chair of the curriculum committee for the group — classroom recycling bins, LED lights, reusable dishware for student events, Earth Day celebrations and local policy advocacy work as well as volunteer efforts to plant trees and clean up litter. Their free composting program for medical students, launched in January 2021, diverted more than 15 tons of recycling and 61 tons of compost from landfills in a little over a year of implementation.
New this year is concrete progress to infuse medical school curriculum with environmental justice topics. A dedicated group of students, along with some faculty help, has created new coursework that spotlights climate change and health.
"If we're learning about health and medicine, this should be part of our medical knowledge — studies show that it affects our health in all populations and all generations," Auckley says. "We need to advocate for our patients, many of whom are part of vulnerable populations who are most adversely affected by climate change."
"Physicians tend to be among the most trusted voices for the public. Patients need our voice as doctors to advocate for changes on their behalf and really vocalize how profoundly climate change impacts their life and health."
Starting summer 2022, the revised curriculum for first- and second-year medical students involves weekly small-group sessions that will, for example, incorporate information about air pollution into lessons on asthma care, reworking a provider's approach to a patient encounter, placing greater focus on environmental hazards that pose negative impacts.
Third-year students who will go into clinical rotations (rotating for each of three semesters) will spend part of their semester orientation weeks learning from expert lectures on environmental justice issues, such as from an anesthesiologist on how they can "green the OR (operating room)" or Sustainability and Strategic Services Senior Director Aparna Dial detailing sustainability in the health care industry.
In the fourth year, every student takes an advanced competency course that's a four-week elective, Auckley says, and one new option beginning fall 2022 will be a Climate and Health course on climate change, climate-related acute and chronic illnesses, environmental justice and advocacy, and practical applications of these concepts in their careers.
The students also have developed scoring for the Planetary Health Alliance's Planetary Health Report Card that measures Ohio State's success in sustainable initiatives, providing a valuable benchmark for goals and comparing against other schools across the world. The Ohio State College of Medicine's lowest score for 2021-2022 was in curriculum, highlighting an opportunity for growth.
That had energized the passionate students even more to help the school create climate-conscious physicians, says faculty advisor Claire Bollinger, PhD, a clinical instructor in The Ohio State University School of Health and Rehabilitation Sciences.
"We want our physicians to get to the correct diagnosis and treatment plan for a patient as quickly as possible, and for patient-centered care to be as compassionate and appropriate as possible," she says. "Anything we can do to improve their understanding of the patients' circumstances and the diseases they'll see — and they'll see even more climate-influenced diseases in the future — will help them become better care providers."
Auckley says the students are thrilled.
"We take an oath in medical school that includes 'do no harm.' We have a duty to prepare the best we can to combat the detrimental effects of public health crises like climate change."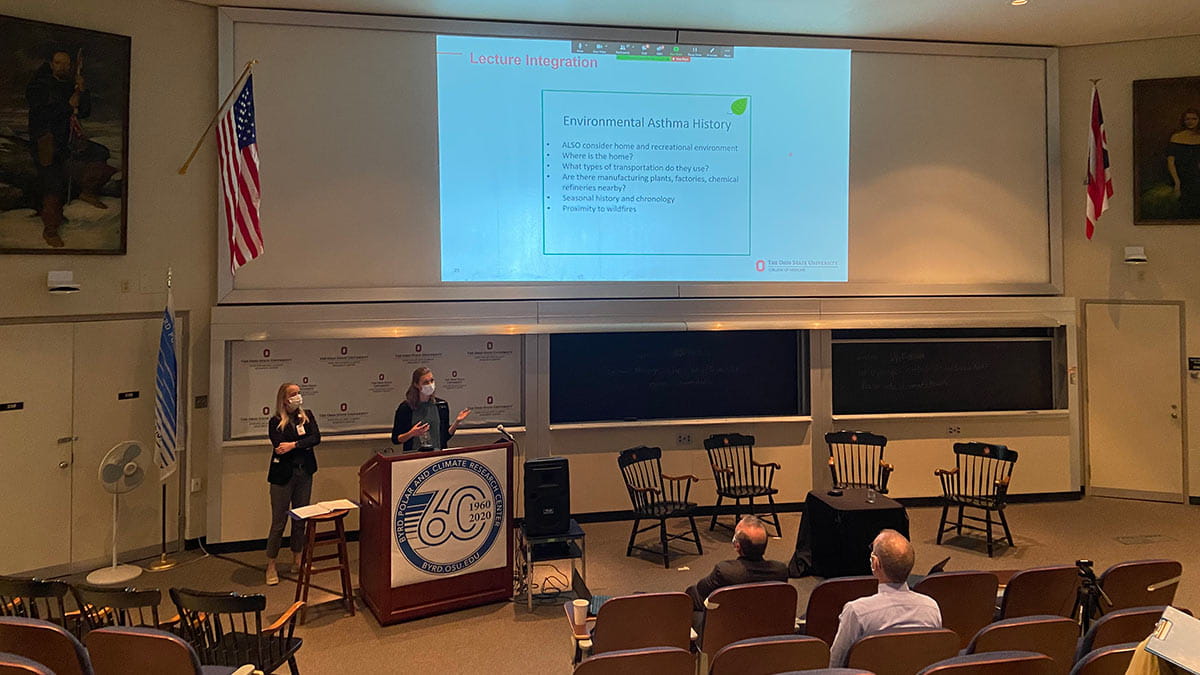 Workplace programs to champion green choices
The Ohio State Wexner Medical Center's Green Team employee resource group (ERG) is more than 700 members strong, full of faculty and staff throughout the organization who are dedicated to leading sustainability initiatives in their departments or units. Other operational leaders at the medical center are engaged through its Sustainability Council, a waste workgroup or an energy workgroup. Many of the successful ideas for carbon footprint reduction at Ohio State start with those working groups.
Earth Day 2022 celebrations included recycling and food waste webinars as well as a new compost-at-home program available to medical center employees. Faculty and staff were given more than 1,000 native tree saplings to plant at home, thanks to a partnership between the Green Team ERG and Ohio State's Chadwick Arboretum & Learning Gardens.
More-sustainable patient services
The Ohio State Wexner Medical Center has been "greening the OR," implementing new procedures to improve efficiency and reduce waste, particularly by nearly halving its use of desflurane, a gas anesthetic that has about 10 times the global warming potential as sevoflurane, a similar alternative. A "blue wrap" recycling program has helped recycle more than 5 tons of the blue sterilization wrap that protects medical instruments on their way to a procedure.
A waste diversion program also keeps hundreds of tons of food waste from the landfill by composting food and using a special biodigester. Surpluses of prepared food that never reach a consumer are sent to the Mid-Ohio Food Collective and other local programs — typically more than 10 tons each year.
The Ohio State Wexner Medical Center also champions renewable energy choices, green building practices and sustainable procurement. Hospitals purchase large amounts of supplies and services, and sustainable buying ensures that a percentage of the food purchased is from local businesses and farmers, that at least 80% of materials installed in medical center facilities meet defined sustainability criteria and that group purchase spending goes to mostly vendors that have at least one environmental attribute (such as containing stewardship-certified wood or post-consumer recycled content).
The Arbor Day Foundation has recognized the Ohio State Wexner Medical Center as a Tree Campus Healthcare Institution for three consecutive years, and the organization recently joined the U.S. Health Care Climate Council. In March 2022, the Ohio State Wexner Medical Center was one of 15 health care systems/hospitals recognized as a 2021 Climate Champion by Health Care Without Harm for sustainability achievements.
See the medical center's sustainability report for more on efforts to reduce its carbon footprint
Improving health equity through anti-racism efforts
Read More