Community Health
Ohio State community partnerships aim to identify disparities and improve health outcomes for Black men and women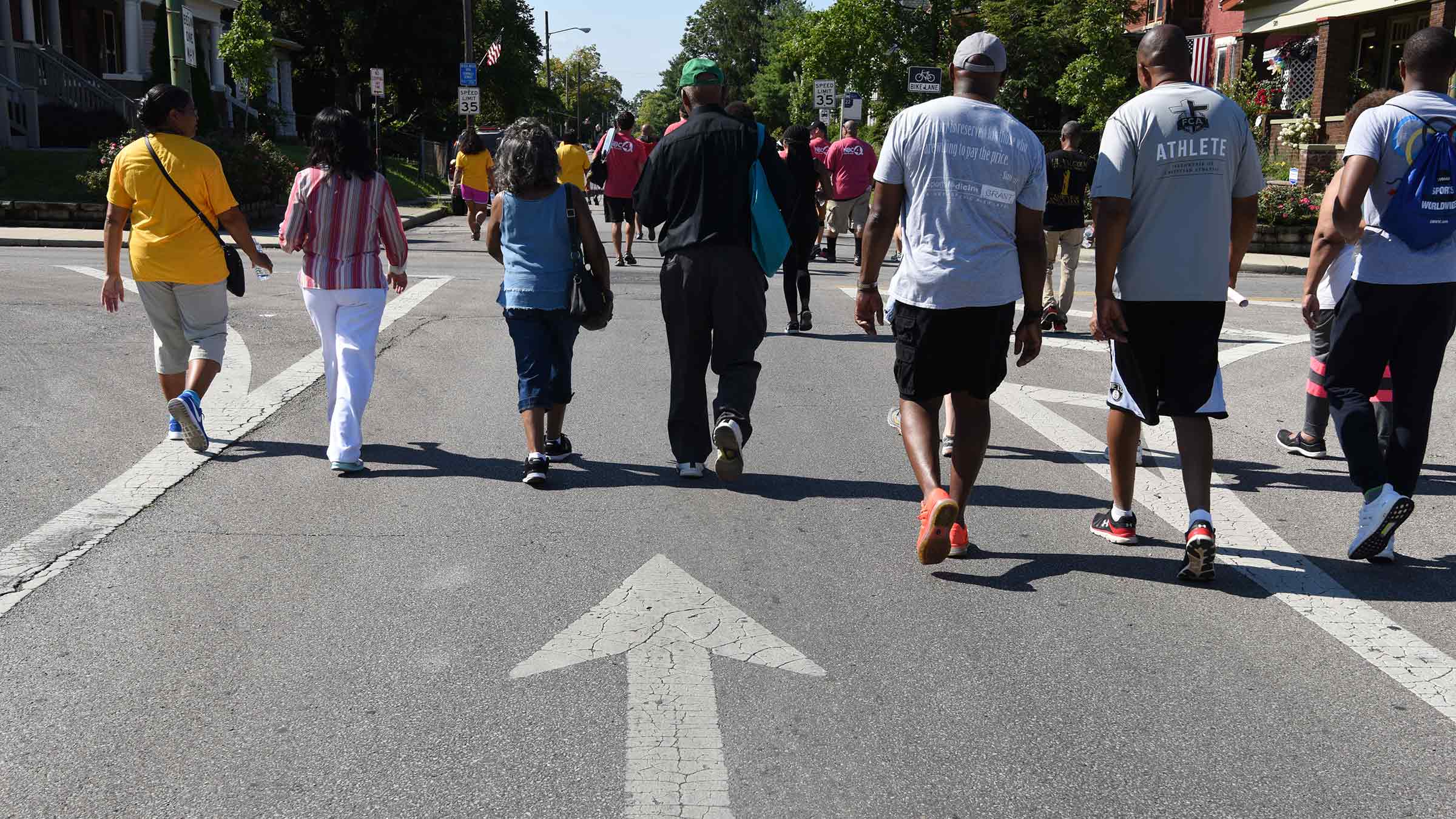 Editor's note: This article is part of a series for The Ohio State University Wexner Medical Center's 2022 Health Equity and Anti-Racism annual report. Read all stories in this series on the Anti-Racism Initiatives page.
---
Inspired to create a culture of health in the Black community, a team of researchers at The Ohio State University, together with local partners, is making strides in reducing risk factors for heart disease and diabetes among Black men and women.
On average, Black men and women experience higher rates of chronic diseases and are dying sooner than white individuals.
"Health has become a luxury, not a necessity afforded to all," says Timiya Nolan, PhD, APRN-CNP, an assistant professor in the College of Nursing at The Ohio State University.
Dr. Nolan is working with Joshua Joseph, MD, MPH, assistant professor of Internal Medicine at The Ohio State University College of Medicine; gastroenterologist Darrell Gray II, MD, MPH; and other clinical researchers to bring about better health outcomes for Black men and women in Columbus.
"It's our job as clinician-scientists to partner across sectors and find solutions that support health equity in our communities," Dr. Nolan says.
The team's work is having an impact. Using national data of defined risk factors for cardiovascular disease and diabetes — and in partnership with community-based organizations and agencies — the researchers have built programs that go beyond simply telling people what to do to get and stay healthy.
"We're not only saying it's important to exercise or eat right, but we're also helping people modify their behaviors to be successful," Dr. Joseph says.
The most extensive program the team developed was created in partnership with the African American Male Wellness Agency, a long-standing Columbus community partner that engages more than 20,000 people each year for health and wellness events during its annual Men's Health Week. Called Black Impact 100, the six-month lifestyle program is built on the American Diabetes Association's Diabetes Prevention Program and the American Heart Association's Life's Simple 7 (LS7), an initiative that raises awareness about seven risk factors associated with cardiovascular disease.
Read other stories in this series from our Health Equity and Anti-Racism report
A study testing the effectiveness of the program took place between June and December 2020 and involved 74 middle-aged African American men in Columbus. The men's health was measured based on their LS7 scores for cardiovascular health: smoking status, physical activity, weight, diet, blood sugar, cholesterol and blood pressure.
"There's been a lot of work around these risk factors and cardiovascular disease, specifically, but we wanted to know how these factors — all seven, not just blood sugar — affect a person's risk for diabetes," Dr. Joseph says.
The men met weekly for exercise and health education. By the end of the study, they, on average, experienced a nearly 1-point increase in their LS7 cardiovascular health scores, which is significant. A 1-point increase is associated with 18% lower risk of stroke and 19% lower risk of heart attack.
"Through academic-community-government partnerships, we're building trust with community members and helping people modify their behaviors to improve heart health," Dr. Joseph says.
Building upon the success of the Black men's health study, the study's organizers are now also focusing on improving the health of Black women, starting with education and resources at community health fairs.
These events offer cancer awareness and screenings, dietary education, physical activity and clinical trial information. The health fairs also offer education and screenings for the LS7 metrics.
The first event, called "Uplift Her," was held in August 2021 and organized in partnership with the National African American Male Wellness Agency.
Aiming to improve heart health among local Black women, Dr. Joseph and Dr. Nolan will track and examine the same risk factors and metrics among Black women in Columbus as they did with Black men, to assess and improve their cardiovascular health.
"If we get the interventions right, they'll not only be effective but also be well-implemented in daily life," Dr. Nolan says. "And that will increase our likelihood of bringing health equity to Black communities."
Improving health equity through anti-racism efforts
Read More