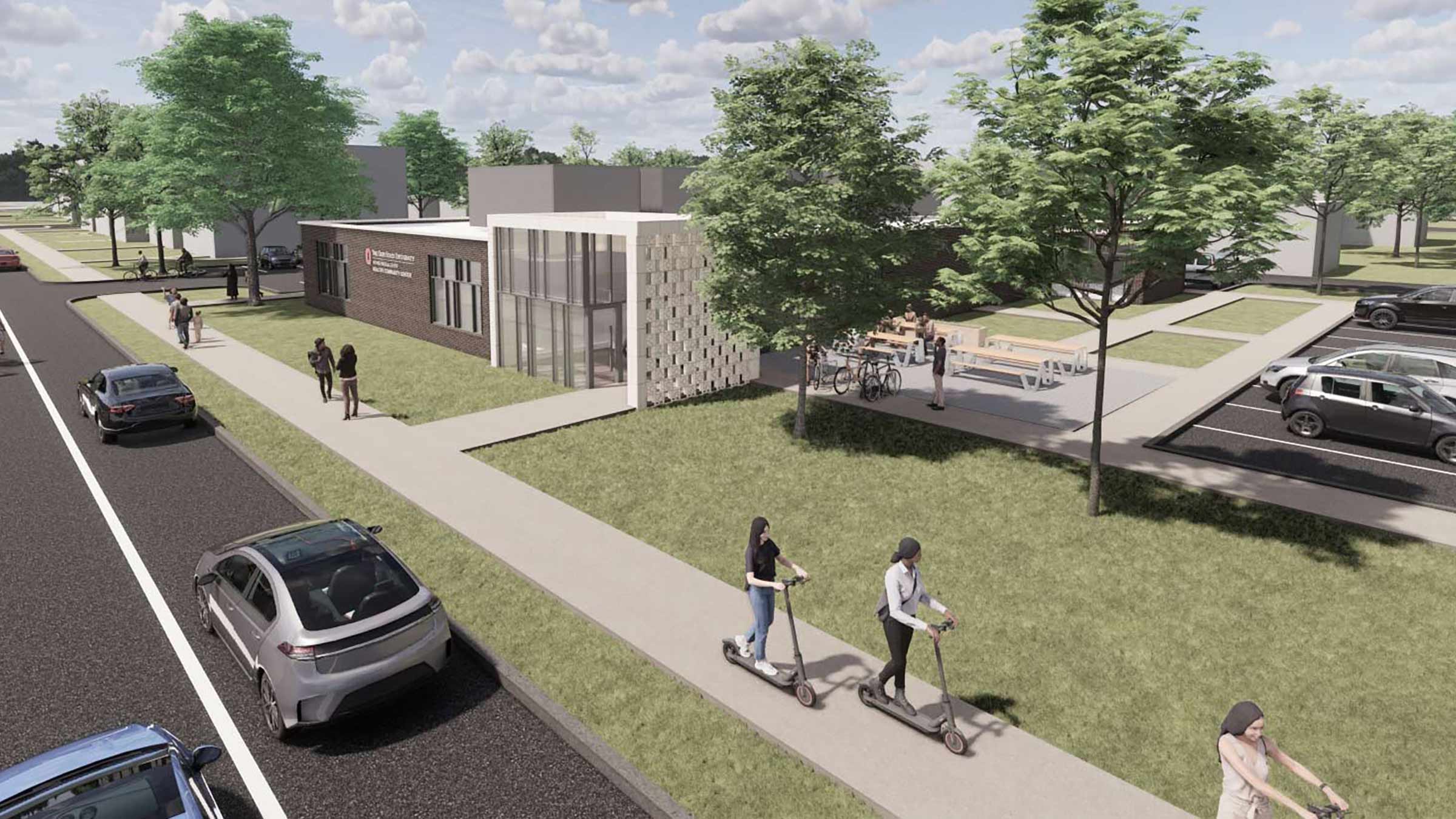 Editor's note: This article is part of a series for The Ohio State University Wexner Medical Center's 2022 Health Equity and Anti-Racism annual report. Read all stories in this series on the Anti-Racism Initiatives page.
---
The conditions where someone lives, learns and grows can affect as much as 80% of their health outcomes. Because of this, The Ohio State University Wexner Medical Center has invested resources to ensure that central Ohioans don't just have high-quality preventive health care and necessary medical treatments, but that they also have increasingly better resources to address social determinants of health — those underlying conditions that lead to differences in health outcomes.
Among the many Ohio State initiatives designed to meet these goals are new efforts in building a resident-centric Healthy Community Center; narrowing our "digital divide"; expanding access to fresh, nutrient-rich foods; partnering with central Ohioans to show how to grow and healthfully prepare those foods for their households; and preserving the richness of the Near East Side through homeowner programs, economic incentives and more.
Healthy Community Center progress near Ohio State East Hospital
On the previous site of Columbus Metropolitan Library's Martin Luther King Jr. branch at 1600 E. Long St. in Columbus, progress continues for a multipurpose center dedicated to filling gaps in resources for Near East Side residents, says Beth NeCamp, MHI, executive director of Community and Civic Engagement for the Ohio State Wexner Medical Center.
In January 2019, The Ohio State University purchased the location, which offers 8,900 square feet and is accessible from seven COTA bus lines.
Expected to open spring 2023, the Healthy Community Center will include:
A teaching/demonstration kitchen
A retail café
Rooms for class and community use
Wellness services
"Community members from the Near East Side are co-designing this center with us to ensure that needs will be met to truly improve health through education and experiences related to nutrition, cooking and growing, as well as career development in these areas," NeCamp says. "Together, we are creating a new community resource to create a healthier tomorrow for those who live, work and learn here."
Ohio State Wexner Medical Center physician Joshua Joseph, MD, MPH, who will serve as medical director for the community center, emphasizes that the focus here is on building wellness through food and nutrition.
"Promoting health through programming and helping people learn how to use food to prepare meals for their families is an essential component to building health and wellness across the lifespan," Dr. Joseph says.
While he notes the Healthy Community Center won't offer clinical services — Ohio State East Hospital and Outpatient Care East offer inpatient and outpatient services nearby — planned programs for the center will touch on a wide range of social determinants of health and advance prevention of chronic disease. Most important, he says, is that the community is engaged in co-designing and co-developing programming so that the center truly serves them.
A PACT to support and preserve the Near East Side
Equally invested in engaging with and supporting the residents in this area is Partners Achieving Community Transformation (PACT), an organization founded through an initial $10 million investment from the Ohio State Wexner Medical Center and focused on preserving the vitality of the Near East Side.
Launched in 2010, PACT is now rapidly adding new initiatives to its already robust list of programs, says PACT Executive Director Shayla Favor.
"It's time to bring the conversation back to the community and talk about how this community has changed, what we're still in need of on the Near East Side and what's the best way to make sure all residents are continuing to thrive — and that they're supported to remain here, if they wish," says Favor, who stepped into her role in November 2021.
"It's no secret that our neighborhood is changing as new development comes in," she says. "My goal this year is to dig deep on how we provide resources, whether financial or otherwise, to our neighbors to preserve the richness and history that exists here. That could be ensuring affordability for residents or for local businesses who want to operate here."
PACT's home exterior program, for example, continues to help residents stay in their homes by offsetting the cost of repairs — especially as supply chain issues and contractor prices have inflated construction costs. Seven homes in the past year received needed repairs and updates under this program, and the application for other local homeowners has widened to be available online at EastPACT.org.
Five community gardens operated by individual site managers under PACT's Growing and Growth Collective also help provide access to fresh fruits and vegetables, and Favor says they're currently seeking grant opportunities to provide additional support for the program.
"They're helping fill a void on the Near East Side," Favor says. "Each of these gardens serves a different population on the Near East Side, but they're all connected by providing better food access, teaching folks to garden and maintaining that strong historic connection to growing and farming that's imperative that we pass down to these residents who are predominantly Black."
The future is especially exciting, Favor says, now that PACT and the Near East Side were among nine cities nationwide to receive a $20 million investment from Fifth Third's Empowering Black Futures Neighborhood Program. About $2 million of this is dedicated to supporting efforts in housing, business and economic development and health initiatives, and $18 million is invested in small businesses, mortgage and neighborhood revitalization loans and investments.
"We're excited about what the next two to three years look like with this strategic investment," Favor says.
Bridging the "digital divide"
Where the internet once was an optional luxury for everyday life, it's now become a necessary tool for daily tasks, from paying bills to seeing a doctor. COVID-19 shined a bright spotlight on how many central Ohioans simply don't have adequate access to affordable, effective internet.
According to the U.S. Census' most recent data, about one in five Franklin County households didn't have a cable modem, DSL or fiber internet account in 2019. About 10% of the county's households had internet access only through their cellular data plan. Another nearly 10% of Franklin County households had no broadband access at all — not even through a cellphone.
People with limited access also were disproportionately older (65+) and nonwhite — 5.6% of white residents and 2.7% of Asian residents didn't have a computer or internet at home, but 11.3% of Hispanic/Latino residents, 11.8% of Black/African American residents and more than 20% of American Indian and Alaskan Native residents lacked access. Franklin County residents 65 and older accounted for about 30% of those without a computer or home internet subscription, despite making up only about 12% of the county's population.
But The Ohio State University Wexner Medical Center/PACT is working together with SmartColumbus to make digital equity a reality.
Cbus WiFi is a pilot to test different wireless internet services on the South Side and in King-Lincoln Bronzeville on the Near East Side. In spring 2022, the program's first group of participants received free, in-home Wi-Fi that will continue for a full year in exchange for completing two surveys. After the first 12 months, Wi-Fi is available to those residents for $20 a month or less, with no additional costs or cancellation fees.
"We analyzed the health needs of our patients who live in these areas and are now connecting Ohio State virtual programming in areas of greatest need, such as depression, diabetes and hypertension," says Dr. Joseph, who's working alongside NeCamp as an Ohio State representative in the partnership. "We know that participants in the pilots have access to devices, Wi-Fi and now want additional access to health care in a digital format. For our popular Exercise is Medicine program, those from the pilot who participate will also be able to use a wearable fitness tracker to share their progress. This program is helping decrease the digital divide by providing resources that were previously unavailable."
Improving additional programs to reduce food insecurity
Adequate nutrition is among the simplest needs for our bodies, yet more than 37 million Americans struggle to access food, effectively barring them from the first step to good health.
So in September 2019, the Ohio State Wexner Medical Center Department of Family and Community Medicine partnered with the Mid-Ohio Food Collective to create a "prescription" to better connect patients with the fresh produce and other nutrient-rich foods that they needed.
This Mid-Ohio Farmacy program gives Ohio State providers and staff the ability to screen and refer patients in need and issue a prescription card providing extra access to fresh produce at any of the Mid-Ohio Food Collective's 12 participating pantries.
"Food is health," says Aaron Clark, DO, a Family and Community Medicine physician at the Ohio State Wexner Medical Center and one of the Farmacy's prescribers — a champion of the program.
"Access to healthful food definitely improves health outcomes."
Fresh-food prescribers can now enroll patients at 10 Ohio State facilities:
As of March 2022, the program had enrolled more than 1,300 patients, generating well over 5,200 pantry visits, says Christine Harsh, MHA, director of Ambulatory Services at the Ohio State Wexner Medical Center.
There's been a dramatic increase in patient volumes and pantry visits, she says, likely due to the pandemic — COVID-19 changes led to more patients needing the assistance. As some restrictions lifted and more patients felt safer in public, the true demand for the Mid-Ohio Farmacy has become apparent.
"We continue to believe this program is very important to our patients and provides value by assisting to get fresh, healthy food into the hands of patients who otherwise may not have access," Harsh says. "We believe its success is, in part, due to the patient's health care provider being involved in their care and understanding not just their health status, but also the social determinants of health that influence a patient's ability to meet their health goals."
Ohio State's support for those who are food-insecure doesn't end with food access programs, though. Among several cooking demonstrations and nutrition education series led by Nutrition Services at the Ohio State Wexner Medical Center is the James Mobile Education Kitchen program, a food truck-style vehicle with hands-on education.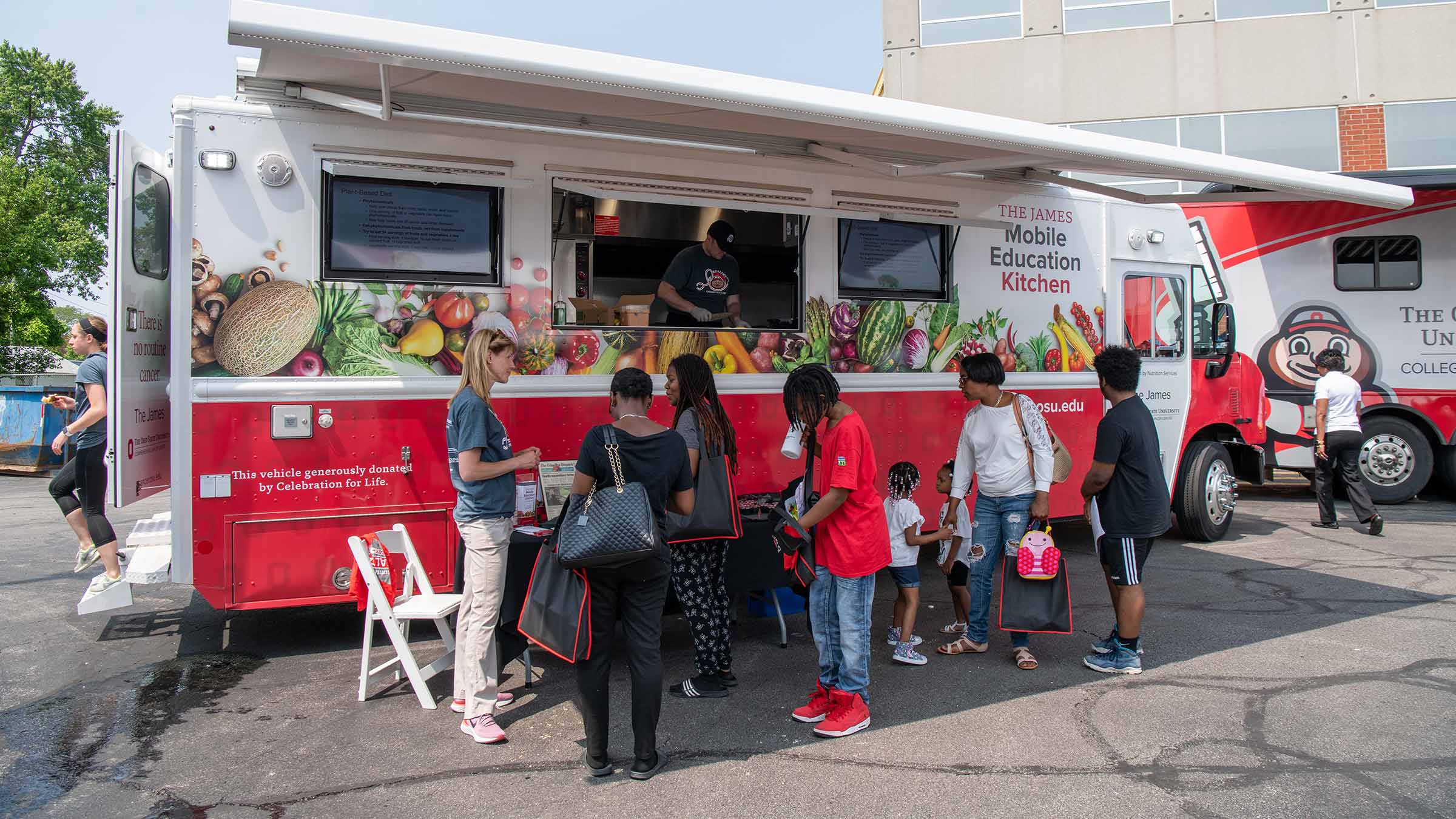 Through the mobile kitchen, medical center chefs and dietitians can show community members and food pantry recipients, in particular, how to cook food they receive.
"The team travels around central Ohio to hold cooking and nutrition demonstrations, showing people how to cook foods in healthful ways that they will want to eat," says David Brue, an executive chef and program director of Food Service Administration in Nutrition Services at the Ohio State Wexner Medical Center.
Between July 2021 and June 2022, the Mobile Education Kitchen culinary education team has led well over 100 events for the community, says Amy Patton, MHI, RD, associate director of Hospital Dietetics in Nutrition Services. Those events included Ohio State patient support groups, the Pearl Alley Farmers Market, wellness fairs, and events through Buckeye Wellness and the Ohio State Center for EMS.
"The COVID-19 pandemic forced many 2020 and 2021 events to go virtual, but the 2022 season is a hybrid, with many in-person events in addition to virtual demonstrations," she says.
Improving health equity through anti-racism efforts
Read More