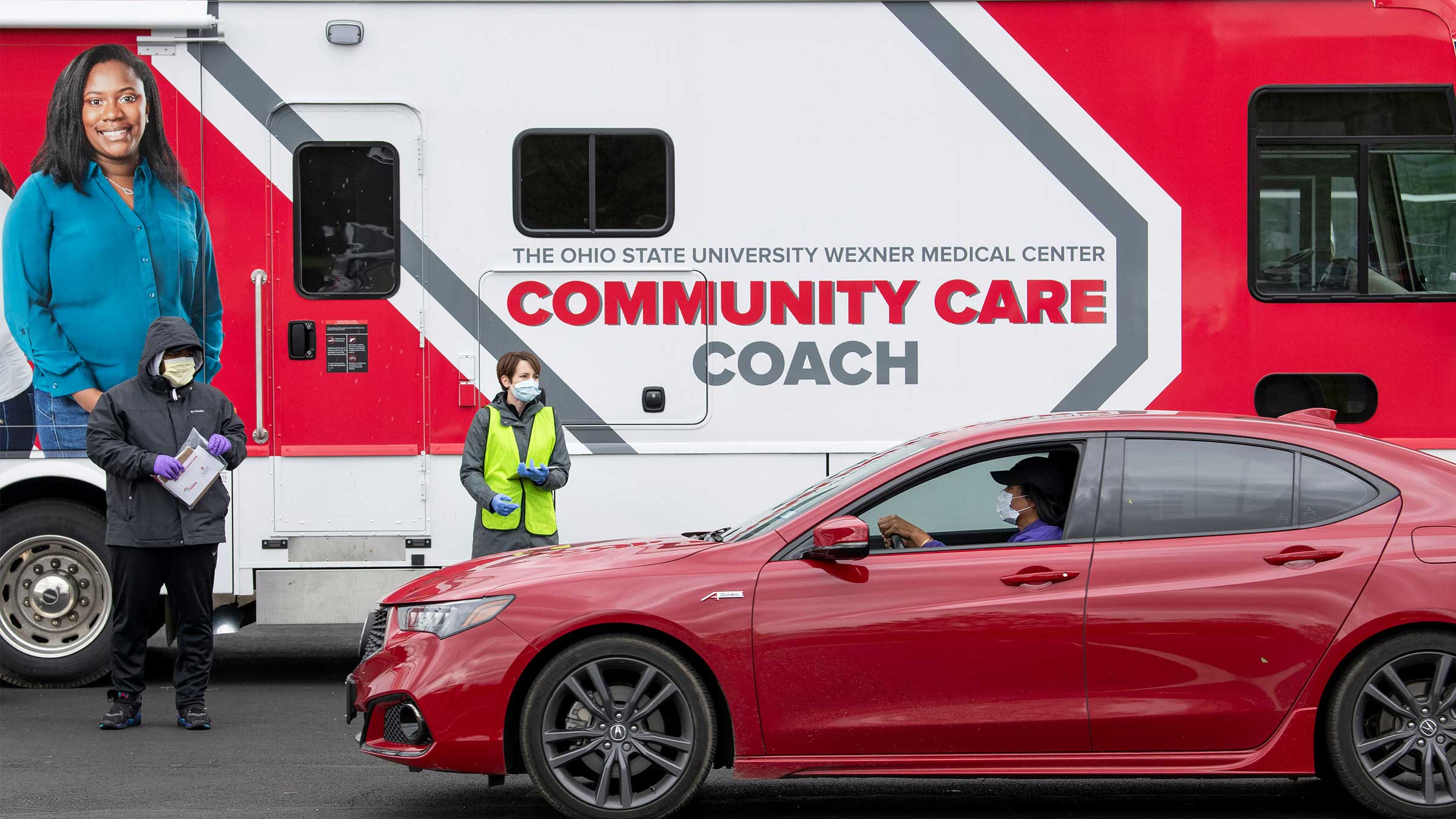 The Ohio State University Wexner Medical Center has delivered about 290,000 shots into the arms of central Ohioans since COVID-19 vaccines became available.
About 70% of those were given in the first four to five months, largely through mass vaccination clinics, says Ryan Haley, senior director of ambulatory services.
In line with Ohio's vaccine rollout plan, health care workers were among those receiving the first shots in December 2020, with vaccines available to Ohio State Wexner Medical Center employees at various locations. But after the first full day of administration, it was clear that a larger site would be needed to address upcoming community vaccine demands, Haley says. The vaccination plan team landed on the Jerome Schottenstein Center, a large event venue. Goals were to provide a quick, one-stop process that was user-friendly for people of all ages.
How the Schott became the place to get The Shot
Expanding availability of COVID-19 vaccines
When data showed that most of the people using the Schottenstein Center were white and not from ZIP codes of greatest need, a public vaccination center was opened at The Ohio State University Wexner Medical Center East Hospital on Columbus' Near East Side, says Beth NeCamp, executive director of Community and Civic Engagement, who led community-based vaccine efforts.
Tasleem Padamsee, PhD, an assistant professor in the Division of Health Services Management & Policy in the College of Public Health, led the team that created Community Vaccine Partners, a program that partnered the Ohio State Wexner Medical Center with faith-based and community organizations. The goal was to give priority and easier access to vaccinations to people with specific ZIP codes in underserved Columbus neighborhoods. Nearly 14,000 people from the priority neighborhoods received vaccinations, with more than 27,000 shots given at three locations.
Through the program, teams visited the neighborhoods to address concerns and share accurate information about COVID-19 vaccines. The medical center worked directly with community organizations to sign up people for the vaccine, asking for only name and phone number. Patient navigators then followed up with each person to help coordinate the visits and assist in removing barriers to access by providing transportation and interpretive services, among other needs.
Community health workers from the Ohio State Wexner Medical Center partnered with community groups to hold town hall meetings with a panel that included a physician who answered questions about the vaccine, says Jackiethia L. Butsch, senior outreach coordinator in Community and Civic Engagement. Additional doctors from East Hospital's emergency department held talks through Facebook Live.
At times, medical center community health workers went door-to-door to pass out flyers about the vaccine and schedule vaccine appointments, Butsch says.
Additionally, private spaces for vaccinations were added at mass vaccination sites to accommodate adherents of certain religions.
Q&A: Study shows many Black Americans overcame COVID-19 vaccine hesitancy
Looking ahead
As part of its efforts, the Ohio State Wexner Medical Center's state-of-the-art Community Care Coach also was used for vaccinations and other COVID-19 response activities, having debuted just two months before the pandemic hit Ohio. It makes three or four visits each week to provide walk-up or scheduled COVID-19 vaccinations, as well as primary care, in underserved neighborhoods, says Gloria Rudolph, practice manager of the Care Coach. The unit makes stops at the Shepard branch of the Columbus Metropolitan Library and All People's Fresh Market, and at Epworth United Methodist Church, where it also provides Ob/Gyn services.
Going forward, plans are to continue providing accurate information, debunking myths and alleviating access barriers to help encourage vaccination among those who are hesitant. This is done, in part, by physicians, other medical providers and community health workers who address the concerns of individual patients. Vaccinations continue to be available at many sites throughout central Ohio.
Ready to get vaccinated?
We have appointments available as early as today.
Schedule now