Community Health
The face of medicine is increasingly female
Ohio State College of Medicine is promoting diversity in health care to enroll more women in medical school and leadership positions.
When she was approached to author a poem in celebration of The Ohio State University Wexner Medical Center's new inpatient tower, Antoinette Pusateri, MD, had just finished her medical residency and was beginning a fellowship program in gastroenterology.
In her poem "To The Builders," she shared her vision of the hospital being not just the construction of a new tower, but the building of a diverse community.
"We are building up people … not breaking down worn structures … we are breaking the most lethal disease: past prejudice and lies."
For Dr. Pusateri, her art imitates her life. At Ohio State's Division of Gastroenterology, Hepatology and Nutrition, she's working to ensure equitable representation of women and those underrepresented in medicine.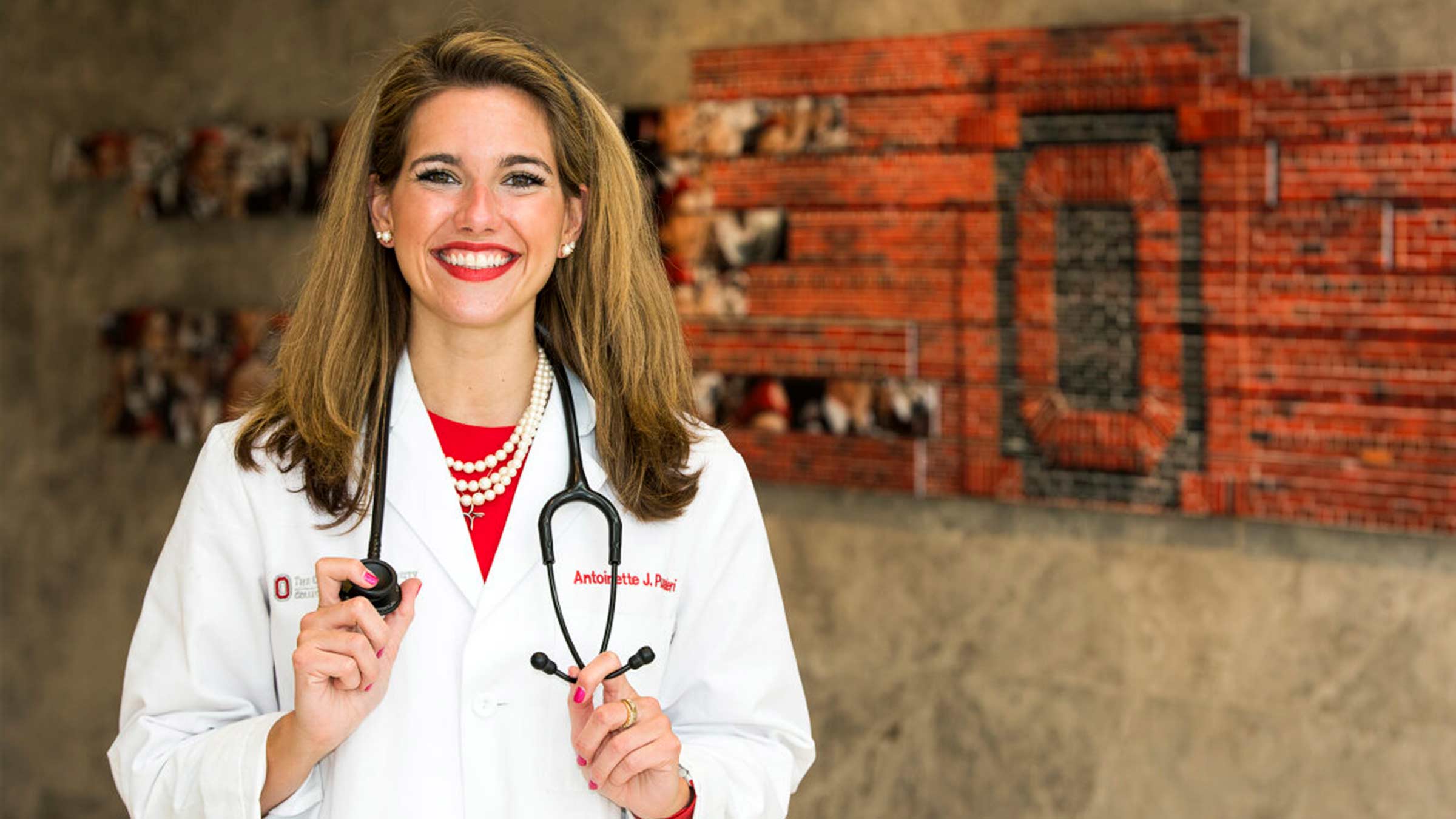 Carol R. Bradford, MD, MS, FACS, dean of The Ohio State University College of Medicine, says building a culture that celebrates and learns from differences of perspectives and experiences creates an environment where everyone thrives.
"We must continue to push forward, to teach people about inclusion, to remove barriers and to fully embrace diversity to advance equity in health care," Dr. Bradford says. "We have a proven track record of developing and supporting accomplished women learners, faculty, department chairs and deans."
According to Sean Kelly, MD, fellowship director of Gastroenterology at the Ohio State College of Medicine, their team has been deliberate in recruiting, selecting and supporting fellows who identify as women. A substantial portion of colleagues who serve on selection committees are also female.
"Typically, we interview 50 candidates and more than 40% are female," Dr. Kelly says. "We're not just checking boxes; we're ensuring these highly qualified applicants enter the field and help it improve."
Dr. Pusateri says she chose Ohio State because it advocates for diversity of thought and experience, which she says makes everyone better people and better doctors. When she entered the program, she was one of 10 female fellows to six male fellows, a significant shift from 2015 when there was one female fellow to 11 male fellows.
This year, Dr. Pusateri and Alyssa Drosdak, MD, will serve as co-chiefs of the fellows. The pair graduated together from the Ohio State College of Medicine in 2018.
Dr. Pusateri says she's looking forward to being a "big sister" to incoming fellows and driving home the importance of connection and support. Dr. Drosdak says that support is a testament to the cultural priority of physician wellness; here, peers support a trainee's growth in interpersonal skills, medical knowledge and procedural skills, which is key to helping them manage the struggle of learning to "do it all."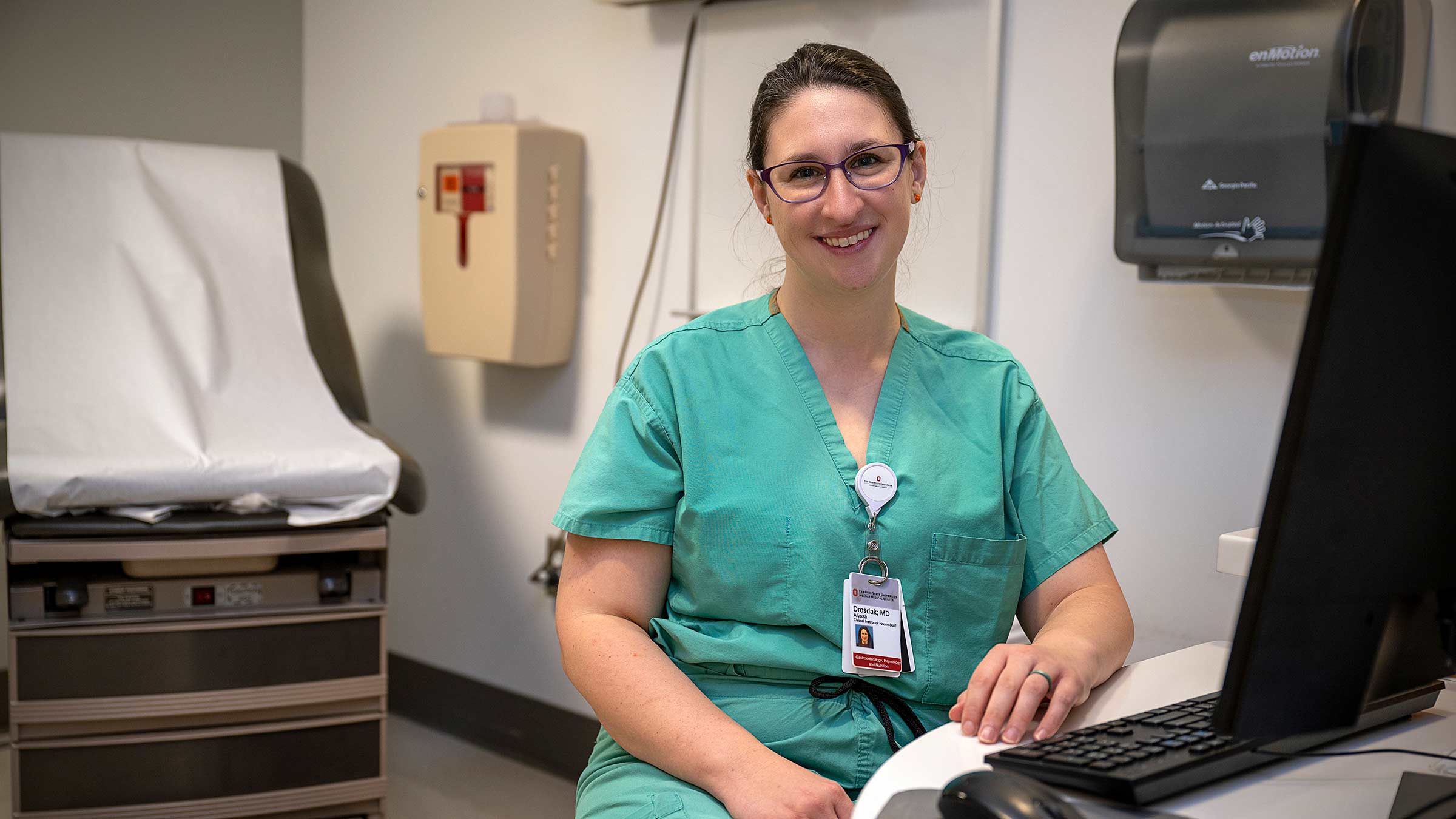 "Providing coaching and support in a genuine, unbiased way is what truly motivates me in my role," Dr. Drosdak says. "We have the opportunity to get to know each other as people, not just professionals, organically, so we can feed interests and strengths on an individual level."
Equity begins by training more women in medicine
That connection and support continues to grow for women as medical school enrollment evolves to reflect a higher percentage of female students than males, both applying to and being accepted into medical school.
"This year's incoming class of medical students is 53% female — the ninth year in a row that women have outnumbered men," Dr. Bradford says. "Additionally, 37% of Ohio State college leaders are female and 55% of the overall student population identify as female."
Encouraging women and under-represented trainees to enter and stay in competitive specialties in medicine is part of the college's mission to advocate for diversity and inclusion.
"I know you can build it higher … higher than the stakes … the expectations … we have generations to inspire!"
David Wininger, MD, professor of Internal Medicine at the College of Medicine, directs the internal medicine residency program, which holds an intentional focus on diversity, equity and inclusion pivotal in the recruitment and retention process for residents and faculty.
One initiative is "family dinners" where faculty from a variety of specialties and backgrounds can meet and build camaraderie. Dr. Wininger says it also elevates the need for cultural awareness and prepares residents to meet the needs of a diverse population.
The College of Medicine also has a unique MEDPATH Post-Baccalaureate Program that seeks to increase the number of medical students from disadvantaged backgrounds who indicate a commitment to practice in underserved communities
Tackling barriers to career growth
Despite these efforts, barriers still exist for professionals who want to further their careers in medicine, such as a failure to recognize family commitments that traditionally fall to women, and a lack of faculty who can provide same-gender mentorship to female medical students. However, times are changing.
"In the past, there used to be more of a clock ticking, where if you didn't get promoted in a certain number of years, then you were out of luck," Dr. Wininger says. "Now, there is more of an option to take a period of leave for a couple of years to have or raise kids, and then you can come back and still get promoted."
Simple changes can also have a big impact, such as having meetings restricted to business hours so physicians don't have to choose between taking care of family and being present at work.
The Women in Medicine and Science (WIMS) organization at the college helps women and faculty achieve career milestones and overcome barriers that impede success. Resources for mentorship and career development programs help members align career goals with work-life balance.
Big changes in the once-male-dominated field of cardiac surgery
Nahush Mokadam, MD, professor and director of the Division of Cardiac Surgery, recognizes that there are significant disparities between the number of males and females in cardiothoracic surgery — a field known for grueling hours and difficult work-life balance.
"Nationwide, about 7% of the cardiothoracic workforce are women, and of those, most are thoracic surgeons rather than cardiac," Dr. Mokadam says. "But at Ohio State, this is shifting as we take deliberate steps to bridge the gap between male and female representation in the field."
Dr. Mokadam says during this last interview cycle, four out of nine interviewees for the cardiothoracic surgery residency program were female, and six of seven current trainees are female.
"We talk the talk, and we walk the walk," Dr. Mokadam says. "We create opportunities that explain new opportunities that many have never even heard of."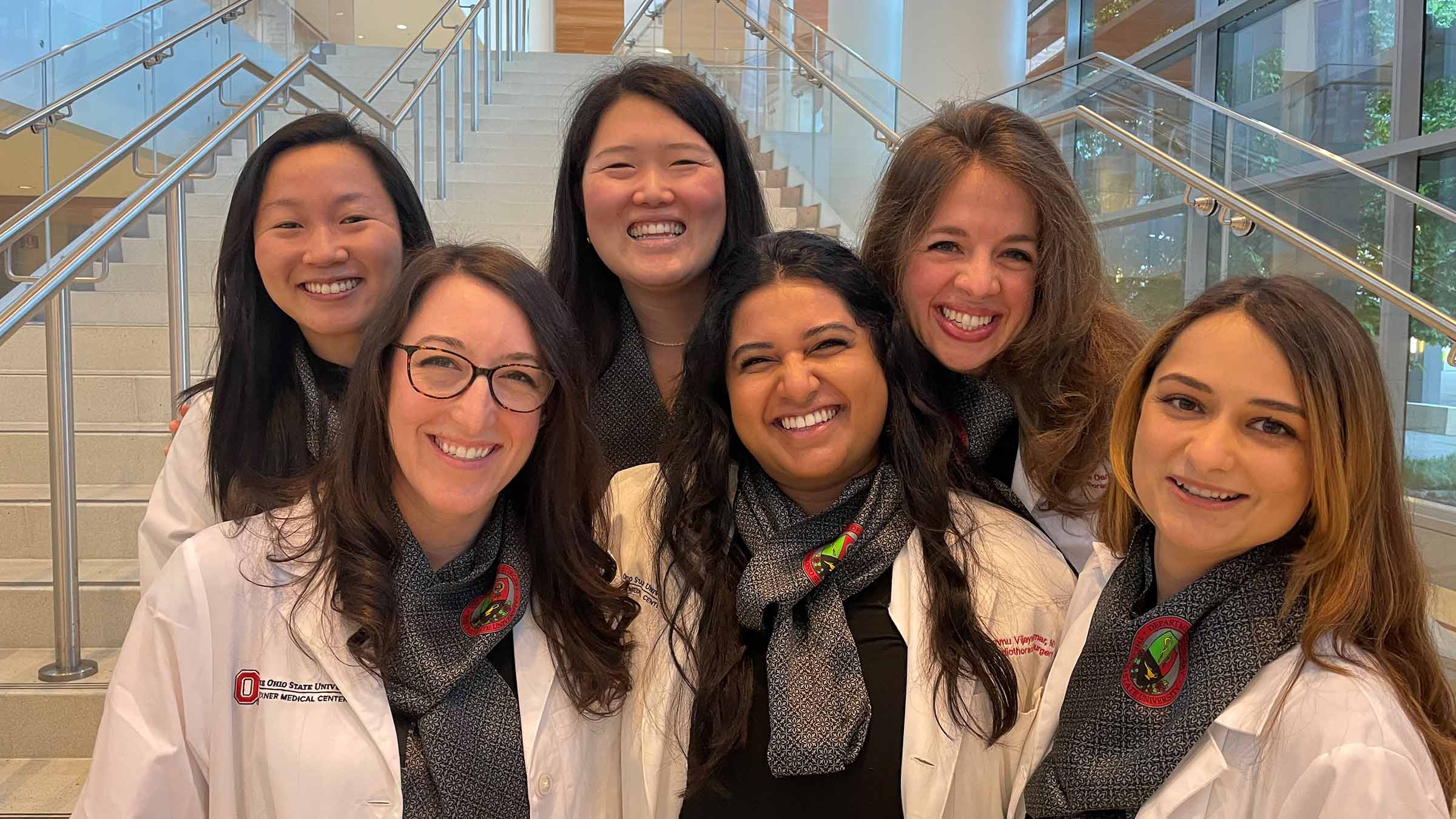 Ammu Vijayakumar, MD, started out as a general surgery resident at Ohio State. While completing rotations in both cardiac and thoracic surgery, she became fascinated with the physiology surrounding cardiothoracic surgery.
She entered the new integrated cardiothoracic surgery residency program at Ohio State, which allowed her to gain experience with complex cases and interact with experts in many specialties. She says that for women to manage the long hours of call duty and the schedule demands of the field, they need a robust support system and to be surrounded by people who believe in their ability to have both a surgical career and a family, if they choose.
"I know I am lucky to have people in my life who have never doubted my ability to be an excellent surgeon as well as an excellent wife, mother, daughter and friend," Dr. Vijayakumar says. "Our program does an excellent job encouraging us to have a life outside of the hospital.
"There's more to this field than just being a surgeon," Dr. Vijayakumar says. "And we are better surgeons when we are better people outside the hospital."
"Thanks to the builders, Time and Change will surely say, "Scarlet and Gray are the colors of the dawn of this new day."
Your gift sustains a brighter future for medicine
Give today