Community Health
Expanding LGBTQ+ inclusion and support in the workplace and in medical practice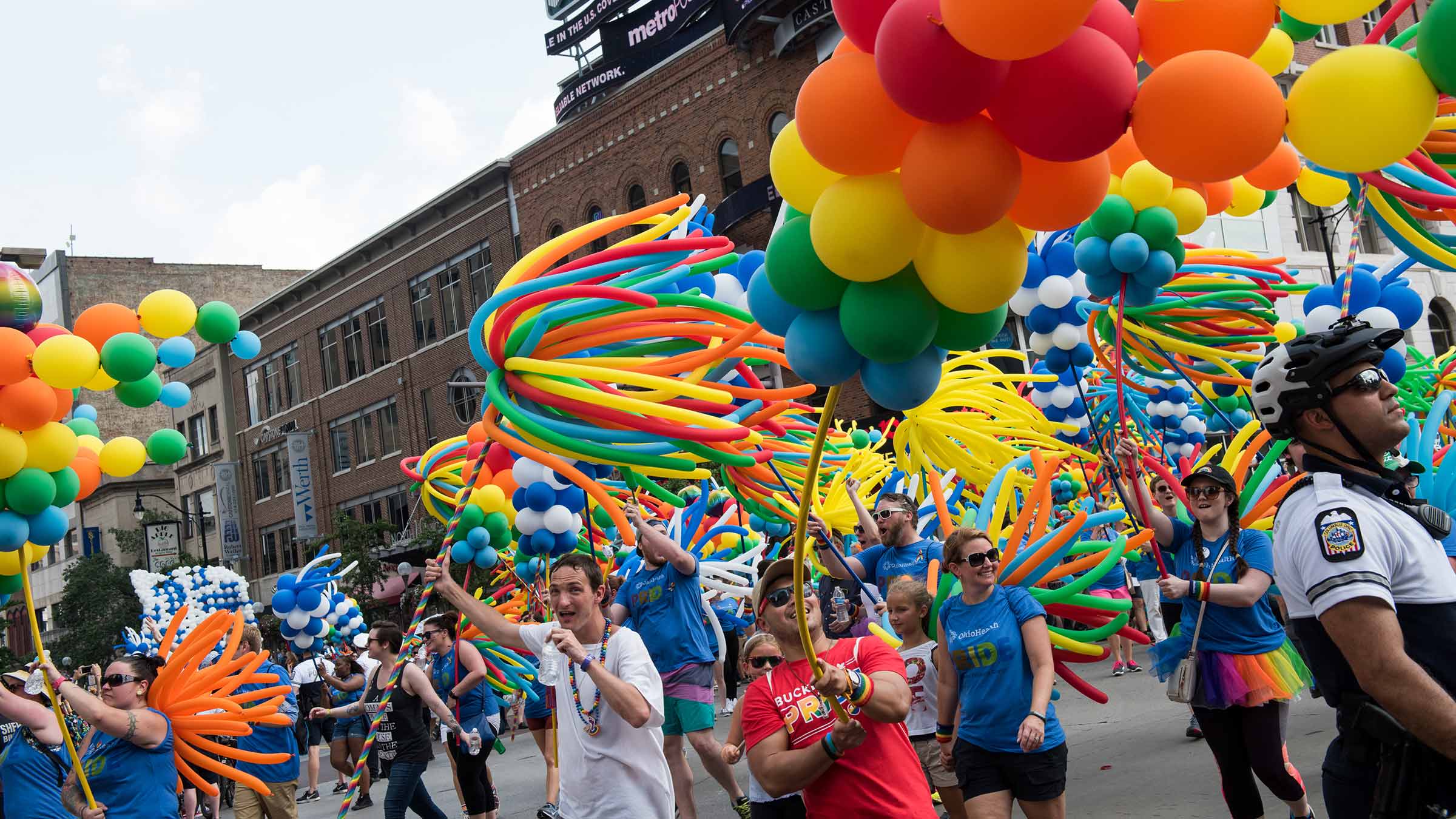 Editor's note: This article is part of a series for The Ohio State University Wexner Medical Center's 2022 Health Equity and Anti-Racism annual report. Read all stories in this series on the Anti-Racism Initiatives page.
---
There is a pressing need for inclusive medical care for the lesbian, gay, bisexual, transgender and queer+ community, and filling that need is a central and growing priority at The Ohio State University Wexner Medical Center.
The medical center's Lesbian, Gay, Bisexual, Transgender and Queer+ Employee Resource Group (LGBTQ+ ERG) has played a leading role in fostering a culture of LGBTQ+ inclusivity and awareness inside and outside the medical center. At nearly 300 members, this group has been involved in numerous initiatives that have helped improve the environment for LGBTQ+ patients, staff and faculty.
"Over the last three years, we have made some huge strides," says Shelby Dawkins, MHA, program director of the Office of Health Equity, Diversity and Inclusion at the Ohio State Wexner Medical Center and co-chair of the LGBTQ+ ERG.
Among the highlights, the group has:
Fostered conversations that led to the inaugural lighting of the hospitals and the Ohio State College of Medicine for PRIDE Month (June)
Helped to develop gender-neutral bathroom information that has been added to multiple facilities (a comprehensive list of all such facilities was made available to all staff, faculty and patients in 2021)
Developed recommendations for LGBTQ+ signifiers in medical records software
Collaborated with Human Resources to add pronouns to medical center ID badges
These efforts have been recognized nationally. In March, the medical center received the designation of "LGBTQ+ Healthcare Equality Leader" in the Human Rights Campaign Foundation's 15th anniversary edition of the Healthcare Equality Index. This measure is the nation's foremost benchmarking survey of health care facilities on policies and practices dedicated to the equitable treatment and inclusion of their LGBTQ+ patients, visitors and employees.
Another major stride for the medical center has been the establishment of a Transgender Primary Care Clinic. This clinic, which operates on Wednesdays at Outpatient Care East and Fridays at Ohio State Primary Care Westerville, provides transition-related care and primary care in a supportive and affirming environment. It was established by medical residents and is now supported by the Department of Family and Community Medicine.
The clinic offers an array of services, including:
Primary care
Sexual health services
Hormone replacement therapy
Mental health services
Referrals for gender-affirming surgery
The need for these services is clear and increasing. Columbus is home to the largest transgender community in the Midwest, and the eighth-largest nationally, according to research from the University of California Los Angeles. In 2019, the American Society of Plastic Surgeons reported 11,000 gender-affirming surgical procedures were performed, an increase of nearly 15% from the previous year.
These health care services are increasingly difficult to obtain. A number of states have introduced legislation to restrict the availability of such care. According to a 2021 Center for American Progress survey, 46% of transgender individuals had a health insurer deny them gender-affirming care in 2020. Meanwhile, fear of discrimination can prevent them from seeking care — and often, those fears are validated. In the same survey, nearly half of those transgender patients reported experiencing mistreatment from a medical provider, including care refusal and verbal or physical abuse, and 1 in 3 respondents said they've had to teach their providers about transgender people in order to receive appropriate care.
The Transgender Primary Care Clinic is part of a larger effort to grow the medical center's gender-affirming care program, an initiative that began in 2018 under the guidance of a planning steering committee charged with developing a strategic plan that would focus on delivering comprehensive, inclusive and accessible care to everyone in the community.
What gender-affirming care is, and how it's provided at Ohio State
The initiative has been multidisciplinary from the beginning, says Jose Cruz, a strategic planning manager for the medical center who has been involved since the outset. Departments including Plastic and Reconstructive Surgery, Urology, Psychiatry and Behavioral Health, Obstetrics and Gynecology, Otolaryngology – Head and Neck Surgery, and Family and Community Medicine have been driving the effort, which has the full support of medical center leadership.
The medical center is in the process of recruiting staff and faculty to serve as full-time employees and intends to have more than a dozen in place by fiscal year 2026.
The momentum for these initiatives often begins with the next generation of medical professionals, and it is sustained with the support of the medical center's leadership, Dawkins says.
"Our students really have been the drivers of this initiative for our organization," Dawkins says. "And then I would say staff and faculty who are a part of the community or are strong advocates continue to grow the culture."
Improving health equity through anti-racism efforts
Read More