Community Health
Home health care expanding to meet patients' needs in central Ohio and beyond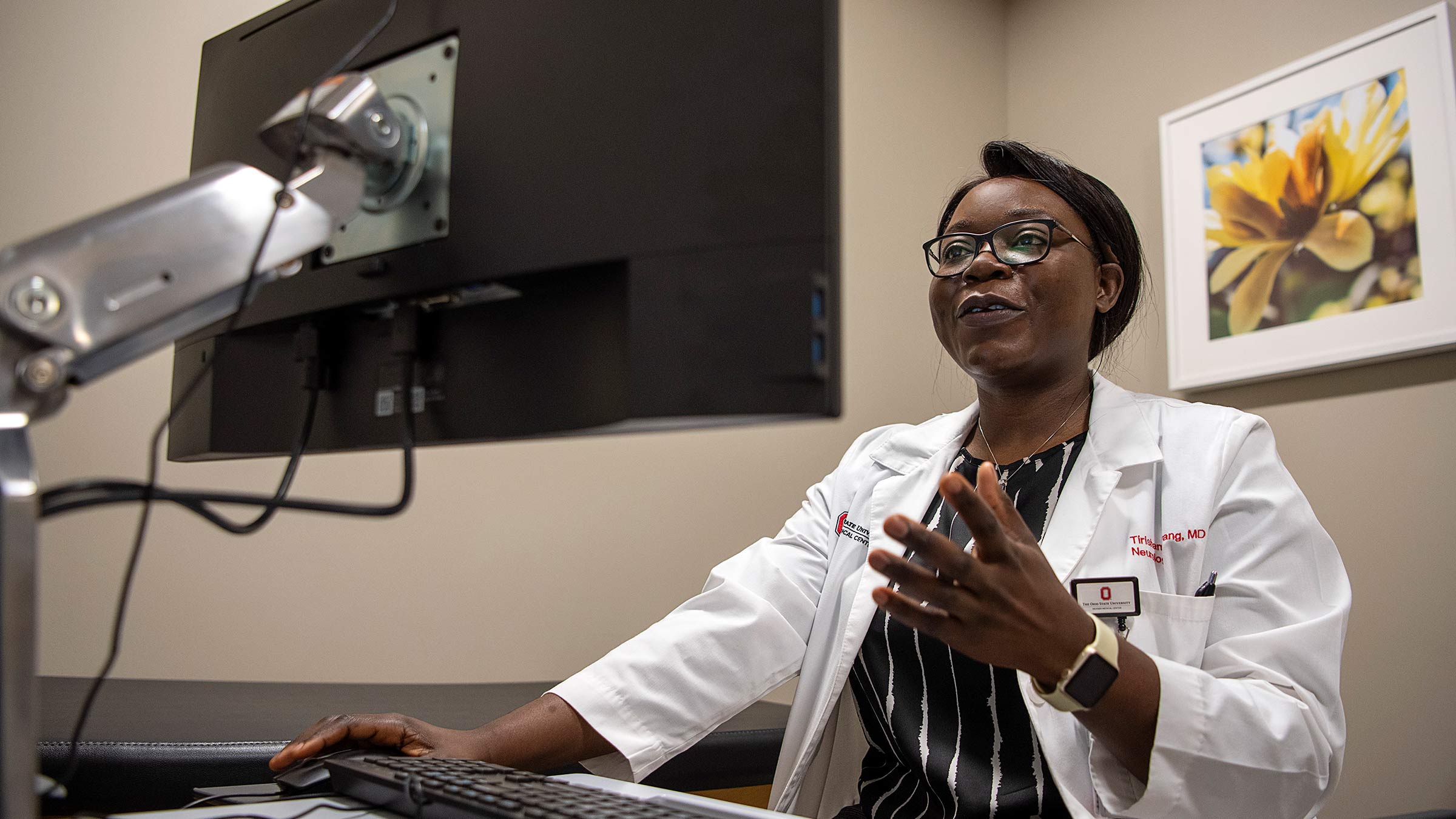 Editor's note: This article is part of a series for The Ohio State University Wexner Medical Center's 2022 Health Equity and Anti-Racism annual report. Read all stories in this series on the Anti-Racism Initiatives page.
---
Since the COVID-19 pandemic began, The Ohio State University Wexner Medical Center has served significantly more people in their homes, including many individuals who may not have otherwise received care.
For many, the convenience of being cared for in their homes allowed them to avoid the hurdles of transportation, parking and child care costs, as well as the need to take time off work for an appointment.
Virtual visits
As part of an effort already underway to increase availability of virtual health visits, the Ohio State Wexner Medical Center offered 800 telehealth appointments between July 2019 and March 2020.
Offering more virtual visits allowed patients to efficiently get medical care from the safety of their own homes. And telemedicine has also helped people save parking and transportation costs as well as missed time from work.
"Access to transportation should not be a constraint for getting care," says Aparna Dial, MS, MBA, LEED AP, senior director of Sustainability and Strategic Services for The Ohio State University and the Ohio State Wexner Medical Center.
"Telehealth appointments have not only resulted in better access and higher patient satisfaction rates, but they also saved over 2 million gallons of gas for patients," Dial says.
Remote monitoring
In the coming year, patients with chronic illnesses could be monitored in real time without ever having to leave their homes. This progressive step in health care could be accomplished with technology that the Ohio State primary care clinical team is currently testing. The company supplying the devices would also offer wireless devices to patients without them.
If a patient has high blood pressure, for example, they'll be able to take home a blood pressure cuff that will connect remotely to a system that tracks their blood pressure levels and delivers the information to health care professionals.
When a patient's blood pressure spikes, a health care professional can help bring that down, for example, by reaching out to a pharmacist to adjust the patient's medication.
Keeping patients' health in constant check could help them avoid hospitalizations or trips to the emergency department, says Kyle Sharp, executive director of Faculty Group Practice and OSU Physicians, Inc., at the Ohio State Wexner Medical Center.
"This is a robust tool," he says. "There's a lot we can do just by getting this constant stream of information on the patient."
In-home visits
During the pandemic, the Ohio State Wexner Medical Center significantly ramped up its home-based and post-acute care offerings to meet patients where they are, and this will continue long-term.
Building a more connected care continuum that extends beyond outpatient clinics includes The Ohio State University Wexner Medical Center Home Care, Ohio State Home Medical Equipment and stronger, more clinically integrated relationships with skilled nursing facilities, long-term acute care hospitals and hospice care facilities.
One of the newest partnerships, with DispatchHealth, provides urgent care visits. Health care professionals trained in emergency medicine provide everything an urgent care clinic does in the comfort of patients' homes, helping reduce preventable emergency department visits and hospital admissions. The services connect patients with a primary care physician or specialist for additional care when needed.
These extra care options "empower the patients to choose how they want to receive care. If they want to receive care in the home, they have that option, no matter where their home is," says Rachit Thariani, chief administrative officer of the Post-Acute and Home-Based Care Division for the Ohio State Wexner Medical Center.
While in the home, the care team identifies and addresses any non-medical and social determinants of health, Thariani says. They screen for food insecurity, housing security, transportation, social interactions and other elements relevant to ensuring better outcomes for our patients.
The partnership with DispatchHealth has allowed the Ohio State Wexner Medical Center to establish COVID Care at Home, giving patients who meet certain criteria an in-home visit the day after they leave the hospital, as well as daily, virtual check-ins with a DispatchHealth nurse for 10 days after that.
"We are now well positioned to establish newer care models like this that can continue well beyond the COVID-19 pandemic," Thariani says.
Read other stories in this series from our Health Equity and Anti-Racism report
Other mobile initiatives make health care more accessible
The Ohio State Wexner Medical Center has several initiatives to make health care more accessible, including mobile units, outreach programs and innovative, expanded methods of health care. Just a few examples:
Improving health equity through anti-racism efforts
Read More