Community Health
How Ohio State celebrates organ transplants as 'Buckeyes for Life'
The 15th annual Buckeye Pinwheel Planting and Transplant Reunion uniquely honors organ donors and transplant recipients.
Sunday began like many an early-April morning in Ohio — brisk and overcast, with the smell of emerging spring.
But on the plaza of The Ohio State University Wexner Medical Center, the dewy grass was marked for 12,000 symbols of life that would be placed later that day, when more than 2,000 people would celebrate lifesaving organ transplantation.

Started in 2008, the annual Buckeye Pinwheel Planting and Transplant Reunion gathers transplant recipients, living organ donors, donor families, medical teams and volunteers in a ceremony that, for some, marks another year of life made possible by Ohio State's Comprehensive Transplant Center, registered organ donors and their families.
As part of the festivities, participants plant 12,000 pinwheels on the Wexner Medical Center plaza in front of University Hospital and the Richard M. Ross Heart Hospital, representing the more than 12,000 transplants performed at Ohio State since its first kidney transplantation in 1967.
"Everywhere I look, there's heroes," said Nathaniel Fuchs, who celebrated the one-year anniversary of his lung transplant just three days prior to the ceremony.
"An event like this, for me, is just kind of the end of the journey in a way," said Sam Whitley, whose wife, Sarah, received a double lung transplant at Ohio State in November 2022. "It's just been such a long, uphill walk — three years of trying to figure out what [Sarah's] disease was and what it's going to do and how we can figure out a way to make this better. And now, only five months out from her transplant, we're here and celebrating, and the joy all around us — the power of it — 'incredible' is an understatement."
"Seeing everyone and hearing their stories is very impactful," said Sarah Whitley, who attended the pinwheel ceremony for the first time this year.
"Everyone's story is unique," she said. "It makes such a difference when you think about, yeah, [being an organ donor] is just a tiny stamp on my driver's license, but that tiny stamp can help up to eight people."
Each pinwheel has one stem with eight spokes, representing the power of one person to save up to eight lives through organ donation and transplantation. The spinning of the pinwheel symbolizes the continual "paying it forward" of organ donation, perpetually driving the circle of life.
Looking out from nearby hospital rooms, the pinwheels are a twinkling sea of shiny scarlet and gray throughout April.
In 2008, the Ohio State Wexner Medical Center's marketing team worked with local organ procurement organization Lifeline of Ohio to develop the idea of using pinwheels in this way. The inaugural pinwheel garden that year featured 6,400 pinwheels placed with the help of about 30 volunteers. The bright, symbolic visual has stuck — and grown by thousands — even being adopted in 2017 by Donate Life America for its national marketing campaign.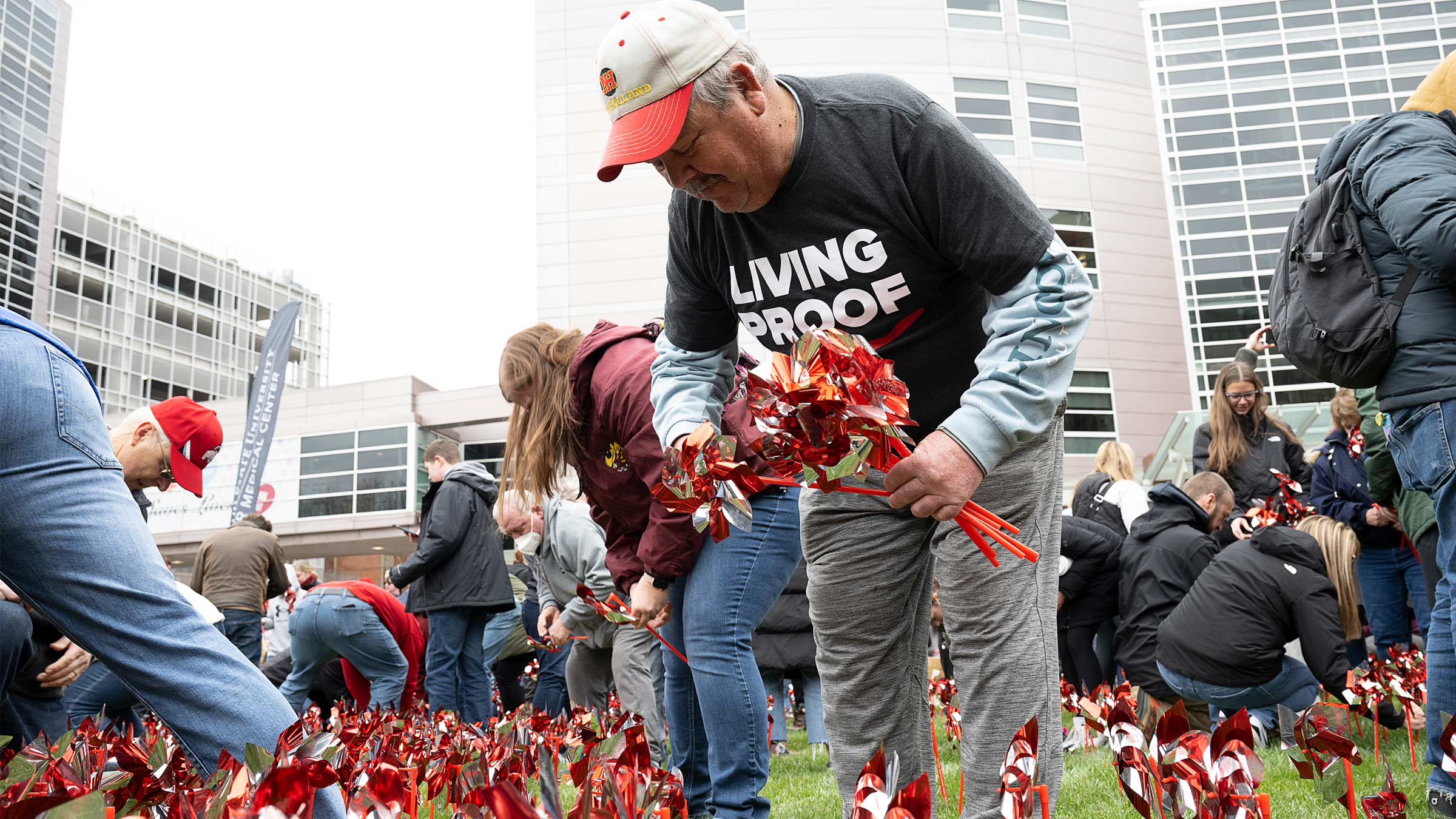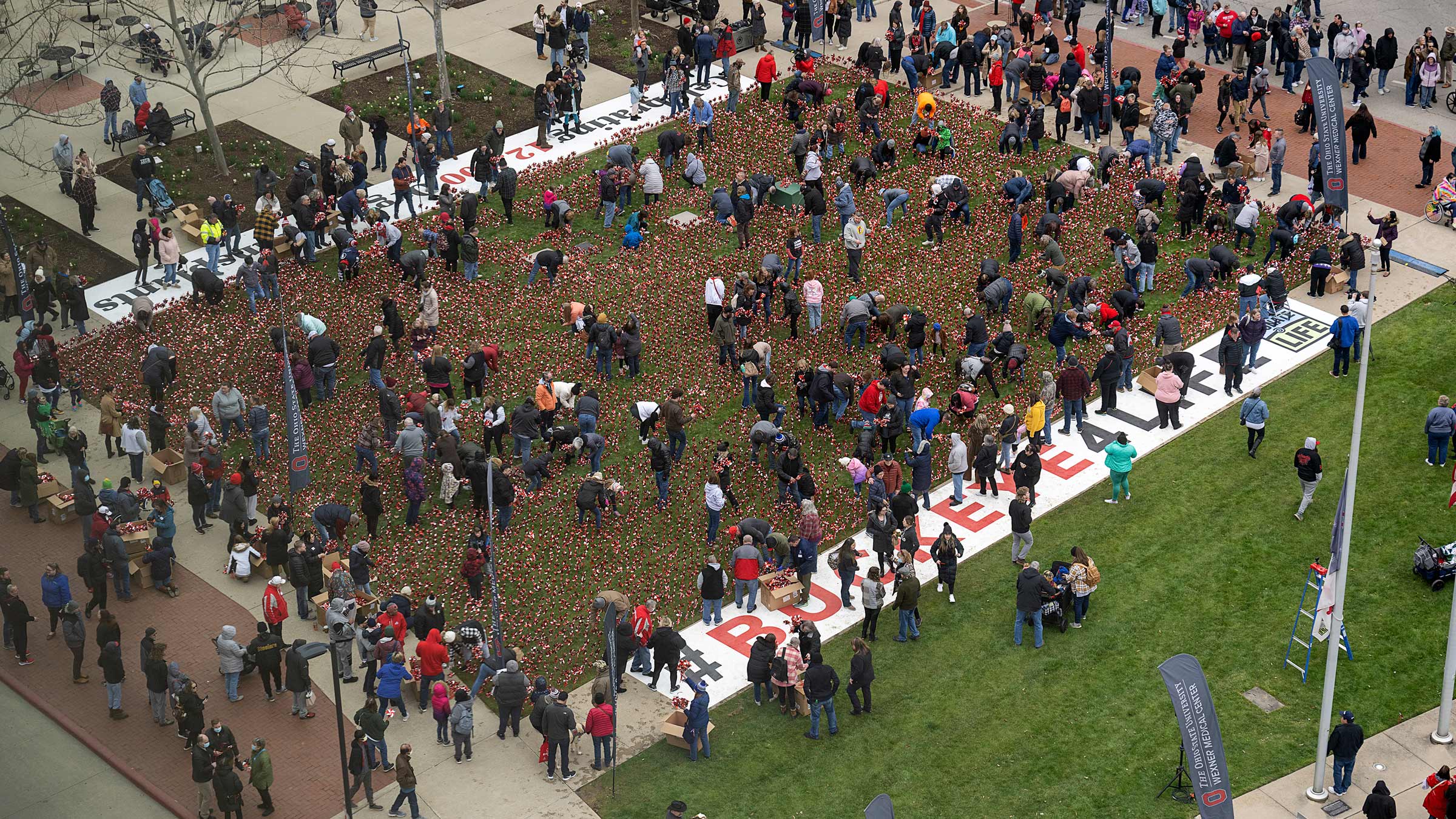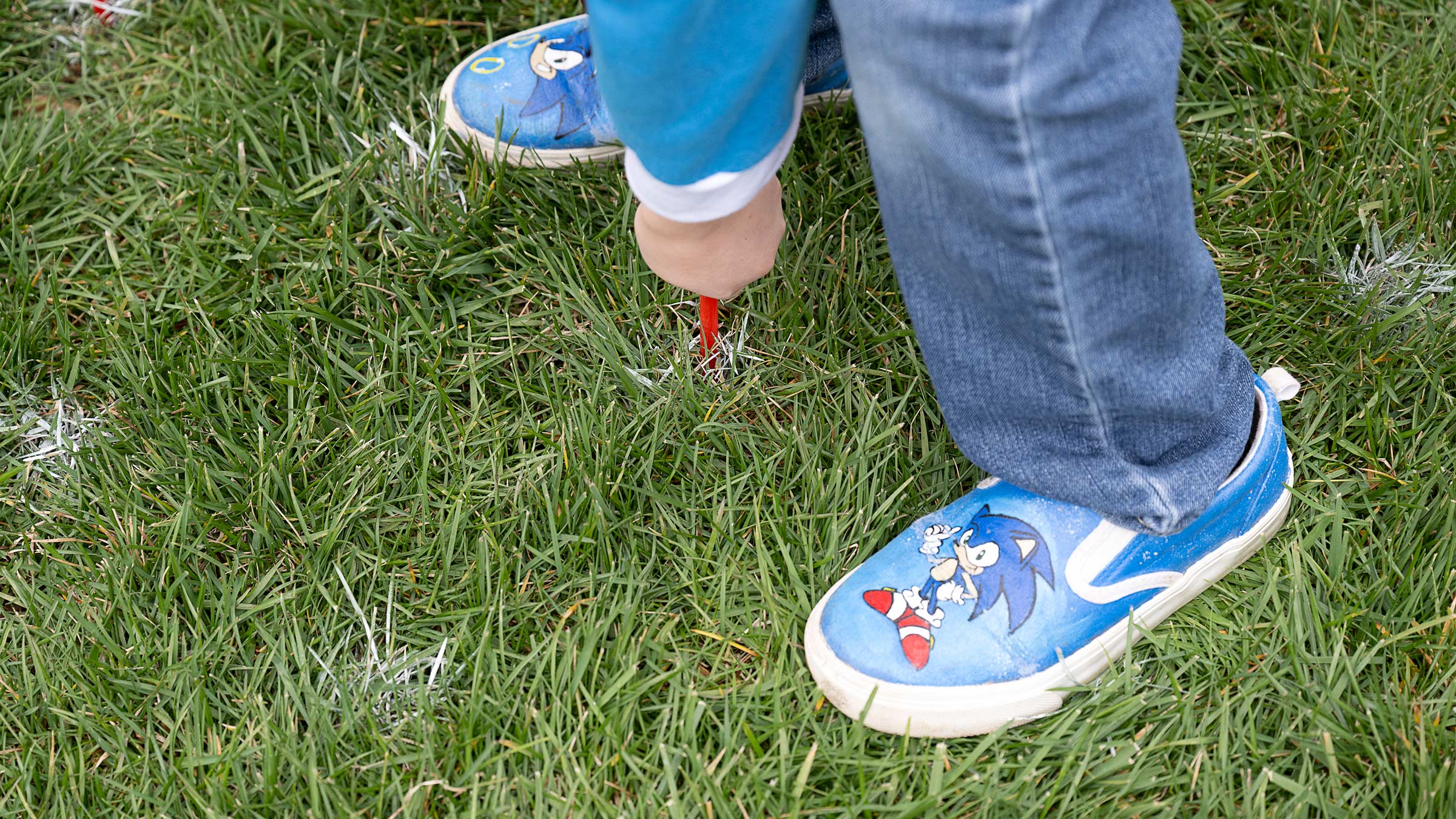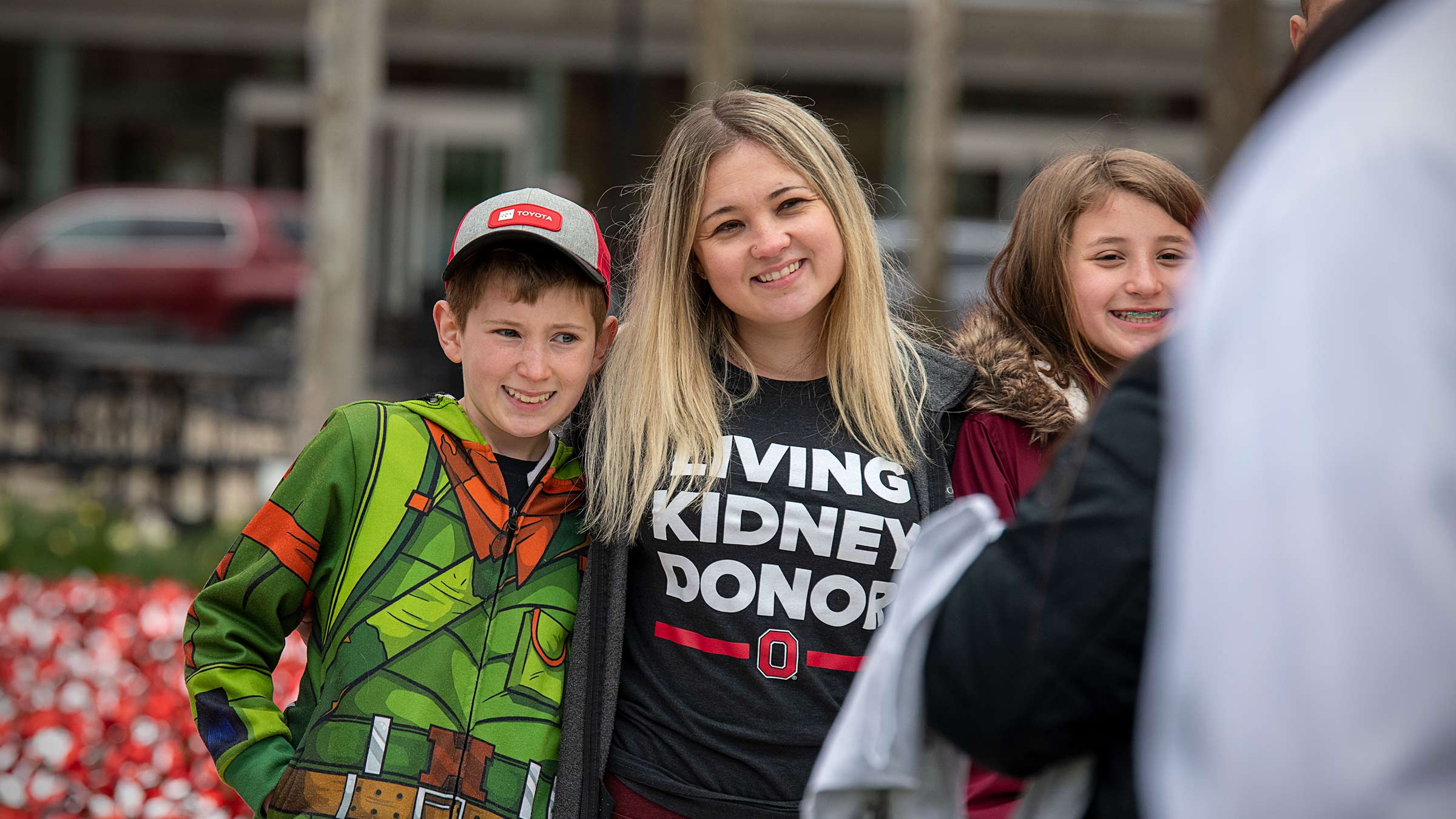 Ohio State is advancing organ transplantation in Ohio and beyond
"Of the 250 active transplant centers in the United States, the Ohio State Wexner Medical Center is among the top 7% for all-time number of transplants performed," says Kenneth Washburn, MD, director of the Comprehensive Transplant Center at the Ohio State Wexner Medical Center.
Dr. Washburn welcomed the crowd Sunday morning, reminding them that just four years ago in July 2019, Ohio State celebrated its 10,000th transplant.
"It doesn't seem that long ago, but when you look back, it's been a remarkable four years. We weathered a pandemic together, never wavering in our ability to perform lifesaving organ transplants. We developed new protocols to be a regional leader in COVID-19-related lung transplants," he said. "We expanded treatment, performing our first-ever heart-liver transplant, living liver donor transplant and our largest ever, eight-way living kidney donor chain."
Getting the call: What happens when an organ becomes available for transplant
Dr. Washburn's list of recent accomplishments at Ohio State continued, including:
research strides in transplanting kidneys, livers and hearts testing positive for hepatitis C, preventing the disease from hampering organ donation in the future
innovations in the organ recovery process, with Ohio State becoming one of the few centers in the nation with an in-house organ recovery team designed to quickly coordinate organ offers
the growth of Ohio State's Organ Repair and Assessment Center, with clinical trials for the "heart in a box" monitoring system and OrganOx liver perfusion, which can grow the available pool of donor hearts and livers
the shortest median wait time available in the region for transplanting any organ
At this moment, nearly 104,000 people in the United States are waiting for an organ transplant. More than 2,500 of those are in Ohio.
"It was the happiest day of my life outside of getting married," said Leteea Lewis on receiving her lifesaving bilateral lung transplant. "The donors who were willing to give to save a life — if it wasn't for them…who knows?"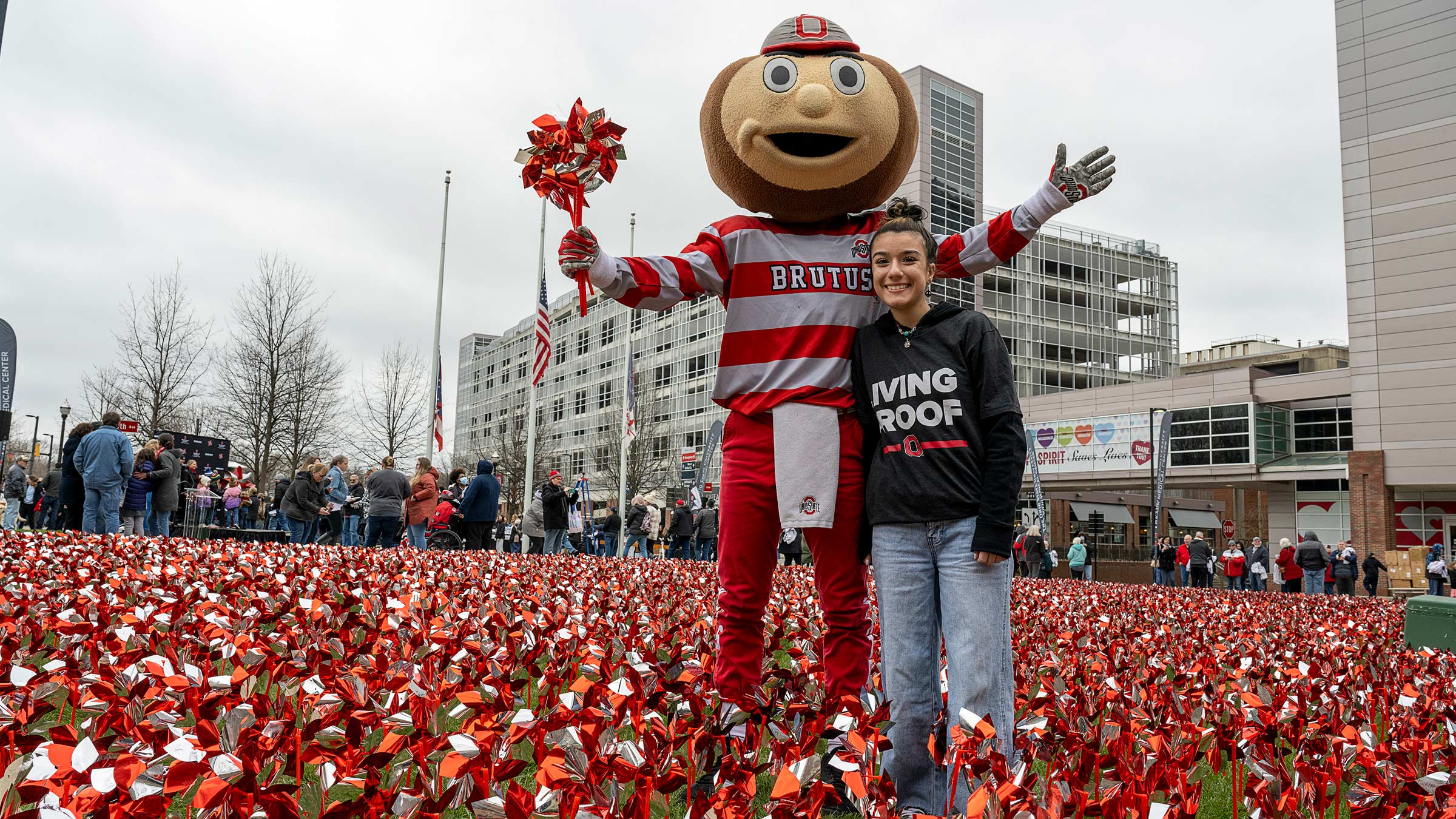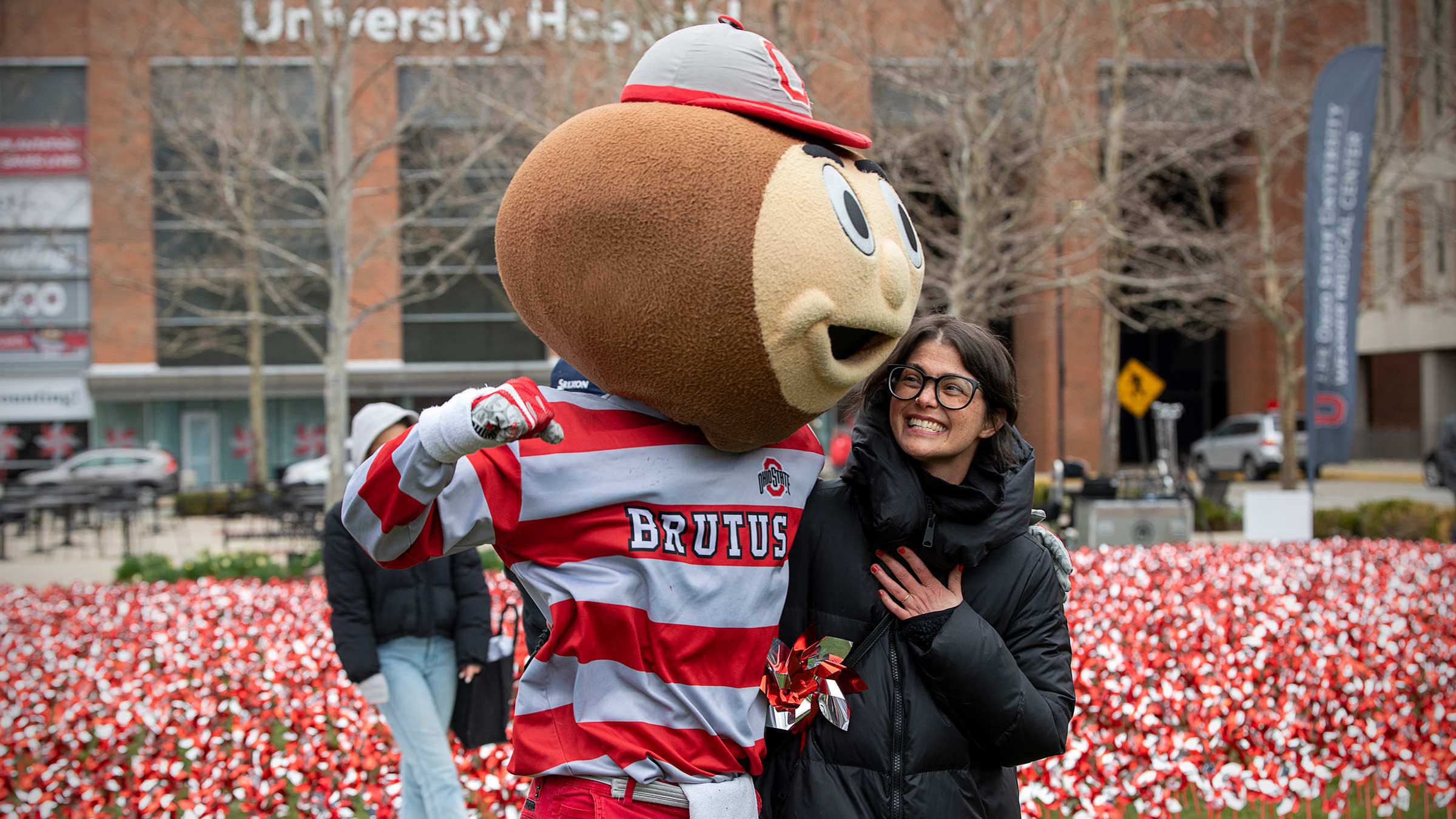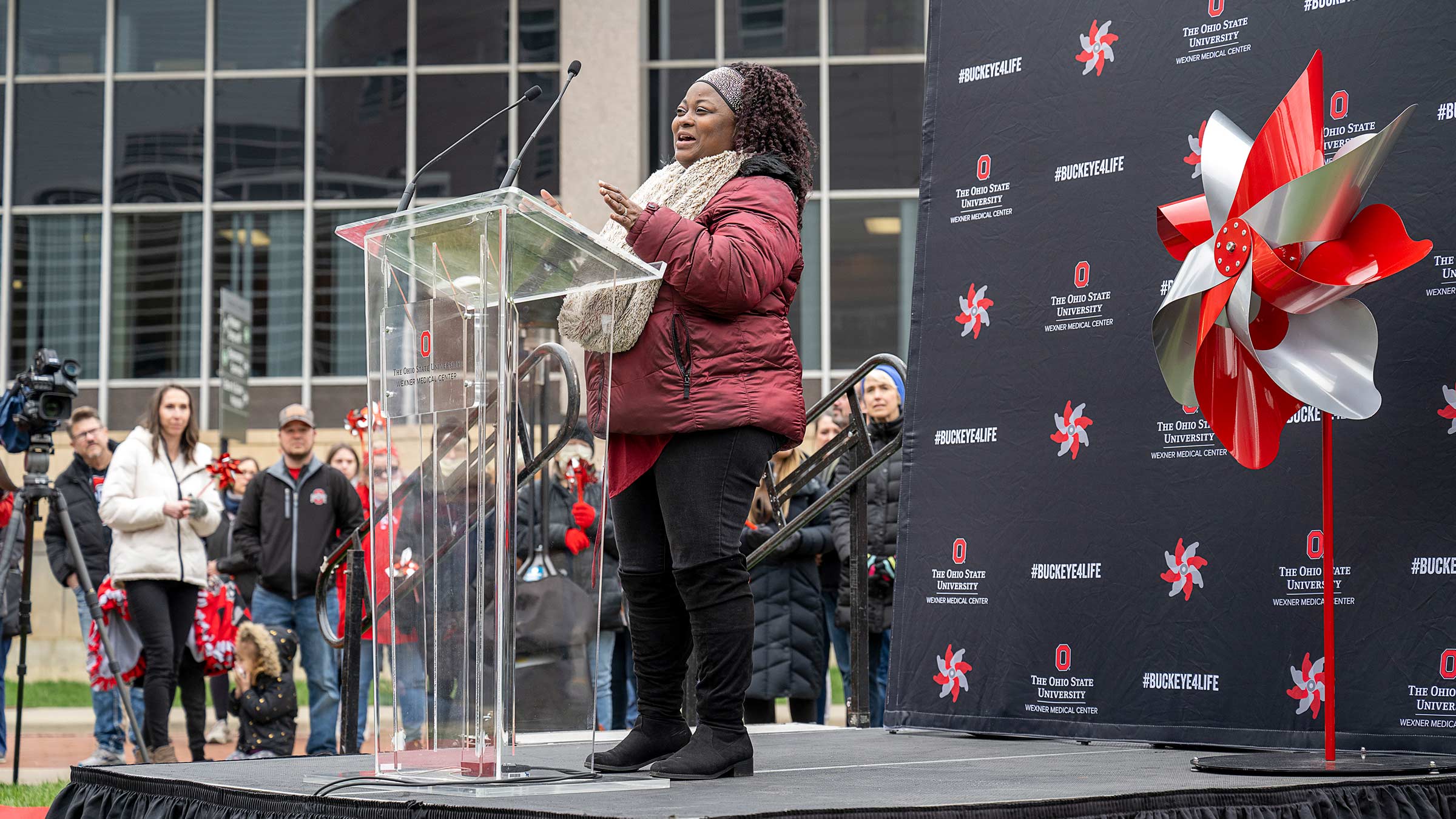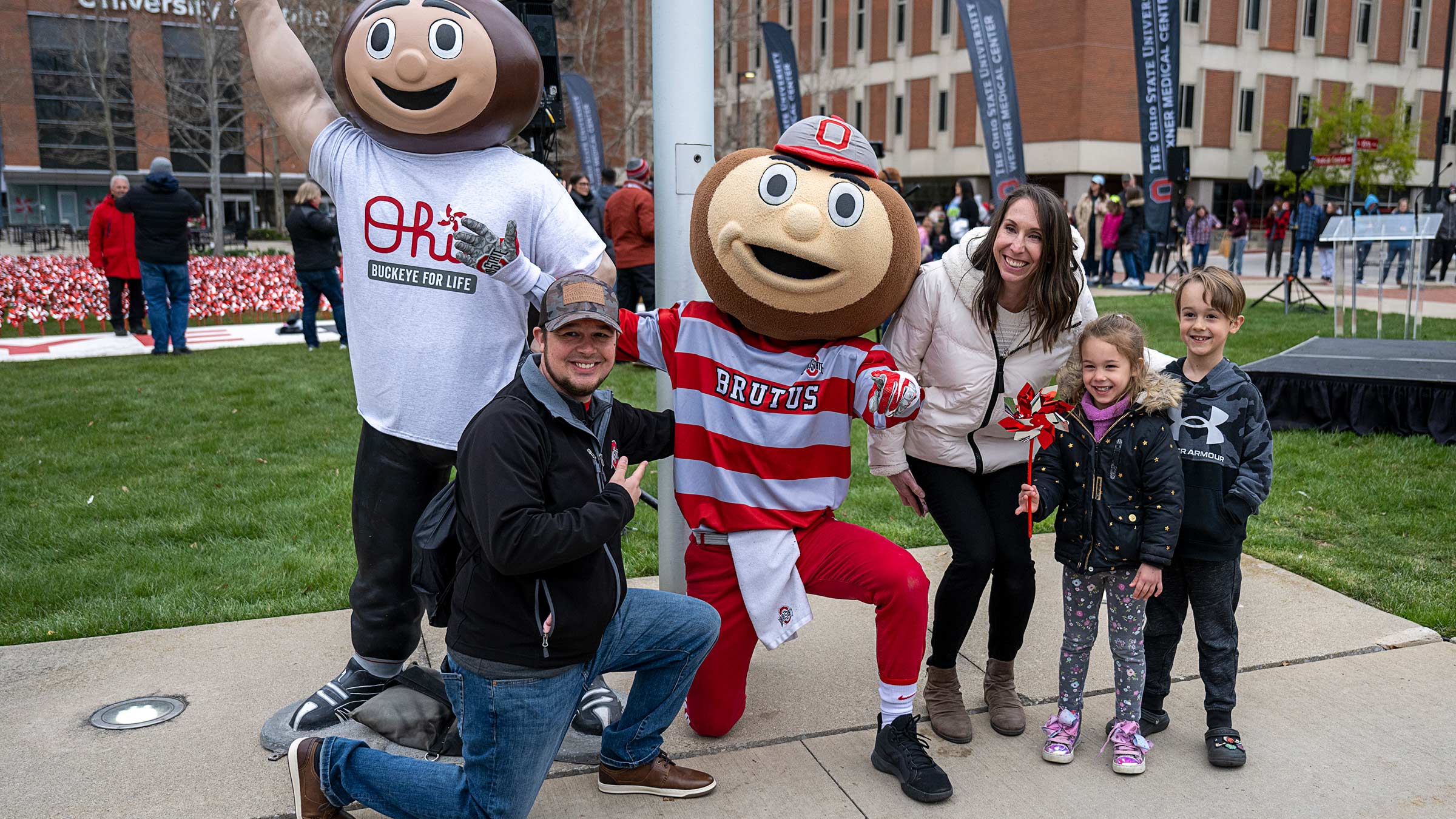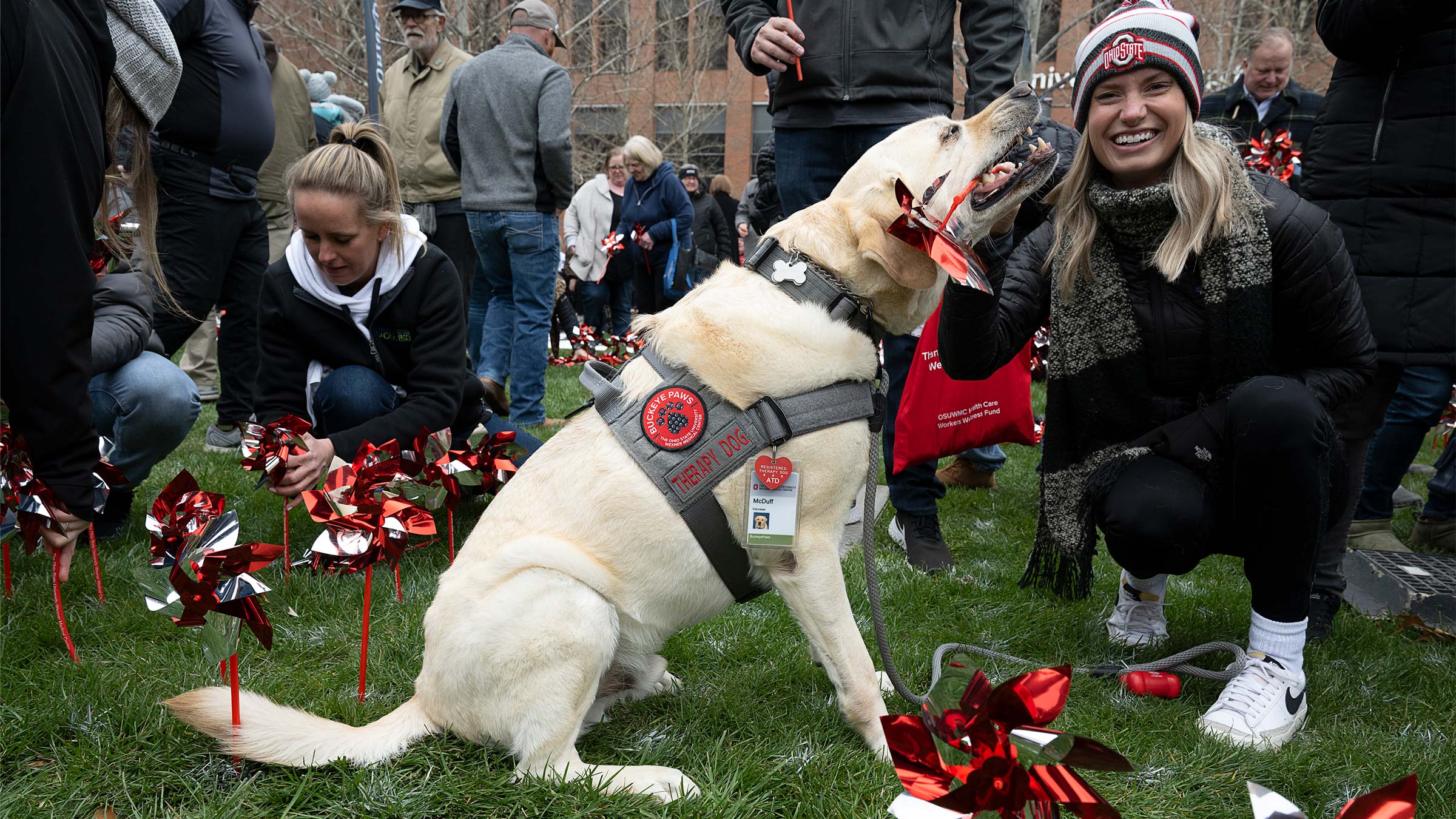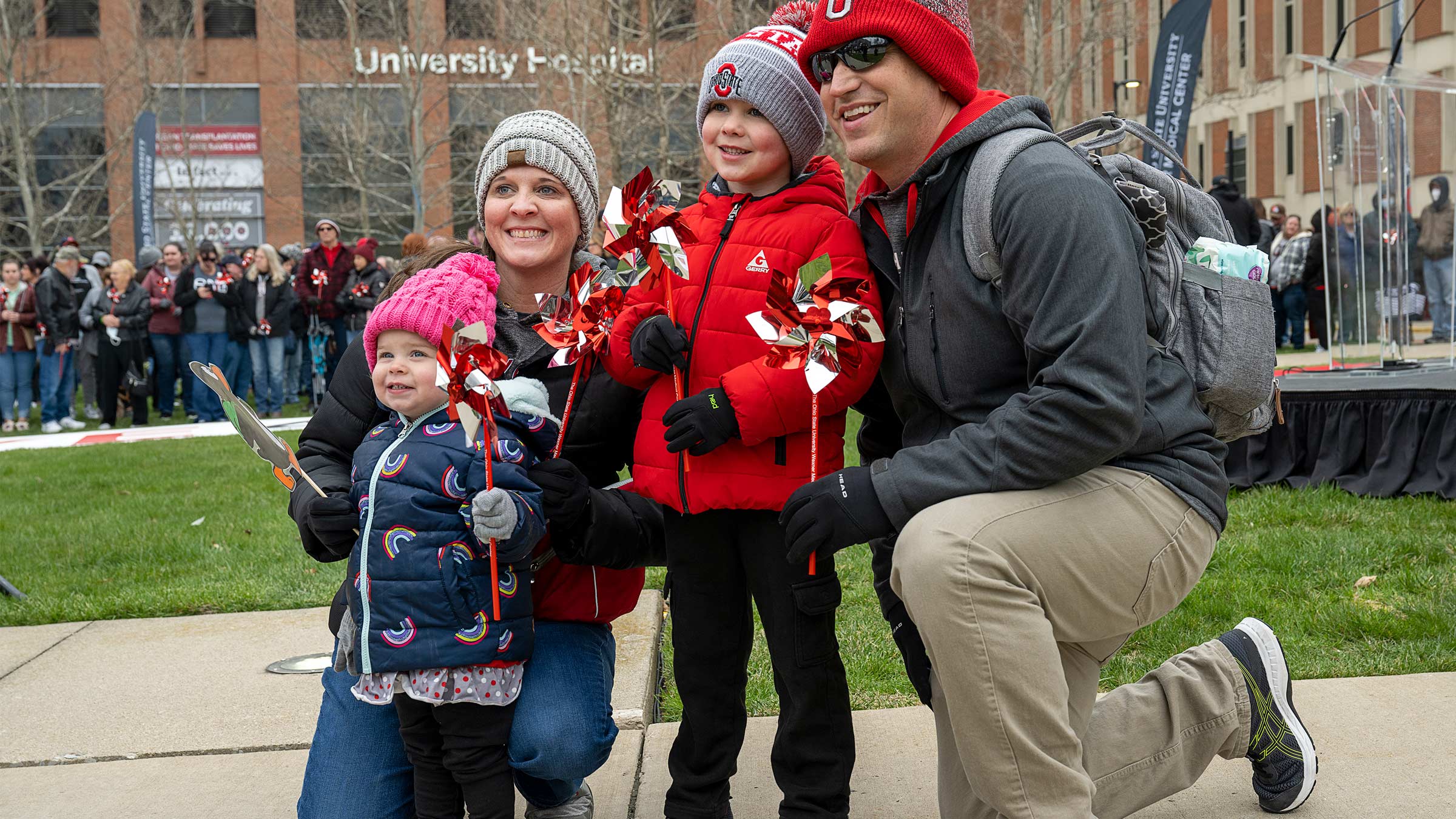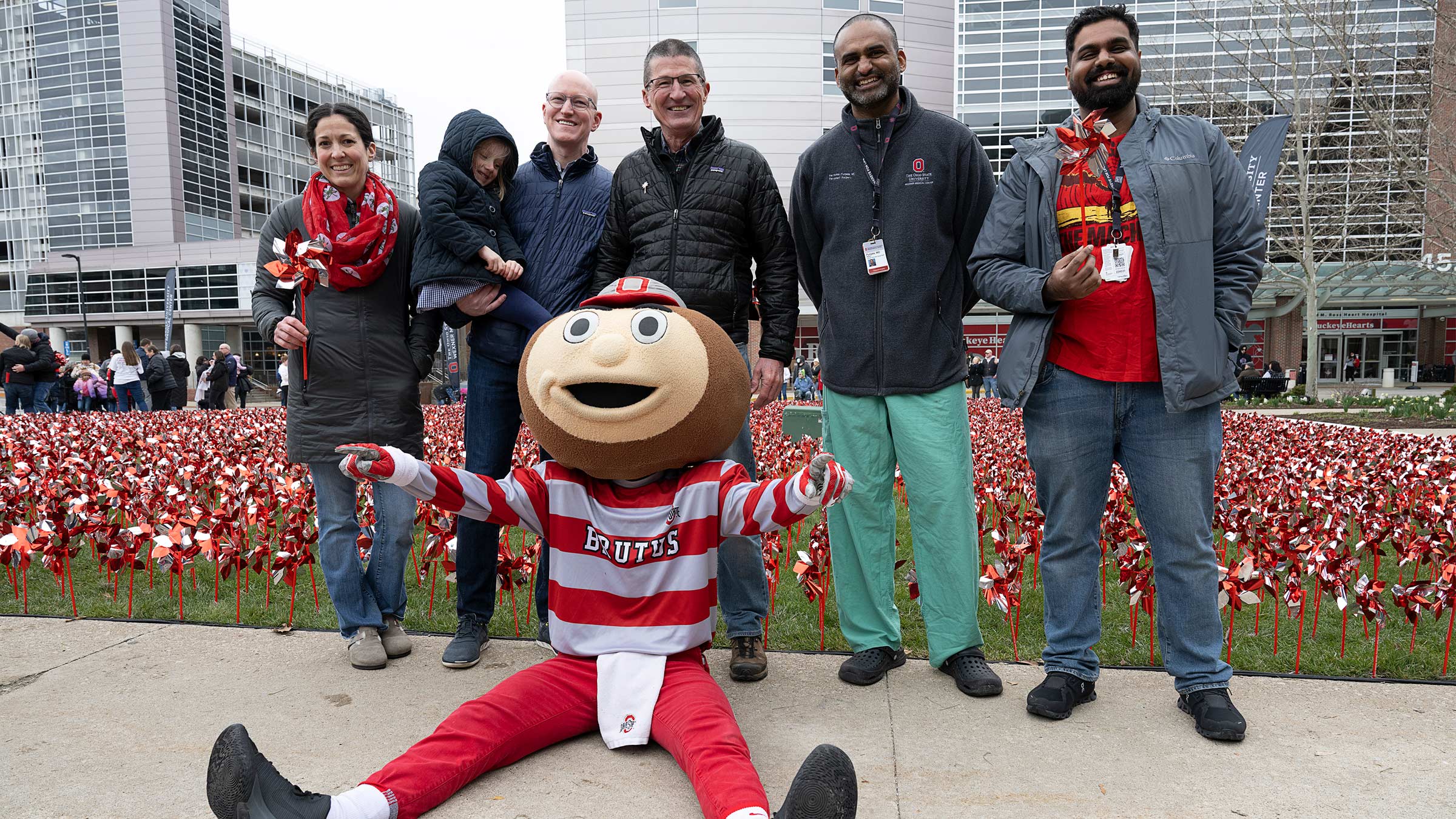 Lung transplant recipient Sarah Whitley shared what living donation could mean to people like her who rely on donation to live.
"That's such a fulfilling sacrifice for someone to make on behalf of someone else, to give them extra life," she said. "For example, I was diagnosed with an idiopathic, fatal lung disease three years ago — no idea where it started, where it came from. And it was terrifying because then six months later, COVID-19 hit. I was in lockdown, getting worse and worse, knowing that I was terminal. I ended up getting the call [for transplant], and now I have life again."
Dr. Washburn said that "the ripple effect of one person saying 'yes' to donation is powerful."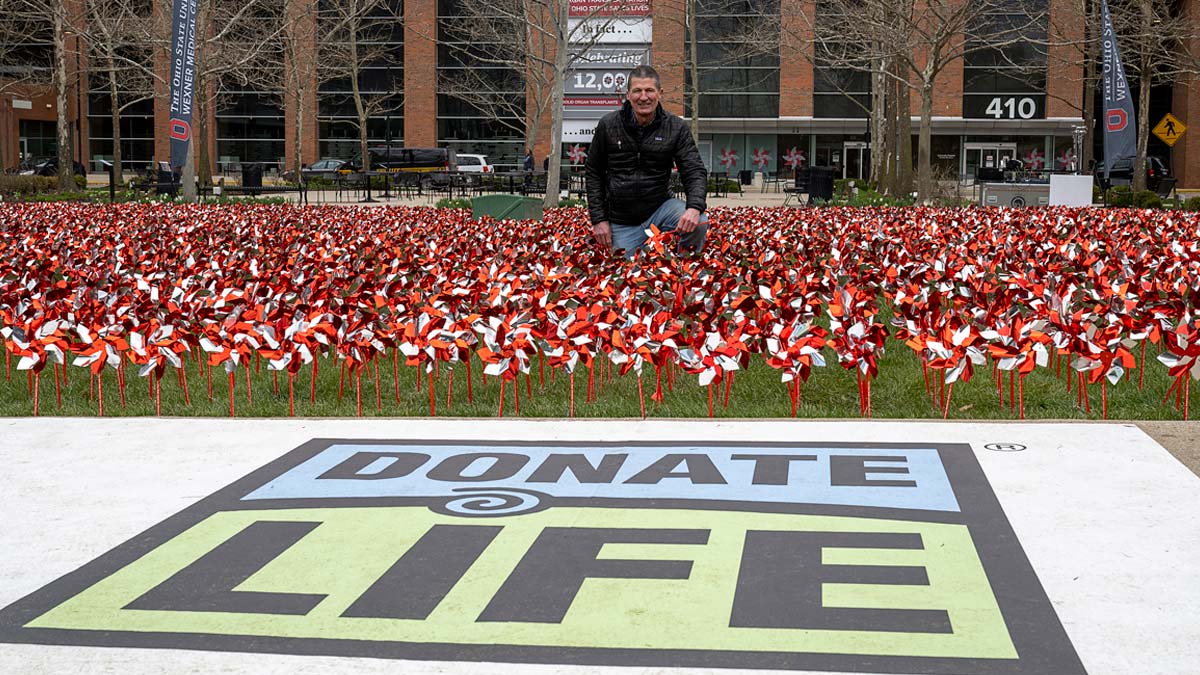 "That powerful decision is felt by recipients, family members, friends, colleagues and so many more."
Consider becoming a Buckeye for Life through organ donation.
Learn how