Health
Former small-town doctor plays key role in cellular therapy explosion
Marcos de Lima, MD, leads a revolutionary approach to reprogram cells to seek and destroy blood and marrow cancers
Nothing from the man's childhood and early years working as a family doctor in a small town in southeast Brazil suggested he would one day be a leading figure in a biologic revolution that includes a microscopic "serial killer" approach to combating cancer.
In his hometown of São João del Rei, Marcos de Lima, MD, started his medical career as a general practitioner at Santa Casa Hospital, a 200-year-old hospital where his father, grandfather and uncle had practiced before him. Sometimes he made house calls, often for relatives of childhood friends, and he treated quite a few patients from whom he received no payment.
It was a stark contrast to now, when Dr. de Lima is a renowned hematologist who serves as director of both the Blood and Marrow Transplant (BMT) and Cellular Therapy programs at The Ohio State University Comprehensive Cancer Center – Arthur G. James Cancer Hospital and Richard J. Solove Research Institute (OSUCCC – James) and holds the William Greenville Pace III Endowed Chair in Cancer Research at the Ohio State College of Medicine. He's a globally respected expert in cellular therapy playing a key role in a time he likens to the Industrial Revolution that brought cataclysmic change to the world during the 18th and 19th centuries.
"The field of cellular therapy has literally exploded over the past decade," says Dr. de Lima, who was recruited to Ohio State from Case Western Reserve University in 2021. "It's the same way you look at the Industrial Revolution. Can you imagine the changes those people had to face? All of a sudden they had industry, and their society changed a lot because of it."
Cellular therapy involves removing a patient's white blood cells — or cells from a healthy donor — and genetically modifying them in a laboratory to make them recognize, target and destroy specific cancer cells when they're returned to the patient. In 2017, the OSUCCC – James was among the first hospitals in the United States to offer the first cellular therapy for blood cancer: CAR T-cell therapy (chimeric antigen receptor therapy). Since then, a few other CAR T-cell therapy products have been approved by the U.S. Food and Drug Administration for treating various blood cancers.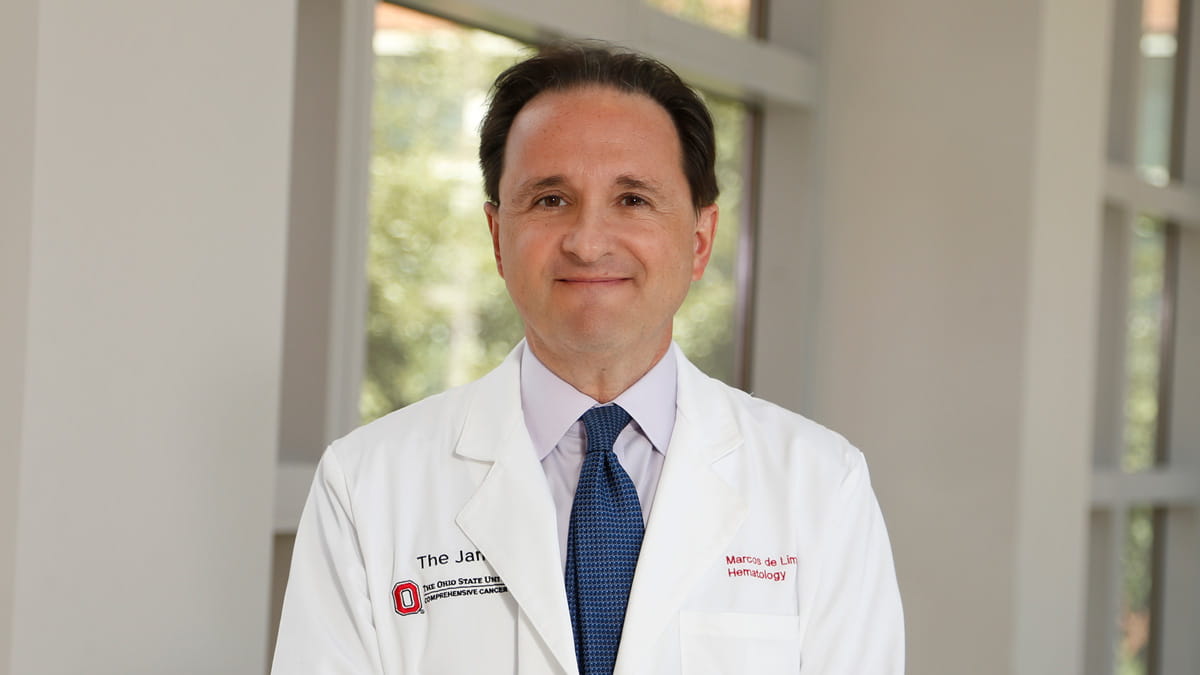 "I sometimes call CAR T-cells 'serial killers' because they've been re-engineered to do one thing: search for and destroy a given target."
"We inject the modified cells into the patient and let them do their thing," Dr. de Lima says.
"Another buzzword I like is 'living drug,'" he adds, explaining that living cells are doing the work of drugs that treat disease — the essence of immuno-oncology, in which the body's immune system is harnessed to fight cancer.
Since 2017, the OSUCCC – James has treated hundreds of patients with CAR T-cell therapy for blood cancers. Many of those patients have had few other treatment options after more traditional therapies, such as chemotherapy and blood and marrow transplantation, have failed.
Transplantation is a well-established and often highly effective treatment for many patients with blood cancers, but Dr. de Lima notes that some 40-60% of patients will relapse and will experience toxicity from the transplanted blood cells.
"This is where cellular therapies come in and are exciting for long-term patient outcomes," he says. "A common way for cancer cells to escape immune system detection is to disguise themselves as normal cells. Cellular therapy increases the ability of cells to recognize cancerous cells, and also to potentially repair the underlying driver of malfunction in the blood-development process. This approach works for several blood cancers, and we're exploring its potential in solid tumors and even non-cancer diseases."
He views this as an exciting time with boundless possibilities for patient care.
"We're clearly living in a biologic revolution, and I think 100 years from now people will look back and say 'whoa!' at how fast things were changing in our time," he says. "Some things that were hard to envision not so long ago are quickly becoming reality. Ten years ago, you'd find a lot of skeptical people if you said that in a decade we'd be engineering cells as we do now for medical treatments for cancer and other diseases."
Dr. Marcos de Lima answers your most frequently asked questions about blood and marrow transplantation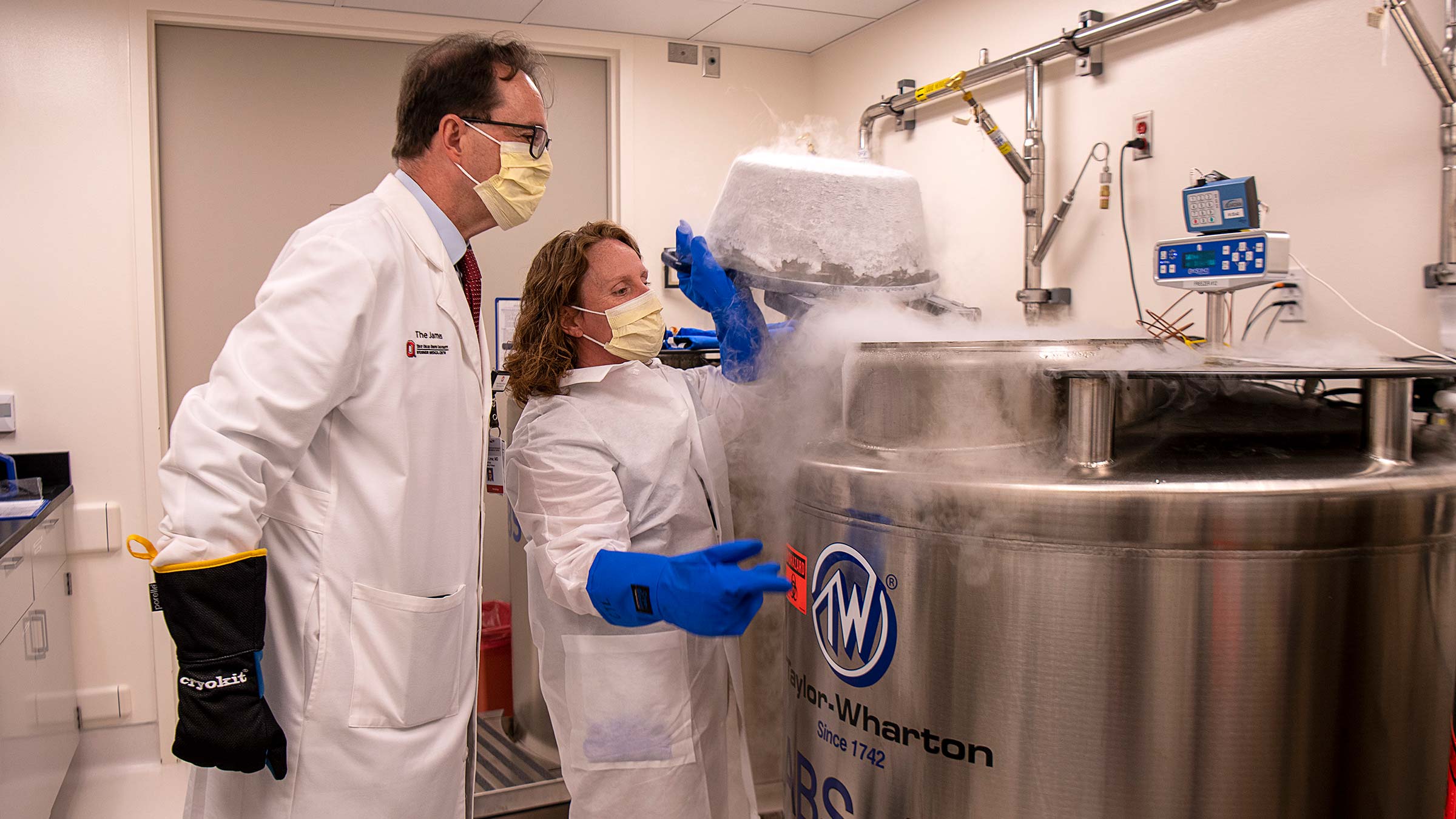 A late specialty switch
"Things are way more exciting in this field than when I started," he says. Dr. de Lima admits he turned to hematology and oncology relatively late in his medical career after his early years as a general practitioner in Rio de Janeiro and the much smaller city of São João del Rei.
"I probably was brainwashed into wanting to become a doctor by all of those doctors in my family," he says, adding that he also likely was influenced by the loss of three children in his family to blood cancers. His older brother died of acute lymphoblastic leukemia (ALL, also called acute lymphocytic leukemia), and two of his cousins died of lymphoma — all before the age of 10 in the 1960s.
"It was truly a different era when I watched my father practicing in the 1960s and '70s. He was a radiologist but also a clinician in our small town. I have recollections of his patients paying him with whatever they could. Sometimes they'd knock on our door and hand me a sack of corn, or they'd bring live chickens or maybe half a pig, and they'd say, 'Just tell your dad that Mr. So-and-So dropped by.'"
His grandfather died more than a decade before Dr. de Lima was born in 1962, "but I have pictures of him doing rounds on horseback. People would sometimes come to him from miles away and bring a horse so he could ride away with them and deliver a baby in the middle of God only knows where. And I also had an uncle who practiced pediatrics well into his 80s in our hometown."
Although Dr. de Lima's grandfather "financially left absolutely nothing" when he suddenly died relatively young — likely from an infectious disease — he did leave something that still very much impresses the renowned hematologist: hundreds of old medical books.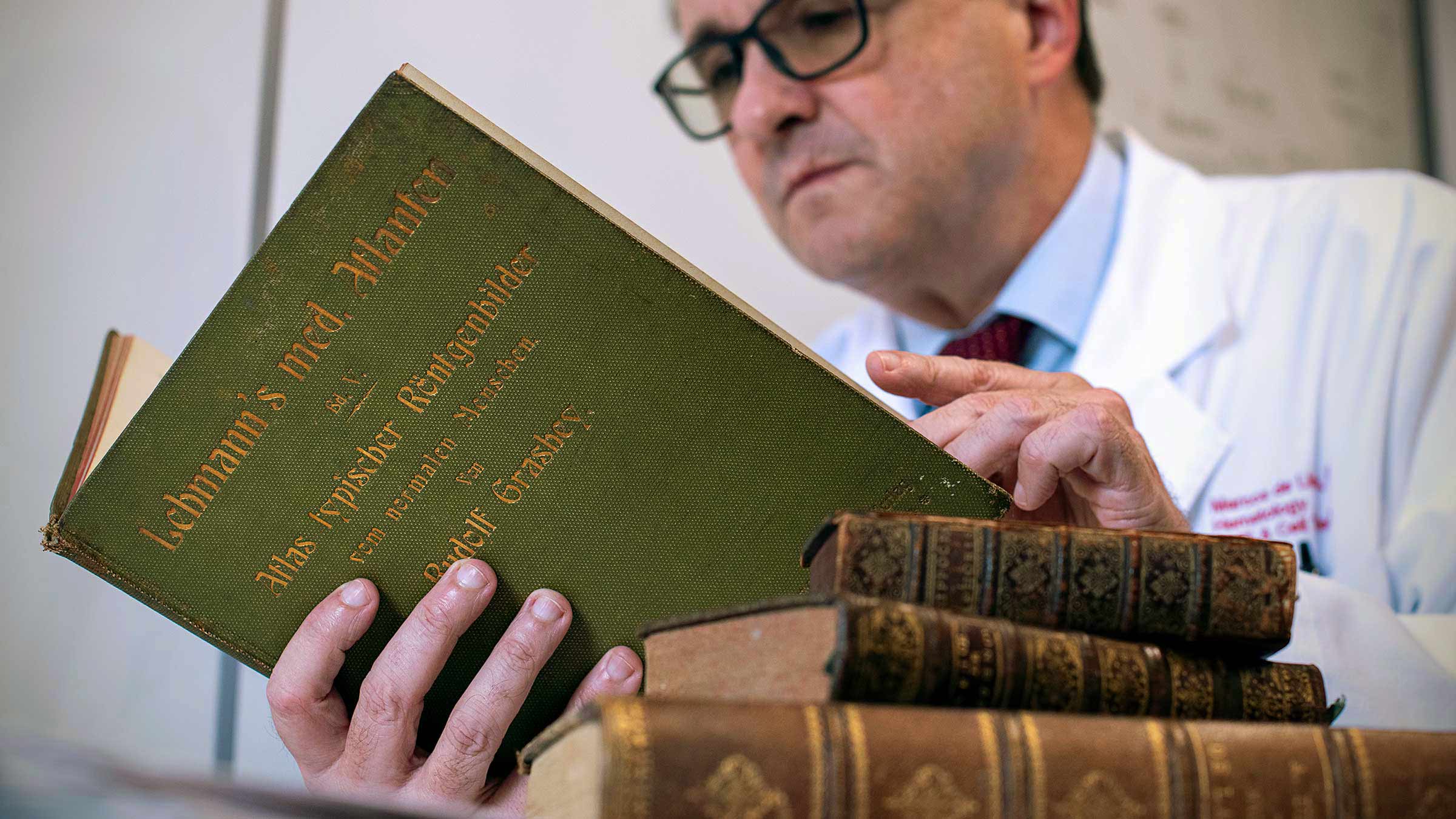 "These are books that my grandad got from a doctor who was retiring, a doctor from the 19th century," Dr. de Lima says. "My grandad passed them to my father, and my father passed them to me, so I have this huge library of historical medical books that I'm very proud of. It's a family heritage."
This generational bond may further explain why he initially wanted to follow in the family profession. But after his early career he felt a growing fascination for cells — the fundamental units of life — at a time when burgeoning technologies were enabling scientists to examine cells in greater detail and better understand how they properly and improperly function.
Dr. de Lima also had long been "restless about my inability to conjugate clinical care and clinical research in Brazil. I was intrigued with bone marrow transplant and with my perception, which turned out to be correct, that this field is at the intersection of science, translation from lab to clinic and patient-centered care."
He recalls thinking, "Not only do I want to broaden my scope of medical expertise, but also go to where I can better achieve that goal. I wanted to go to the north, believing that was where I could become more fully educated."
So he wrote letters to a few medical centers in the United States, and MD Anderson Cancer Center in Houston provided a potentially positive response that led to his acceptance for fellowship training in hematology.
"I had a few mentors in Brazil who had received training in the United States, and they helped me decide," Dr. de Lima says, "but being accepted at MD Anderson was sort of a miracle to me."
After completing his fellowship, he returned to his native land to work at the Brazilian National Cancer Institute. In 2000, he joined the faculty at MD Anderson and remained there a dozen years before going to Case Western Reserve University in Cleveland in 2012. All along the way, he was learning and leading.
"The discipline we now call cellular therapy was already growing," Dr. de Lima says. "Most of the cells we were using were the classical cells that you get from bone marrow or blood, but we were already seeing a lot of hints of using different cell populations for different indications."
In Cleveland, Dr. de Lima took on key leadership roles in bone marrow and stem cell transplantation, and in hematopoietic (blood cell formation) and immune cancer biology. He and his wife, Colleen Lance, MD, a sleep medicine specialist, and their two sons were doing well there and felt no need to leave until Ohio State came calling.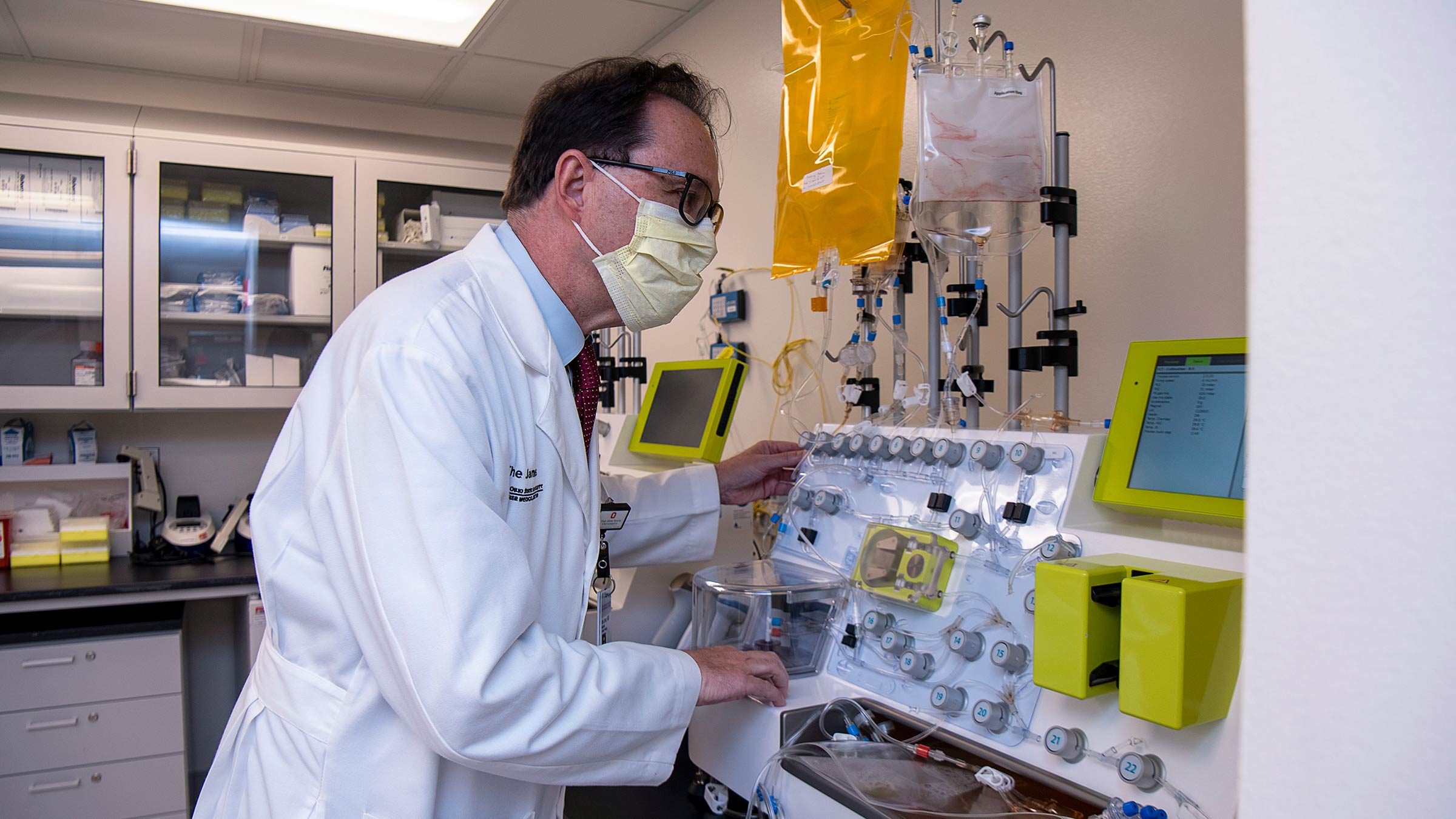 Seizing an opportunity to build something big
"The main reason for my coming to Ohio State is an alignment of missions," says Dr. de Lima, referring not only to cellular therapy but to the OSUCCC – James' decades-old BMT program, which he says ranks as the largest in Ohio in patient volume. "BMT is basically the mother of all cellular therapies, and BMT programs reflect the ultimate of team sports. It's a multidisciplinary process, and having all the parts in one place is a tremendous asset. Also, experience is a major factor — physicians, nurses, social workers and several other professionals with a lot of experience make all the difference."
Dr. de Lima says Ohio State "expressed a huge interest in putting together a holistic plan toward expanding multiple avenues of cellular therapy, so we were all thinking the same thing. For me it was like music: a place that has basic science, the best in clinical care and an established clinical research enterprise. What was missing, or partially missing and needing to be expanded, was an ability to manufacture cells on a human scale."
That is where he hopes to contribute.
"I'm not a basic scientist who's going to lead the discovery process. I see myself as an enabler. We have ambitious goals for expanding clinical trials to develop new and refine existing cellular therapy approaches with the ability to move from conceptualization and testing in our labs to the clinical bedside."
This effort will require specialized hardware and additional lab space, and it will involve coordination among the divisions of Hematology and Medical Oncology in the Ohio State College of Medicine as well as the OSUCCC – James' Pelotonia Institute for Immuno-Oncology.
Dr. de Lima notes that multidisciplinary studies by scientists in these entities are already underway in the realm of CAR T-cell and other cellular therapies.
One important study that he's been closely involved with is called triple CAR T, which is designed to target and destroy three proteins that are common in blood cancers, rather than just one.
"Traditional CAR T-cell therapy targets a protein called CD-19, which is a structure that's common in both acute lymphocytic leukemia, known as ALL, and non-Hodgkin lymphoma, called NHL," Dr. de Lima explains. "The problem is that, in a significant percentage of patients, the disease learns to evade this CAR T. One way to possibly bypass this is to have a CAR T that attacks multiple targets, so we'll have a greater chance of preventing any resistant cells from escaping. In this study, we're targeting the CD-19, -20 and -22 proteins, which are all prevalent in ALL and NHL. The study is now open at Ohio State."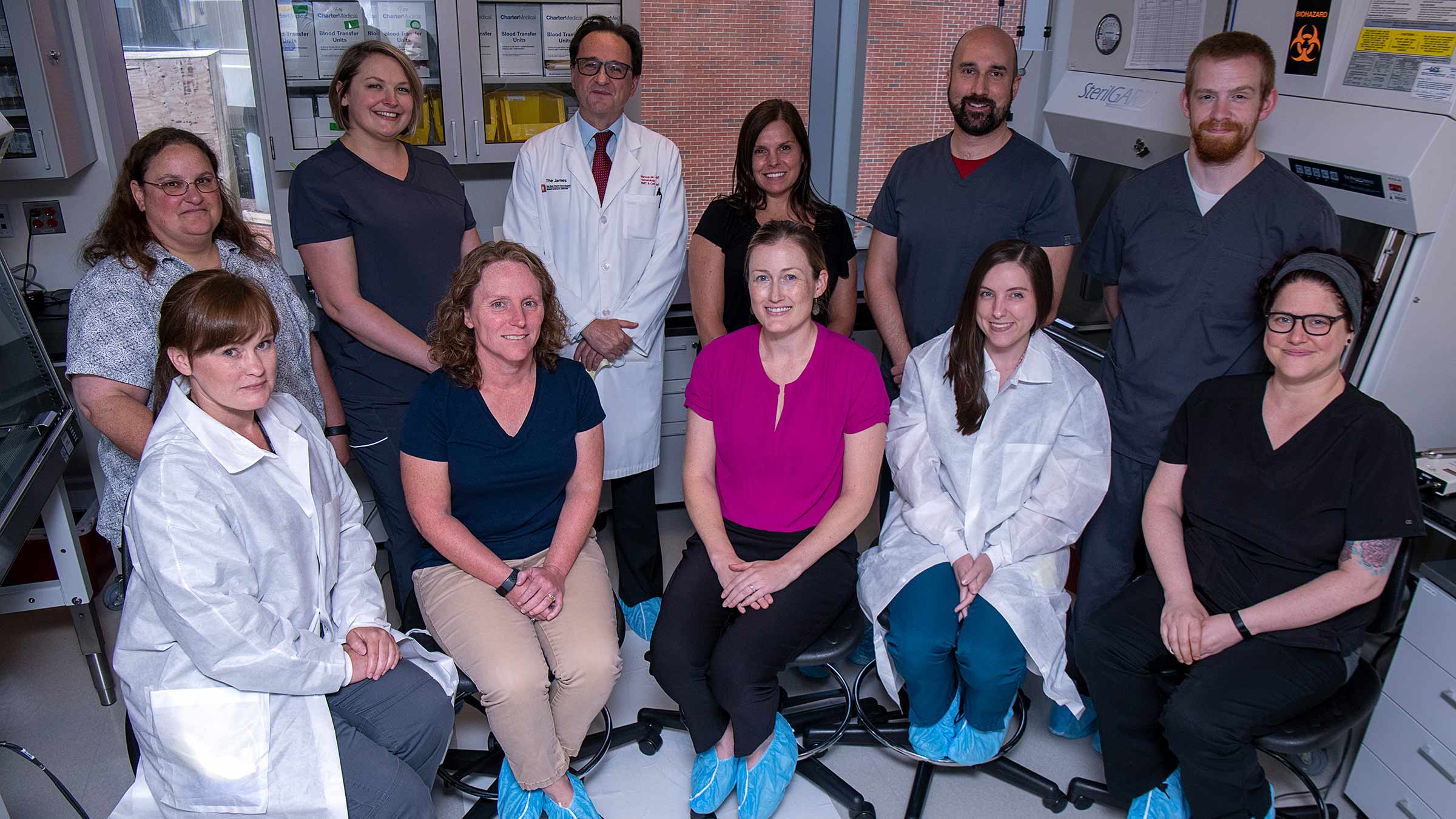 Always hoping to help
"I never deny that we often have to deal with death because of the nature of what we do," Dr. de Lima says. "Curing people is our goal, but probably most of my job is alleviating people's suffering. When you realize you can't cure, you work to improve quality of life, and that keeps you going.
"Knowing you can help on an individual level is fantastic, but even better is knowing that, with a stroke of luck and persistence and science, you can possibly make discoveries and develop treatments that will help a lot of people."
He's glad he switched from general medicine to hematologic oncology, a discipline in which huge strides have been made over the decades since his brother died of ALL. "The fact that childhood ALL is now cured in over 90% of cases is a strong validation of our collective progress in treating this illness and other hematologic malignancies.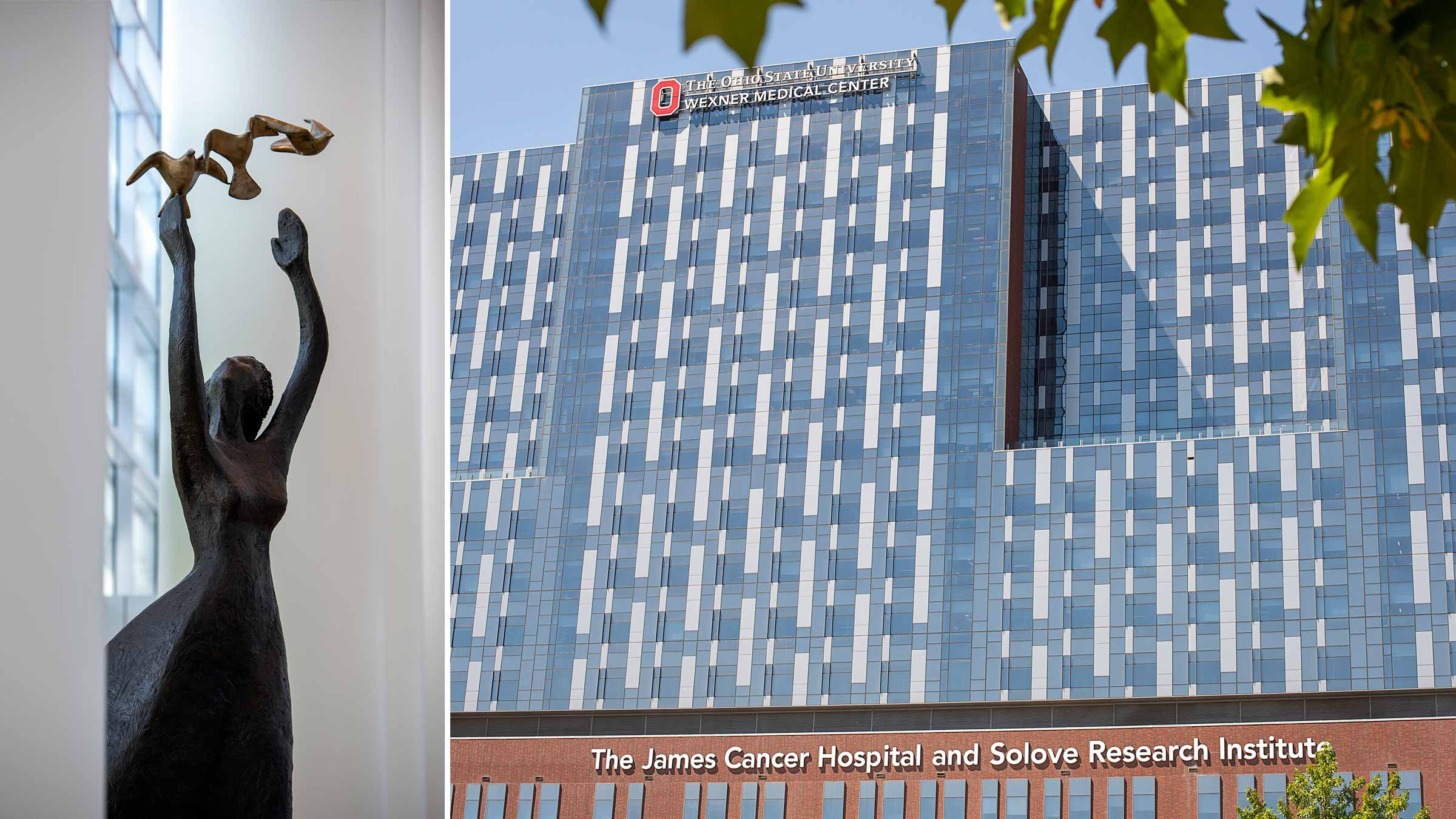 "Since changing my career focus, I've never looked back," Dr. de Lima says, adding that he hopes to one day be remembered for two things. "On a personal level, I hope some people will remember that I helped them. On a program level, I'd love to help a large place like Ohio State cross a finish line in cellular therapy. It would be very cool to see the development of a lean machine that is self-sustaining and consistently delivers new treatments."
There are many applications for cellular therapy, Dr. de Lima says, and all are tremendously exciting.
"I jokingly have a slide in one of my presentations that says the foundation of cell therapy is the center of the universe," he says, grinning. "But you know, I think it's going to be."
The region's most experienced blood and marrow transplant program
Trust your care to The James.
Learn more