Teaching & Learning
Integrating health equity, anti-racism efforts into health care education and medical practice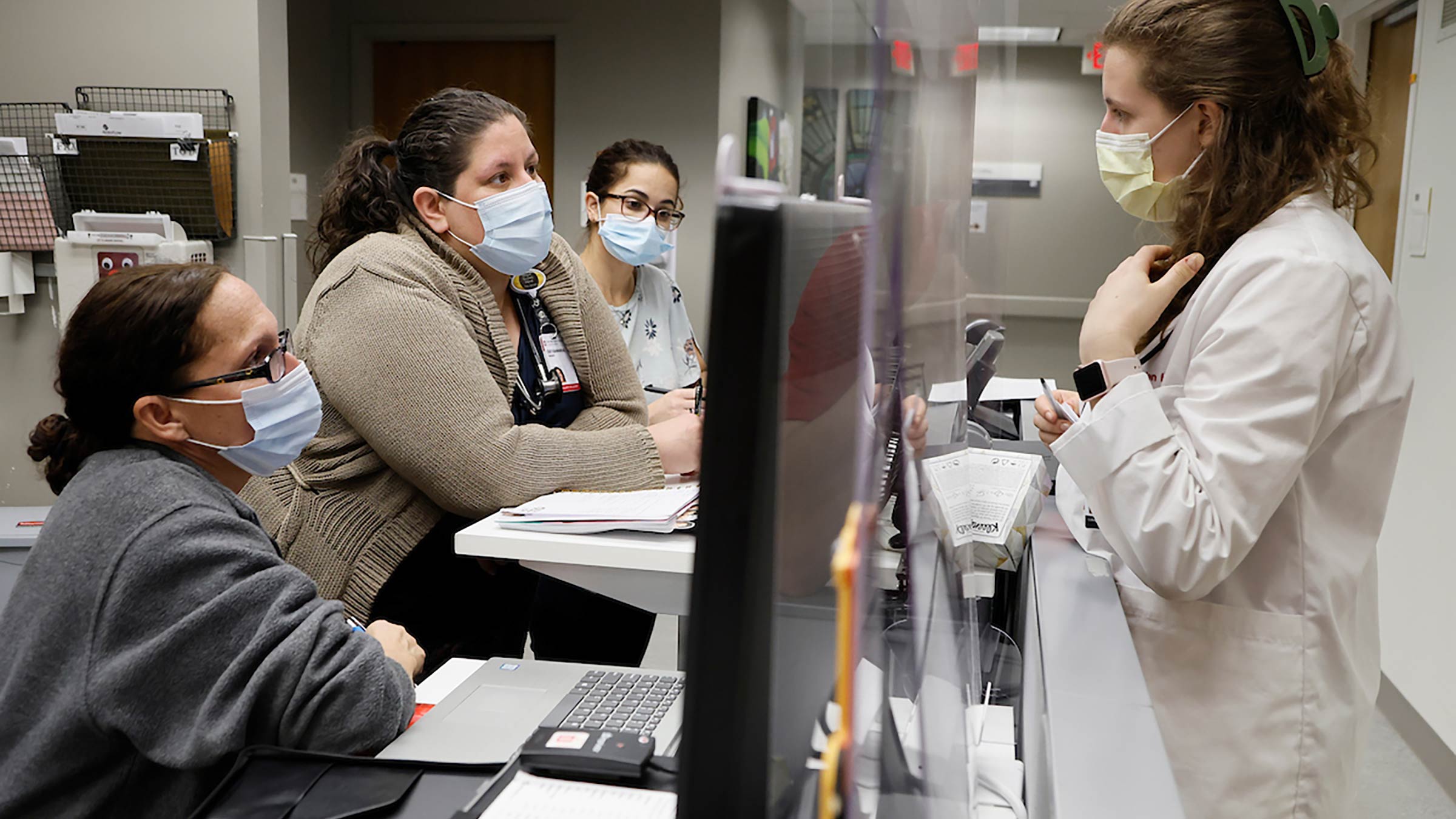 Editor's note: This article is part of a series for The Ohio State University Wexner Medical Center's 2022 Health Equity and Anti-Racism annual report. Read all stories in this series on the Anti-Racism Initiatives page.
---
The story of The Ohio State University College of Medicine's work to prepare learners to meet the needs of diverse patient populations while dismantling a medical system steeped in structural racism is one of intention and effort to ensure the health profession reflects the communities it serves. The college's progress in attracting a high-achieving and diverse student body, which includes a large number of underrepresented students, is a result of holistic admissions practices. In 2021, the college's intentional recruiting strategy resulted in a 14% increase in applicants. In addition, the college is ranked the 14th most diverse medical school in the nation — the highest ranking among top-40 research schools — according to U.S. News & World Report.
At Ohio State, the health profession reflects the communities it serves. The elaborate planning and development of new advanced competency courses, curriculum revisions and expanded student interactions with diverse patient populations contribute to students being better equipped to understand themselves and their patients' needs. These efforts also focus on giving students the support and resources they need to be successful and innovative as they provide unbiased, high-quality health care. Here are some updates on the college's ongoing efforts to confront inequality and create change.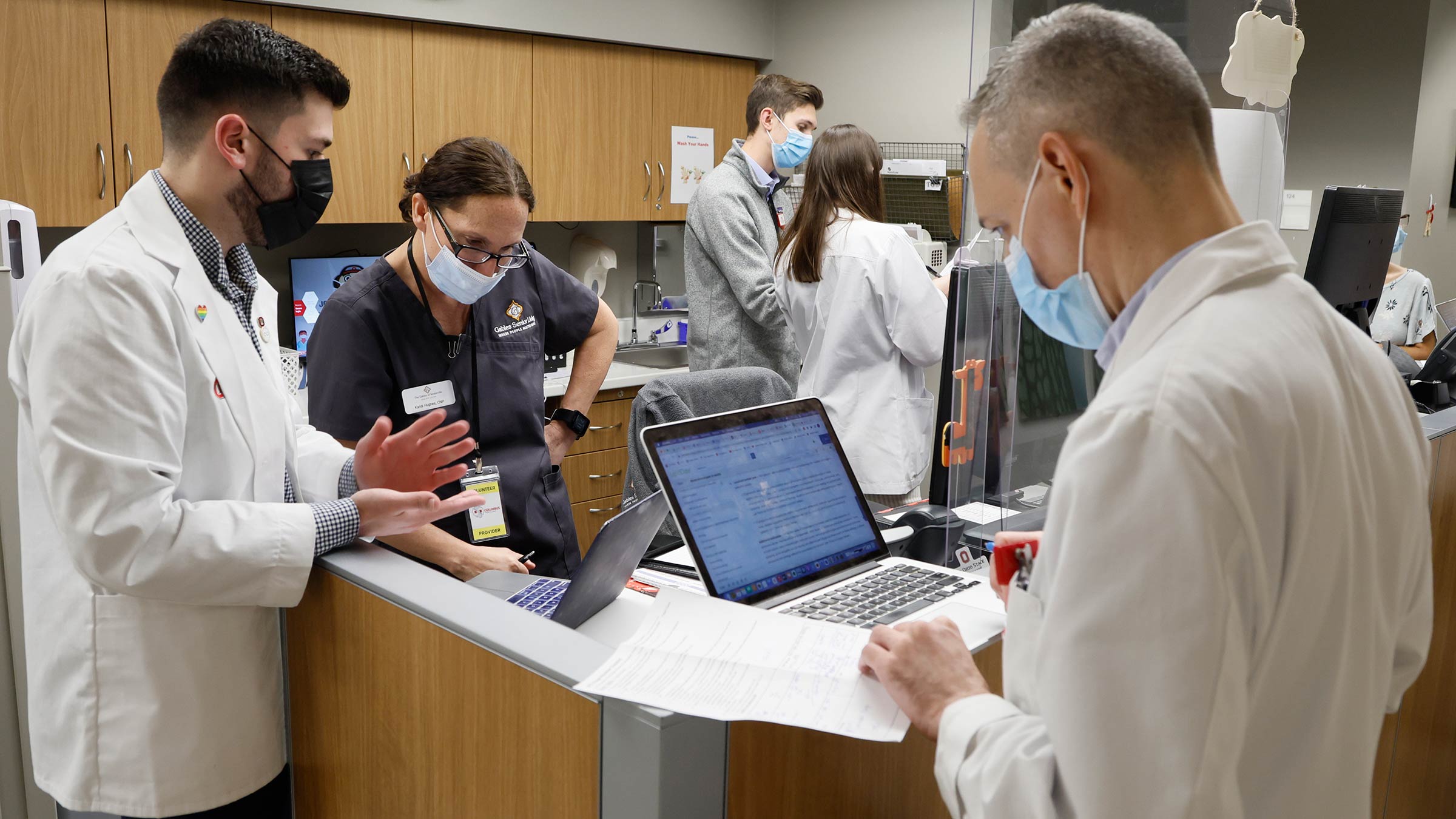 Student-run free clinics provide holistic care
Robert Cooper, MD, associate professor of Emergency Medicine at the Ohio State College of Medicine, oversees the college's student-run free clinic within the Columbus Free Clinic (CFC), a primary and immediate care walk-in clinic managed by Ohio State medical students. In addition to serving medically underserved and uninsured patient populations, specialty clinics in psychiatry, gynecology, law and LGBTQ+ patient care offer additional support. On Thursday evenings, under the supervision of volunteer physicians, students work alongside social workers, pharmacists, lab technicians, nurses and faculty mentors in a collaborative setting to care for between 40 and 50 patients.
"Primary care has expanded to also focus on patients' housing, mental health, food and social needs as much as on their medical needs," Dr. Cooper says. "This gives students a deeper understanding of the many social contexts of health and well-being."
During a shift at the clinic, while second-year medical student Helen Hines consults with mentors on medication options to treat her patient's high blood pressure, a social worker joins in on the conversation. She brings up the need to discuss less expensive options and co-pay assistance resources so the patient will be able to afford to refill the medication.
"I learn as much from the social workers as I do from my patients," Hines says. "The team-based approach makes access to care so much easier for patients and our individual contributions much more effective."
Read more about the student-run free clinic
Tricia Keller is a first-year medical student who serves as president of CFC's steering committee, which oversees the logistics for the clinic. In 2021, volunteer health care professionals and students managed 2,132 free patient visits and dispensed 1,500 free prescriptions. Keller says students learn how those in different disciplines, such as social work and pharmacy, determine patient goals and how their communication styles influence care.
"They get to know patients and see the difficult choices patients have to make in order to choose between food and medicine," Keller says. "They also see firsthand how cultural beliefs and attitudes play into health."
Courtney Shihabuddin, DNP, APRN-CNP, assistant professor of Clinical Nursing, says everyone at the free clinic wants to be there and patients are so grateful for the progressive, patient-centered care they receive. Patients, not just their medical problems, are the focus, and colleagues lean on one another to provide holistic care. Dr. Shihabuddin played a large role in establishing the Rainbow Clinic, which provides safe, gender-affirming care to patients in a diverse, supportive and safe setting. Everyone who works in the clinic completes online learning modules through the National LGBTQIA+ Health Education Center, which specializes in providing national training and technical assistance to health centers to optimize access to quality health care for LGBTQIA+ populations.
"We set the bar for students," Dr. Shihabuddin says. "We show them how to talk to patients, how to get a history, including a sexual history, and make sure they understand the importance of asking all patients for their preferred pronouns."
Dr. Cooper says the CFC is a community of learners and professionals, which reflects the diversity of its patient population and each other. "Here, we all learn to better advocate for patients and amplify their voices."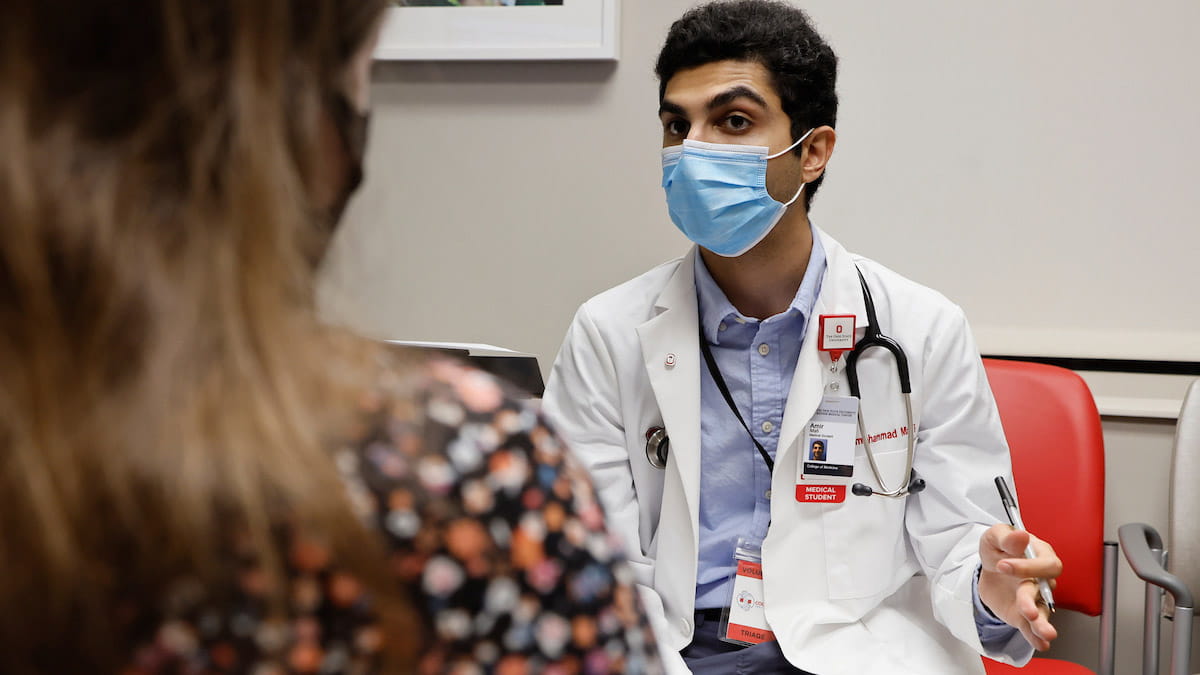 Increasing language access at free clinics
Many patients who visit free clinics have limited English proficiency, and interpretation services can be a costly line item for clinics. An outreach grant awarded to Ohio State's Translation and Interpreting Program allowed collaborators from across the university to work with Vocalize Columbus, a local organization that connects interpreters with free clinics, to launch a pilot program for remote, HIPAA-compliant medical interpreting in partnership with the Columbus Cancer Clinic. Vocalize Columbus tapped Milly Valverde, associate director of Ohio State's Destination Medicine Global Health Care and co-chair of Ohio State's Diversity Council, to work with a co-trainer to offer the nationally accredited Community Interpreter TCI program to local medical interpreters. As part of the training, all participants signed a contractual agreement to volunteer 25 hours within one year.
In addition to the trainers' volunteer time, the outreach grant offsets the costs of language tests and training textbooks to make the training free for all participants. The initial program is expanding to offer a new 40-hour training session in fall 2022.
Anti-racism curriculum updates and integrations
The college continues to make measurable progress in building an infrastructure based on introspection and action to address negatively biased attitudes, perspectives and practices. The Equity and Anti-Racism Task Force, led by Jennifer McCallister, MD, associate dean for Medical Education, and Demicha Rankin, MD, associate dean for Admissions, has activated workgroups to systematically review and update curriculum so it addresses evolving medical conditions and diseases, and related social issues that impact disease and disease management.
"This way, learners have medical knowledge but also understand their patients on deeper levels," Dr. McCallister says. "All of these nuanced learning enhancements chart a course of constant improvement."
Through electives in the Ohio State College of Medicine, medical students gain access to advanced competency courses designed to provide training in specific patient populations. "Caring for our Hispanic Latino Patients" introduces students to foundational concepts in language and literacy among Latino populations. Through online lectures, class discussions, clinical simulation and field experiences, medical students gain a thorough understanding of the challenges and rewards of serving Spanish-speaking patients in a variety of clinical contexts.
"Asniya: A Teaching Elective to Reduce Healthcare Disparities in Native American Communities" is a course based on an outreach program called Asniya, established through Harvard Medical School in 1995, where medical students and other allied health students visit Native American reservations over the summer. There, medical students introduce youth to fields in health care, participate in clinic experiences at local reservation health care facilities and gain insight into complex health and cultural issues.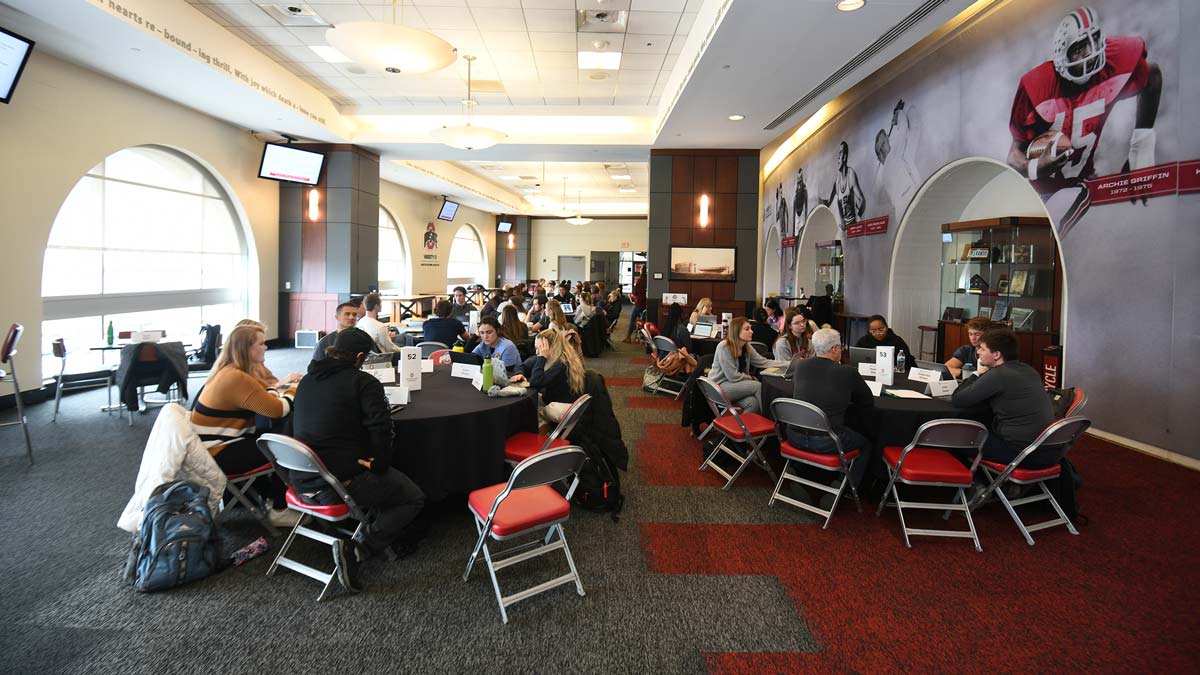 Confronting inequity in a supportive and collaborative setting
The Ohio State University Interprofessional Practice and Education (IPE) program challenges the way its seven health science colleges teach and provide health care. The BuckIPE Foundational Curriculum brings students from two or more health science professions together during their training to learn about, from and with one another while also working together to identify and address structural racism where it exists in the community, to improve health equity.
As of May 2022, more than 1,000 second-year learners from the health science colleges have participated in "Anti-Racism in Action, a curriculum that uses readings and videos to dissect the complex structures within our health care system and society that create inequity in care and outcomes. In teams of nine, students choose a scenario that features an interprofessional team grappling with racism. They're tasked with identifying root causes, including systemic racism, and what they would do to address the people involved, practicing how to speak about racism and microaggressions, and how they would address larger issues at play.
Andrea Pfeifle, EdD, PT, FNAP, Ohio State's first associate vice chancellor for IPE, says these targeted programs effectively bridge health care education to health care delivery.
"These programs engage patients, families, communities and providers to ensure patients' interests are at the center of the health care delivery, population health programs and policies," Dr. Pfeifle says.
Through BuckIPE, health science students are assigned to teams of eight and stay with that team throughout their education. There are 165 teams of about 1,300 students who meet in person several times a year to discuss a fictitious patient case. Students who aim to be doctors, nurses, dietitians, pharmacists, dentists and speech therapists contribute what they've learned in their areas of expertise to come up with a health care plan for a patient who's also navigating language, economic and cultural barriers that impact their ability to access care.
Another partnership called Health Equity Scholars unites The Ohio State University Office of the Chief Wellness Officer, IPE and the College of Nursing's Office of Diversity, Equity and Inclusion to create a relevant and transformational opportunity for students and faculty. The program is designed to prepare students with advanced education that builds research and leadership skills to guide the generation or implementation of evidence to improve health equity and outcomes in diverse populations. Five interprofessional teams of students and faculty mentors are at work on projects to address health disparities that result from food insecurity, care for underrepresented Ob/Gyn patients, develop a community-based wellness program for Black women, emphasize the importance of vision and eye health, and teach youth about healthy eating in an artistic way.
More: Interprofessional education trains health care students to collaborate for patients' best health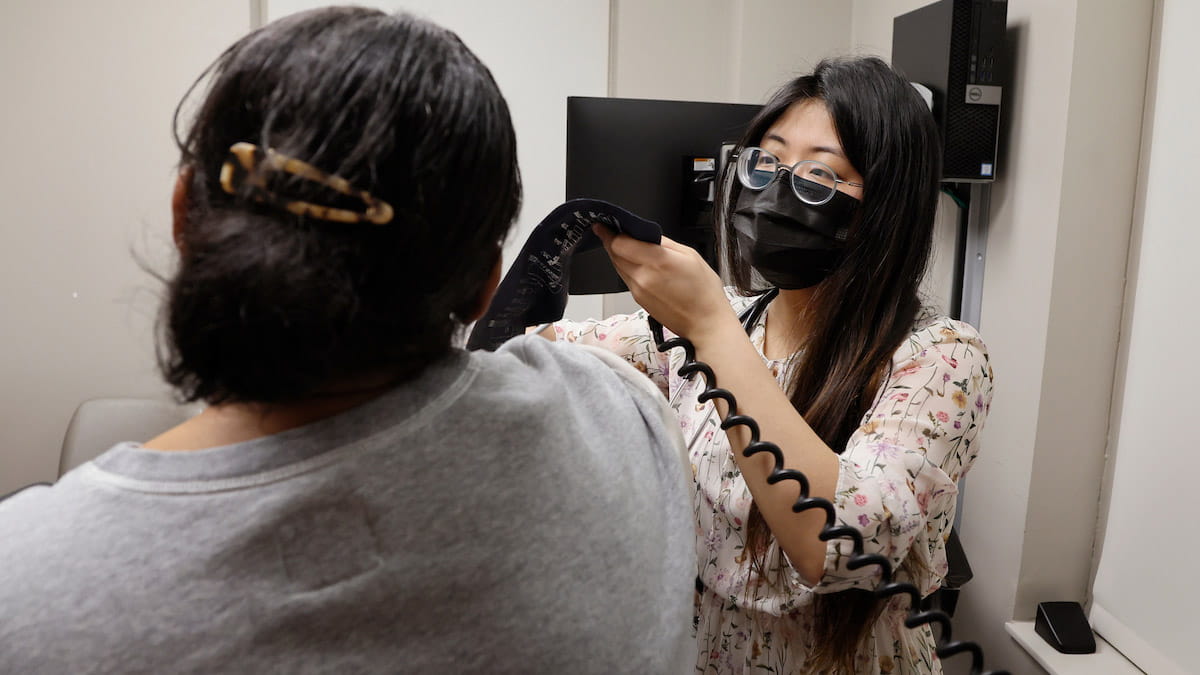 Confronting race-based clinical tests, assumptions and norms
Through engaging in learning that centers equity and inclusion, students are often personally led to break down barriers to equitable health care through their own efforts and innovation. Early in her training, Rosevine Azap, a third-year medical student and president of the college's Student Council, advocated for systemic change to replace a race-based clinical testing program algorithm.
Sheryl Pfeil, MD, professor of Internal Medicine and medical director of the Clinical Skills Education and Assessment Center at the Ohio State College of Medicine, says learning how to provide more culturally sensitive care for patients in all sorts of circumstances, including training, is imperative. That's one of the reasons the college recently added dark-skinned manikins to the mix in the simulation labs where students train, practice skills and work through different medical scenarios and adverse events.
"I think when you have simulated patients or manikins that have a more diverse appearance, you're sending an especially important message to the learner," Dr. Pfeil says.
A select group of medical residents has been accepted into the American Medical Association and the University of Cincinnati Resident Diversity Leadership Program. The immersive program brings together residents from academic institutions to develop competencies in academic and organizational leadership through a diversity lens and cultivate a community of practice to support personal and professional goals.
A cohort of 16 College of Medicine faculty, staff and students will participate with colleagues from 10 other medical colleges in Anti-Racist Transformation in Medical Education. This three-year change management process empowers participants to affect individual and institutional change and transformation. It puts educators on a course to commit to incremental, non-linear, people-centered and lifelong efforts to ensure a health care and medical education system free of bias and racism.
Intentional engagement and support
This is the second year in which first-year Black and Latinx medical students were paired with faculty mentors who are also from historically excluded groups in medicine to assist with their transition to medical school, the university and Columbus.
Third-year medical student Evans Osuji says sharing a background with his mentor allowed him to be more vulnerable and connect on a level that brought even greater support.
"Routine check-ins, especially about how I was doing emotionally and mentally as I moved through the rigors of med school, really went a long way in making me feel more comfortable and confident," Osuji says.
Improving health equity through anti-racism efforts
Read More