Wellness
Fall recipes from our chefs: Butternut squash ideas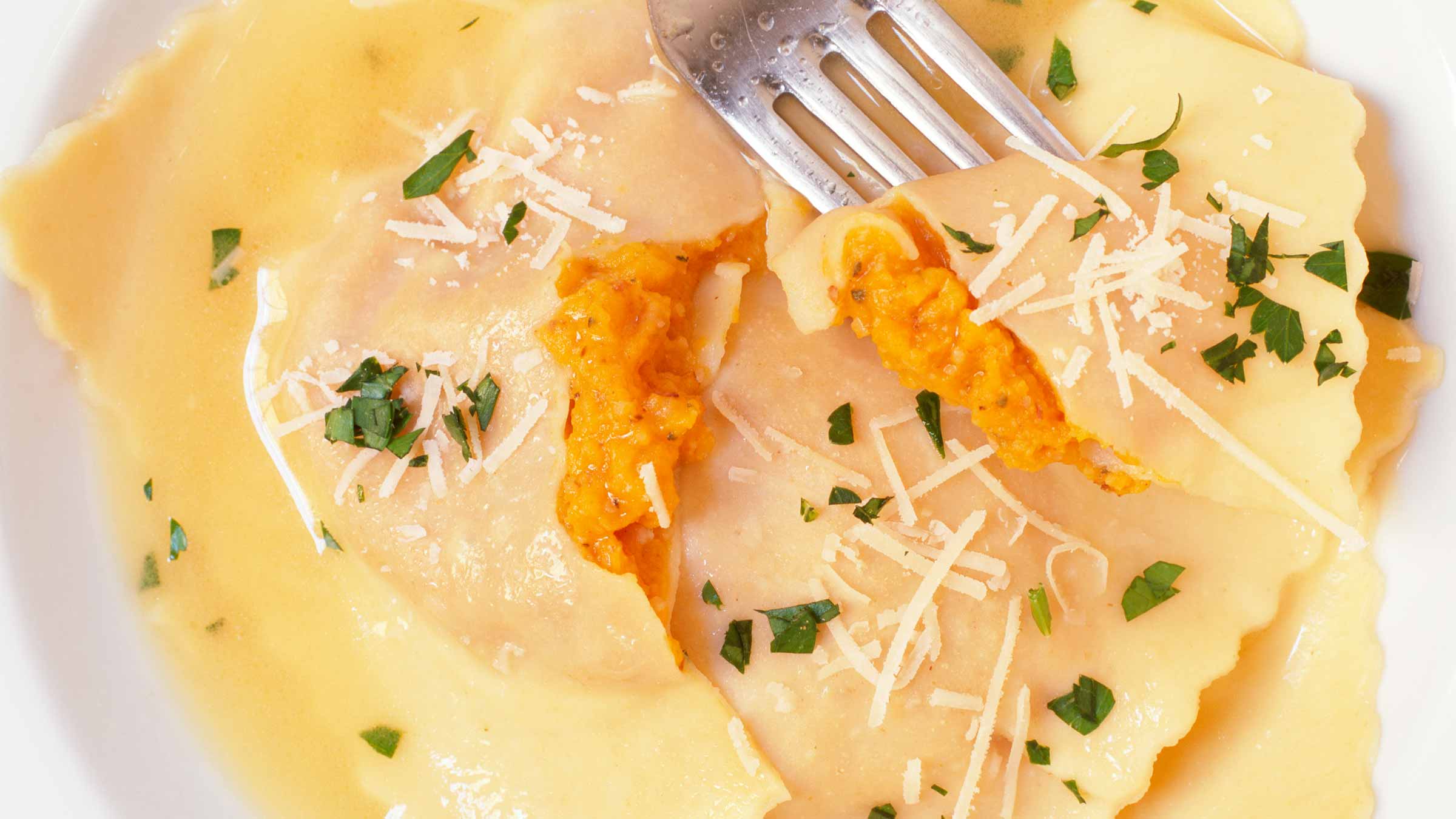 Temperatures are dropping and the leaves are changing, which means squash season is here! It's time to try new recipes that fill your kitchen with the aromas of fall.
The chefs of Nutrition Services at The Ohio State University Wexner Medical Center share two recipes featuring the sweet, nutty flavor of butternut squash.
The first is a seasonal, vegetarian take on classic ravioli with a spicy twist to heat things up. Read below and watch the video for step-by-step instructions.
What makes a super food so super?
Roasted butternut squash ravioli with sage butter
8 servings (3 ravioli per portion)
Recipe ingredients:
2 butternut squash, halved and seeded
Pinch cinnamon
Pinch nutmeg
1 tablespoon orange zest
2-3 tablespoons chipotle peppers in adobo sauce
1/4 cup basil or parsley
1/4 cup parmesan cheese
Salt and pepper, to taste
Panko bread crumbs, optional
Package of 3-inch wonton skins
Egg wash
2 tablespoons butter
Parmesan cheese, fresh sage and chives, optional, for garnish
Recipe steps:
Preheat oven to 325 F.
Season squash with salt and pepper, sprinkle with olive oil and roast skin-side up until soft, about 40 minutes.
Scoop out pulp and puree squash in food processor with cinnamon, nutmeg, orange zest, chipotle peppers, basil, ¼ cup parmesan cheese and salt and pepper. Add panko bread crumbs if mixture is still moist.
Place wonton shells in a 4-by-3 pattern. Place a teaspoon size portion of your mixture in the center of each wonton.
Run a small brush of egg wash around the edge of each ravioli. Top every ravioli with a wonton skin. Secure edges with your fingertips.
Chill for 15-20 minutes.
Bring a large pot of water to a boil. Carefully drop in the ravioli and cook for 5 minutes. Drain, and shock with cold water.
Melt butter in a sauté pan. Lay ravioli in pan, season with salt and pepper and brown on both sides.
Garnish with cheese, fresh sage and chives.
Tip from our chefs: For added heat, drain the adobo sauce from the chipotles and pour over the ravioli.
Use herbs to pump up the nutritional value and flavor of foods
Love butternut squash soup? Read below and watch the video for step-by-step instructions on how to spice up this classic fall favorite.
Roasted butternut squash soup with chipotle cream
Recipe ingredients:
1 medium squash, about 4 pounds
1 tablespoon butter
1 large yellow onion, chopped
6 cups fat-free chicken or vegetable stock
1 cup 2% milk
1/4 cup orange juice
Salt and freshly ground black pepper
Whole flat-leaf parsley or basil, as a garnish
Chipotle cream:

1 cup hand-whipped fat-free Greek yogurt
1 ½ tablespoon mole sauce from canned chipotle peppers
Recipe steps:
Preheat oven to 325 F.
Cut the squash in half, from top to bottom. Remove seeds. Place face down on an oiled baking sheet and bake until the squash can be easily skewered, about 40 to 60 minutes.
Cool for 20 minutes, and scrape out the pulp. Discard skin.
Melt butter in a soup pot over medium heat.
Add onion and cook until soft.
Add the squash, stock, orange juice and milk, and simmer for about 5-10 minutes.
Let cool for about 20 minutes. Puree the soup in a food processor or in batches in a blender on high speed, 3 minutes per batch or until very smooth.
Season to taste with salt and pepper. If the soup is too thick, you may add water or stock. Ladle the hot soup into bowls.
Stir together the whipped Greek yogurt and mole sauce. Drizzle over soup. Garnish with parsley or basil.
Tip from our chefs: For added heat, add more mole sauce.
Healthy eating is within your reach!
Make an appointment with our dietitians or nutritionists.
Schedule an appointment