Wellness
When to see a physical therapist or an occupational therapist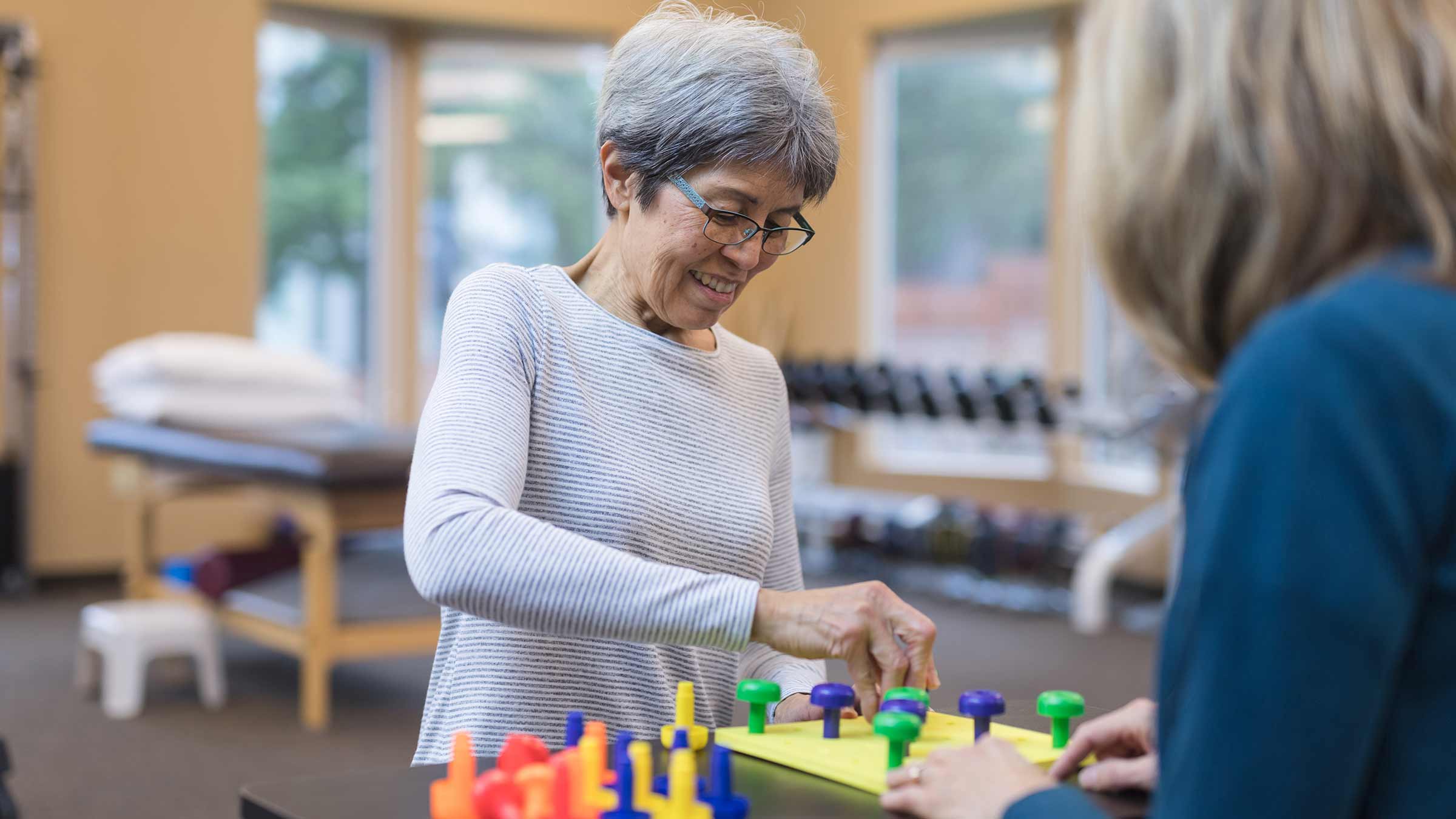 Both physical therapists and occupational therapists are committed to helping patients recover after injury and optimizing their ability to function independently. But when would you visit one specialist over the other? At The Ohio State University Wexner Medical Center, OTs and PTs often collaborate to improve a patient's quality of life.
What is the difference between physical and occupational therapists?
Physical therapists are primarily focused on strengthening the larger muscles that allow people to move around independently — like the muscles in your legs, arms and back. They help patients with activities such as walking, running, balancing, reaching for and lifting objects, and being able to stand up from a chair. These types of movements are gross motor skills.
Occupational therapists are more focused on fine motor skills that allow people to perform activities of daily living (ADLs), such as feeding themselves, bathing, grooming and driving. They take a holistic approach to help patients better perform those daily tasks, modify them or adjust the environment in ways that increase the patient's independence.
For example, imagine someone who struggles to get out of bed and dressed in the morning. A physical therapist would work with that person on the strength and balance needed to physically lift themselves into a sitting position and then stand up. An occupational therapist might then work with that person on the fine motor skills needed to button a shirt or work a zipper. The OT may also help to modify the patient's environment by finding adaptive equipment or strategies to make the clothes easier to put on.
Both professions require advanced degrees. Physical therapists must obtain a doctorate in physical therapy, while occupational therapists need a master's or doctorate in occupational therapy. Both physical and occupational therapists are board-certified and, in Ohio, they must get their state-issued license renewed every two years.
What types of patients do physical therapists work with?
Most people likely associate physical therapy with sports injuries. Orthopedic and sports medicine specialists do treat athletes — for example, helping a patient regain normal function following surgery to repair a torn ACL so they can get back to their sport or other physical activity.
When to see an athletic trainer or a physical therapist
But physical therapists treat any individual experiencing pain or difficulty with mobility in their daily lives, including people trying to return to work after an injury.
It's common for physical therapists to work with patients who have been in the hospital for a significant amount of time because of chronic diseases, neurologic conditions or cancer. Those patients' muscles may be severely weakened from lack of use and need strengthening.
Physical therapists also subspecialize in areas such as cardiovascular and pulmonary health and women's health. Some specialize in treating issues such as dizziness, chronic headaches, and pelvic floor conditions.
What types of patients do occupational therapists work with?
Occupational therapists work with individuals who needs help to improve fine motor coordination, functional cognition and life skills. This can include patients who've experienced deconditioning after a hospital stay, people recovering from strokes, brain or spinal cord injuries, and those diagnosed with degenerative diseases like multiple sclerosis (MS), amyotrophic lateral sclerosis (ALS) and Alzheimer's. They may also work with individuals with intellectual or developmental disabilities like autism or cerebral palsy.
Some occupational therapists specifically focus on rehabilitating patients with upper extremity issues such as wrist or hand fractures, rotator cuff or dislocated shoulder injuries, or carpal tunnel syndrome and trigger finger.
Other occupational therapists specialize in vision rehab for patients who have suffered a concussion or other head injury. The patient's eyes may struggle to work together and cause sight and balance problems. The occupational therapist may partner with a neuro-optometrist to help the patient's eyes get back in sync.
Physical therapists and occupational therapists often work together at Ohio State.
Both professions practice in a variety of settings. They may treat patients in hospitals, nursing homes, schools, community agencies, hospitals and private homes.
Physical and occupational therapists at The Ohio State University Wexner Medical Center frequently collaborate to achieve a patient's health goals. We work together in acute hospital settings and at the Ohio State Dodd Rehabilitation Hospital.
Occupational and physical therapy teams are also based in our outpatient centers: Martha Morehouse Outpatient Care, Outpatient Care Dublin, Outpatient Care New Albany and the Outpatient Rehabilitation Powell YMCA.
Ohio State has expert subspecialists available to treat any condition and the commitment to research allows us to provide the most innovative care possible. We encourage anyone who has concerns about their physical mobility or independence to talk to their doctor about it and explore whether physical or occupational therapy is appropriate for them.
The expert physical, occupational and speech therapy you need, in convenient locations
Find an appointment today