Discovery & Innovation
Ohio State nurses devise unique solution to monitoring diabetic patients during the pandemic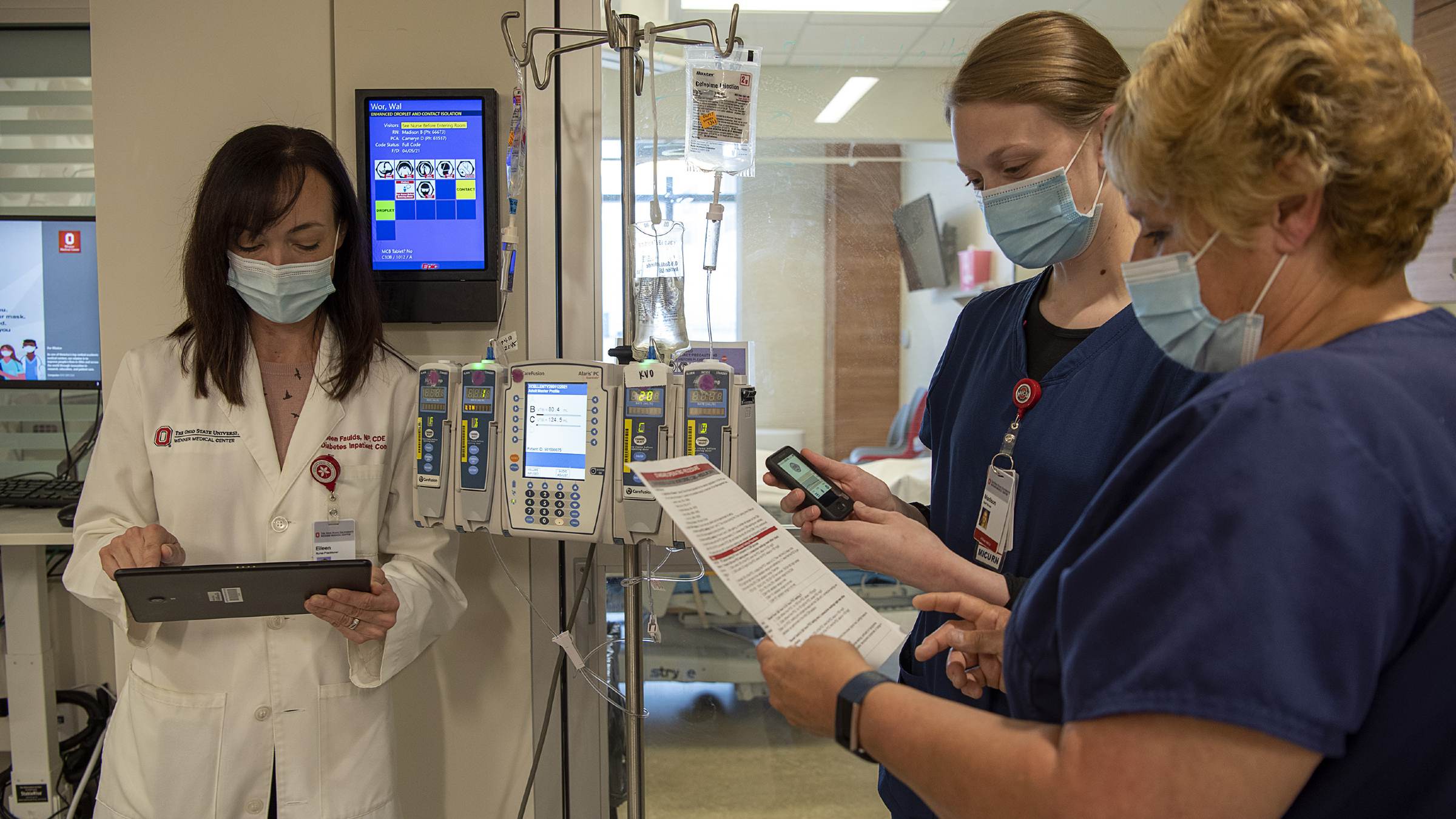 For people with diabetes, daily fingersticks to check blood sugar levels are an important part of managing the condition.
Continuous glucose monitors that measure blood sugar every few minutes significantly reduce the number of times you need to stick your fingers but they are only approved for at-home use.
So what happens when a patient with prediabetes or diabetes develops hyperglycemia while in the hospital? Nurses have to check their blood glucose hourly to make sure it's not too high.
When the COVID-19 pandemic forced the nation into lockdown in March 2020, a multi-disciplinary team at The Ohio State University Wexner Medical Center decided it was time to do things differently for the benefit of patients and the nursing staff.
Medical intensive care nurses, diabetes nurse practitioners and others came up with a way for nurses to safely and effectively monitor glucose and administer insulin from outside the rooms of COVID-19 patients.
"It is truly a testament to our profession that despite the challenges we all face with the COVID-19 pandemic, we are able to remain resilient and create innovative solutions to enhance the care for our patients," said Jacalyn Buck, chief nursing officer at Ohio State Wexner Medical Center. "This groundbreaking innovation designed by my team has made a lasting impact on the care for COVID-19 patients with hyperglycemia and will continue to improve care for many more."
Current clinical practice requires nurses to perform hourly fingerstick blood sugar checks for patients with diabetes. These frequent trips into the patient's room require the use of personal protective equipment to prevent exposure to COVID-19.
The MICU and diabetes team created a hybrid glucose monitoring protocol for COVID-19 patients with diabetes. The protocol incorporated continuous glucose monitoring technology that traditionally isn't used in hospitals. The hybrid system allows nurses to monitor patients and dispense insulin from outside the patient room, limiting their risk of exposure and conserving personal protective equipment.
"Millions of people with diabetes use continuous glucose monitors to check their blood sugar throughout the day in lieu of fingersticks. Our inpatient diabetes management team saw an opportunity to use the same technology to transform how we care for our patients." Eileen Faulds, assistant professor at The Ohio State University College of Nursing and diabetes nurse practitioner at Ohio State Wexner Medical Center
The nursing team created a program to teach every MICU nurse to apply, assess and maintain continuous glucose monitoring as the standard of care for their COVID-19 patients with prediabetes and diabetes who develop hyperglycemia. They have been able to reduce the frequency of bedside testing by 71% for more than 100 critically ill COVID-19 patients. The protocol developed at Ohio State is now being used in dozens of health systems across the country.
Nurses at Ohio State are conducting a multi-site retrospective study with other health systems that have implemented the protocol. Additionally, they plan to conduct research on the use of the protocol in non-COVID-19 patients.
Living with diabetes?
The nationally recognized diabetes and endocrinology experts at Ohio State are here to help.
Learn More