Health
Dodd Rehabilitation Hospital: Creating a bridge from trauma to home
For 60 years, Dodd has helped people with serious injuries rebuild their lives
As Taylor Haywood folded towels in her bedroom one evening last June, she felt pain in her back and stomach that was so sharp she gasped.
She'd had back pain before, off and on, for several years. But that evening, she felt something she'd never experienced.
"I don't know what's wrong," she told her husband. "I can't feel my legs."
Within a day, Haywood, 33, would discover that a disc in her back had compressed her spinal cord, paralyzing both legs.
She hadn't been in an accident. She hadn't spent years straining her back. She'd inherited degenerative disc disease. The cushioning on her spine was slowly wearing away, leaving bone against bone.
Even after a surgery to eliminate the pressure on her spinal cord, Haywood's legs remain paralyzed. She came to Dodd Rehabilitation Hospital at The Ohio State University Wexner Medical Center in early July, to relearn what came without effort before: to get into and out of bed, to put shoes on, to climb into a car.
For 60 years, staff at Dodd have helped patients like Haywood gain strength and independence and sometimes completely recover from a wide range of conditions.
A national leader in traumatic brain injury recovery
Dodd is one of only 16 rehabilitation hospitals in the country — and the only in central Ohio — considered a national leader in medical research and patient care for traumatic brain injuries. Among inpatient physical rehabilitation centers across the state, Dodd was ranked No. 1 by Newsweek in both 2021 and 2022.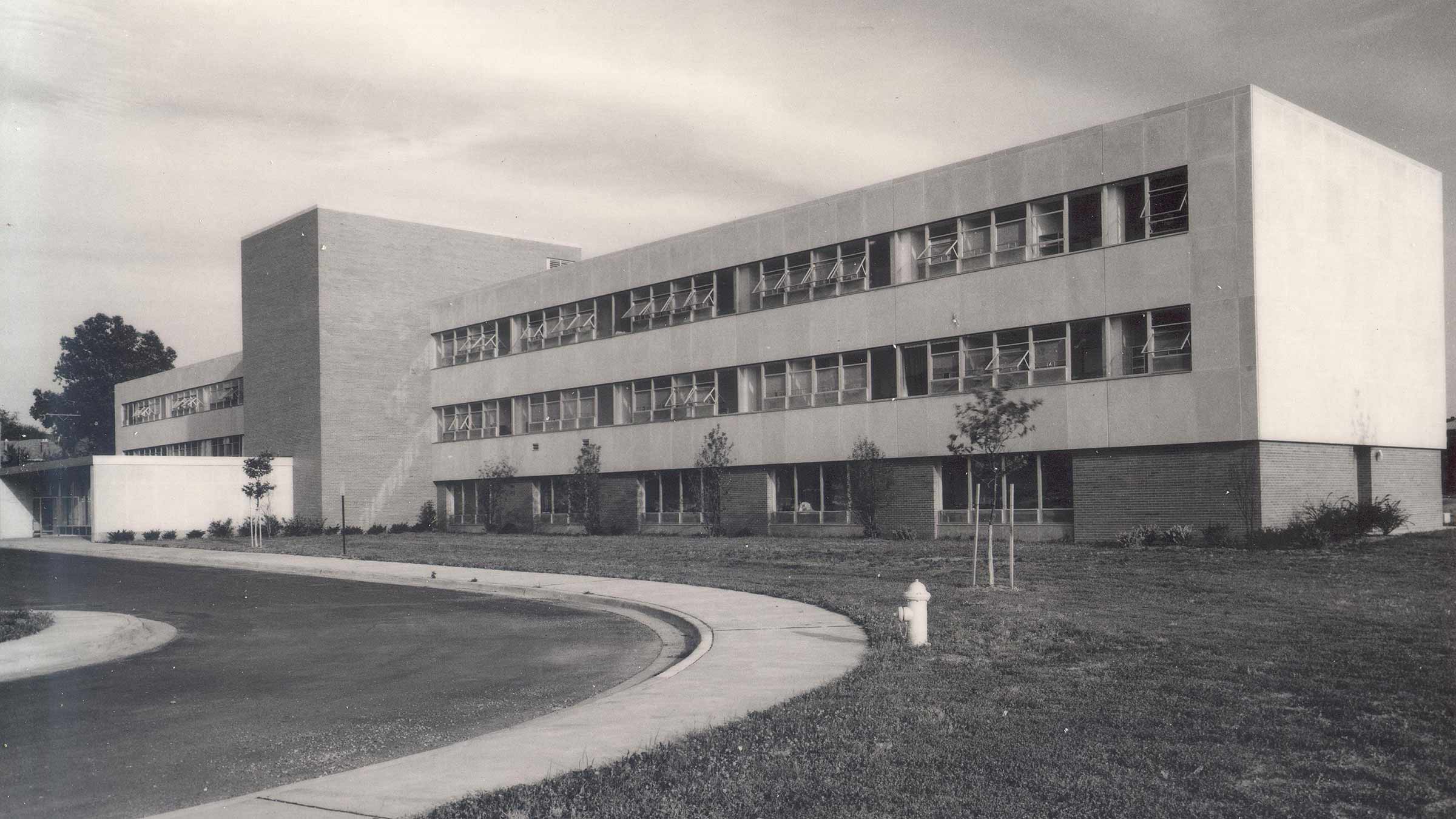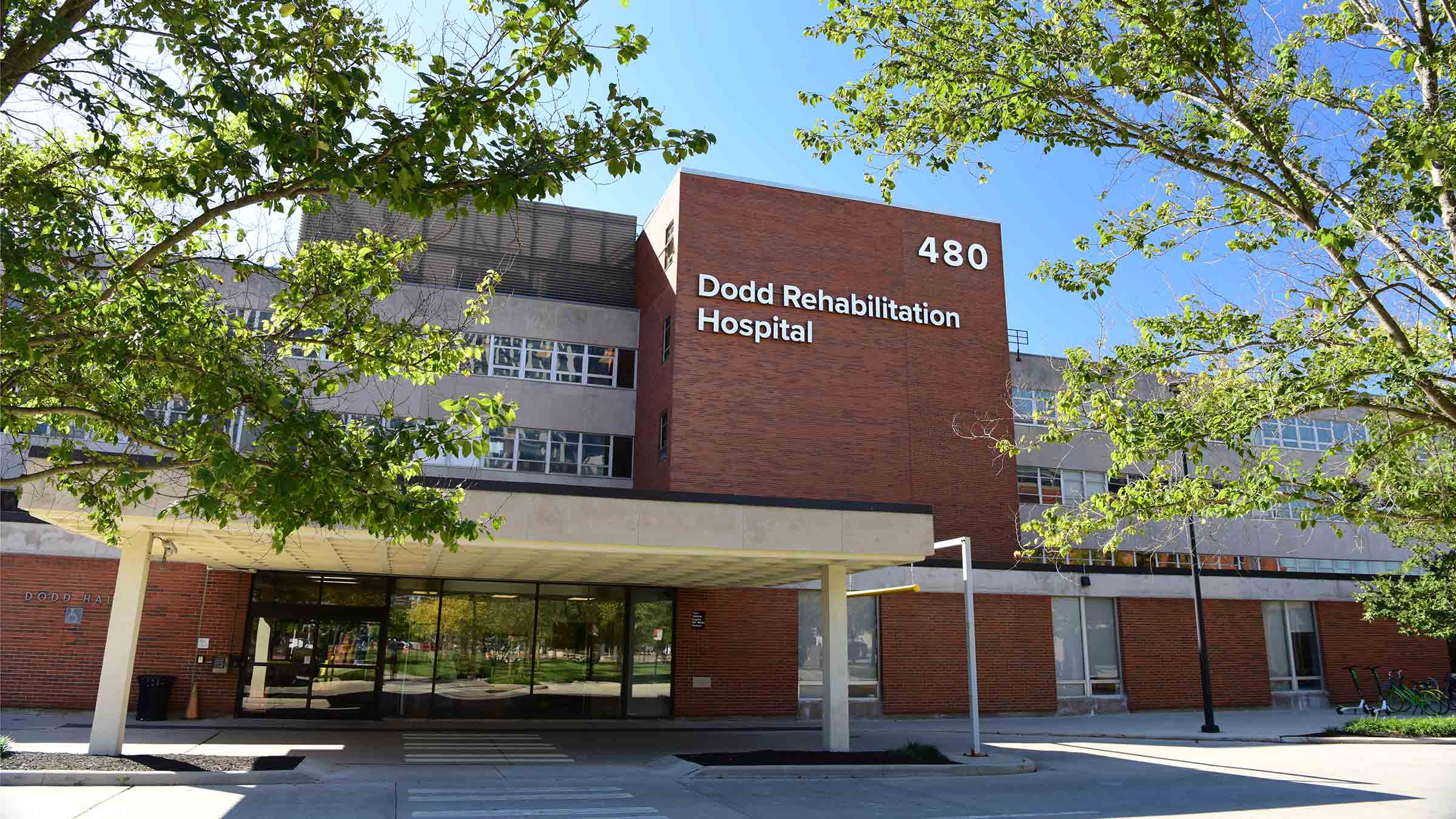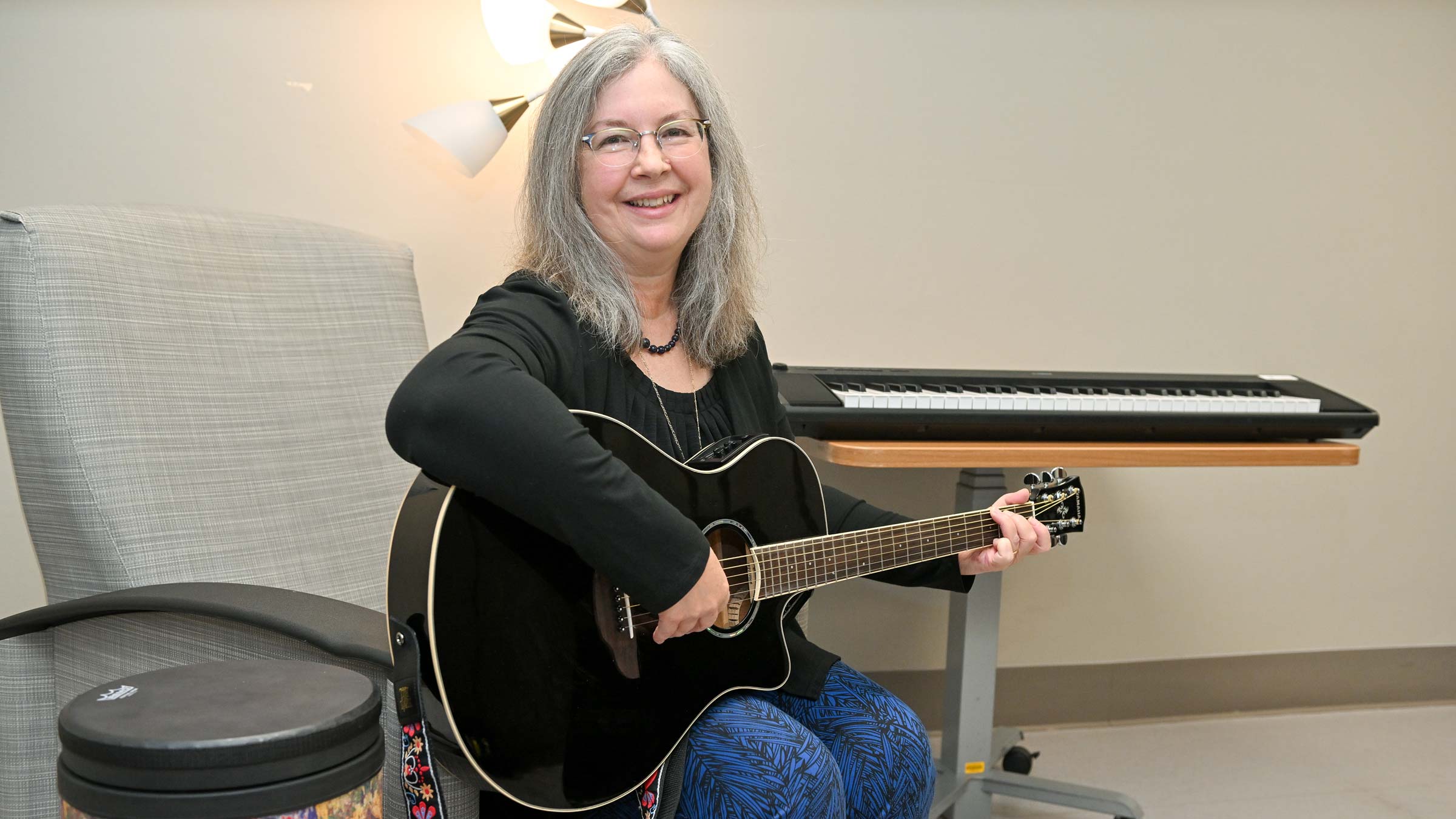 On each floor, patients recovering from spinal cord or traumatic brain injuries, stroke, cancer or serious accidents make progress in mostly small, daily steps. And each one is celebrated. When a once-comatose patient turns his head toward a familiar song. When a patient with traumatic brain injury can recall why they're at the hospital. When a woman paralyzed from the waist down completes another ride on a stationary bicycle that triggers the muscles in her legs to move.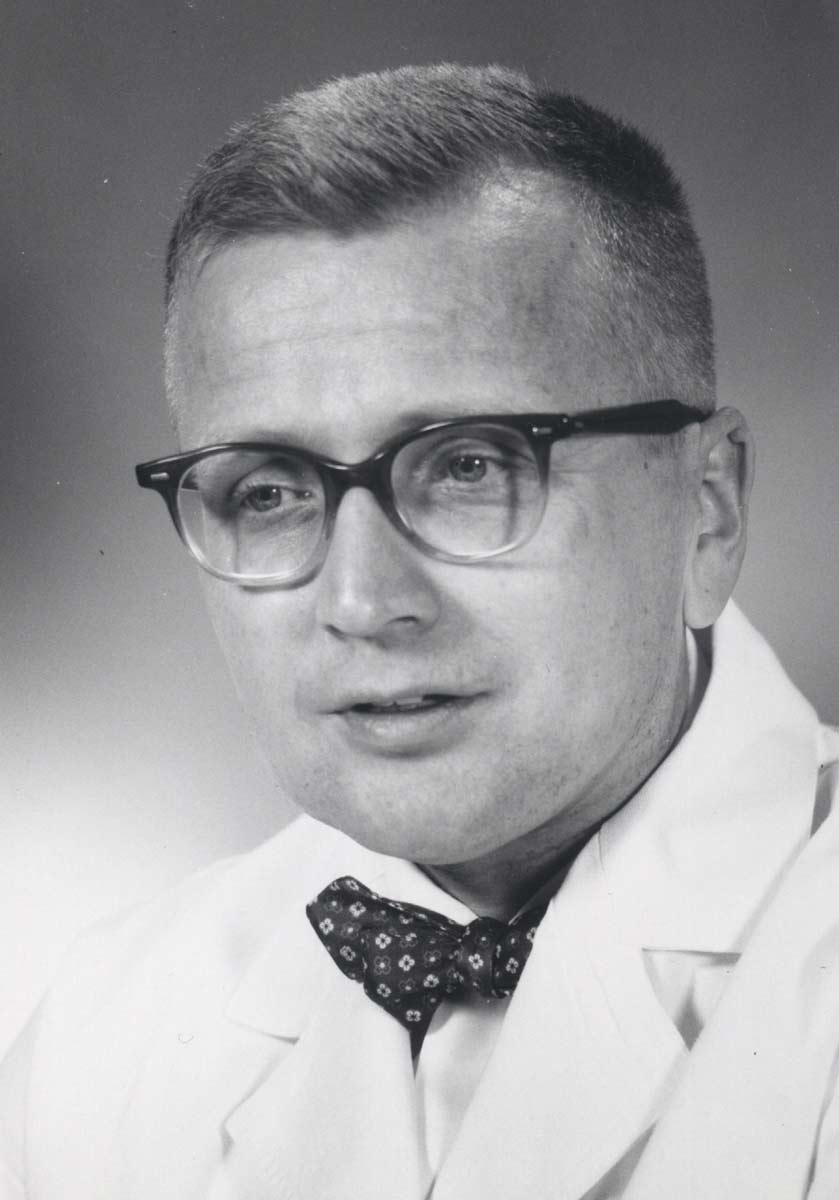 For most of its history, Dodd was led by Ernie Johnson, MD, considered one of the foremost authorities in the world and the top in the nation on electromyography (EMG), a diagnostic tool that measures electrical impulses in muscle. In teaching resident physicians, Johnson instilled in them a patient-first philosophy.
That philosophy still characterizes the motivation for clinical staff and researchers at Dodd. Working with 15 other hospitals nationwide, scientists at Dodd have tracked progress for patients with traumatic brain injury over several decades to ensure they receive the most effective treatments. In another study, researchers are investigating how the ketogenic diet, which limits carbohydrates and replaces them with fats, has the potential to improve recovery for people with spinal cord injuries.
Hope amid the losses
From hospital trauma and intensive care units, patients come to Dodd Rehabilitation Hospital for intensive physical, occupational and sometimes speech, recreational and music therapy. It's a bridge to home.
When patients arrive, sometimes they're not able to walk. They may not be able to talk or swallow or lift an arm or leg. They may have to leave their jobs. Under the weight of all those losses, sometimes marriages or other relationships are strained or collapse.
"People come in without hope sometimes," says Jodi Jones, MOT, OTR/L, a clinical coordinator of occupational therapy. "We work with them to try to give them hope and teach them how to live in their new bodies."
Every day can bring them closer to returning to their homes.
"I tell patients: Your life is not over," Jones says. "It's just changed."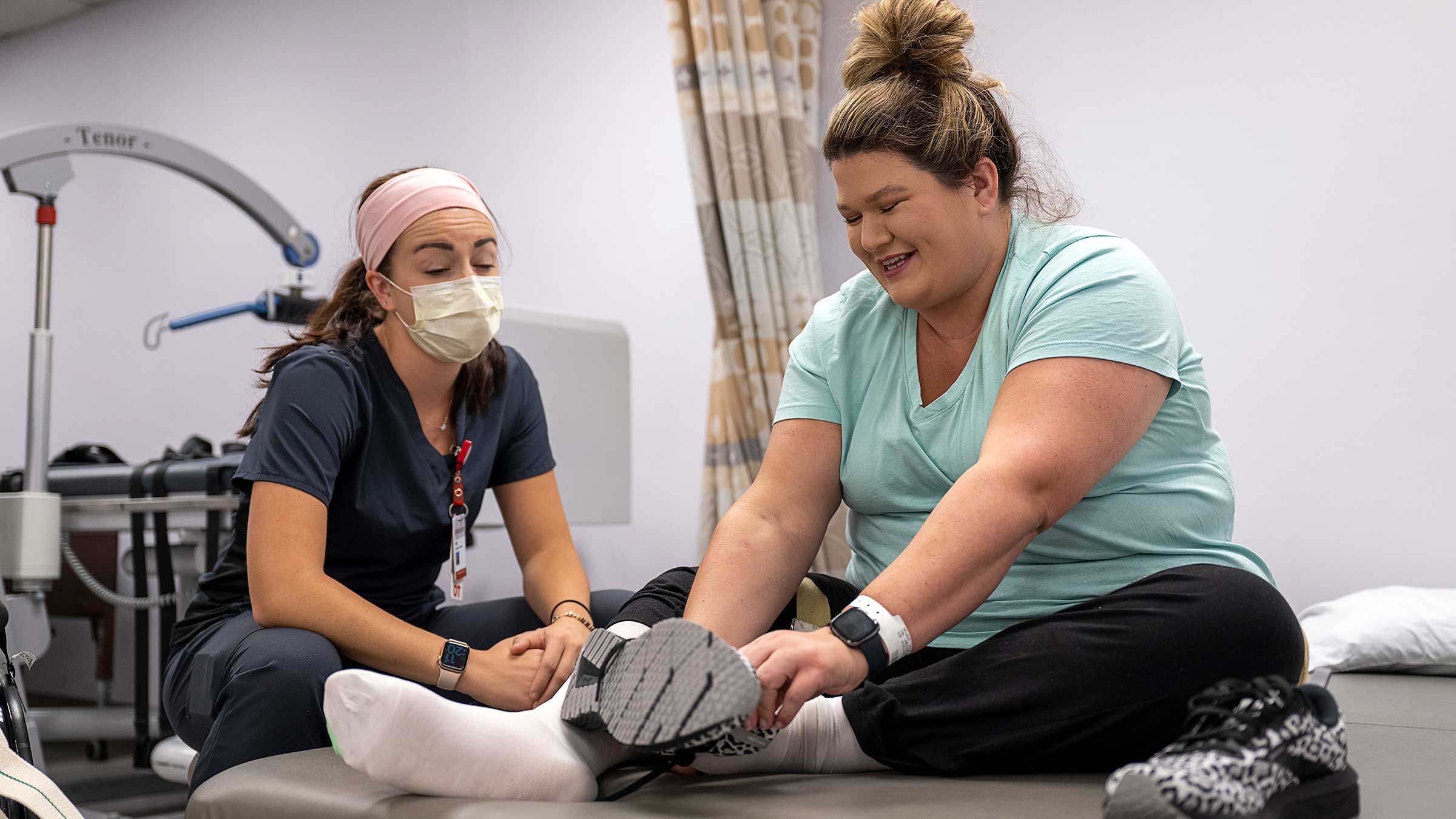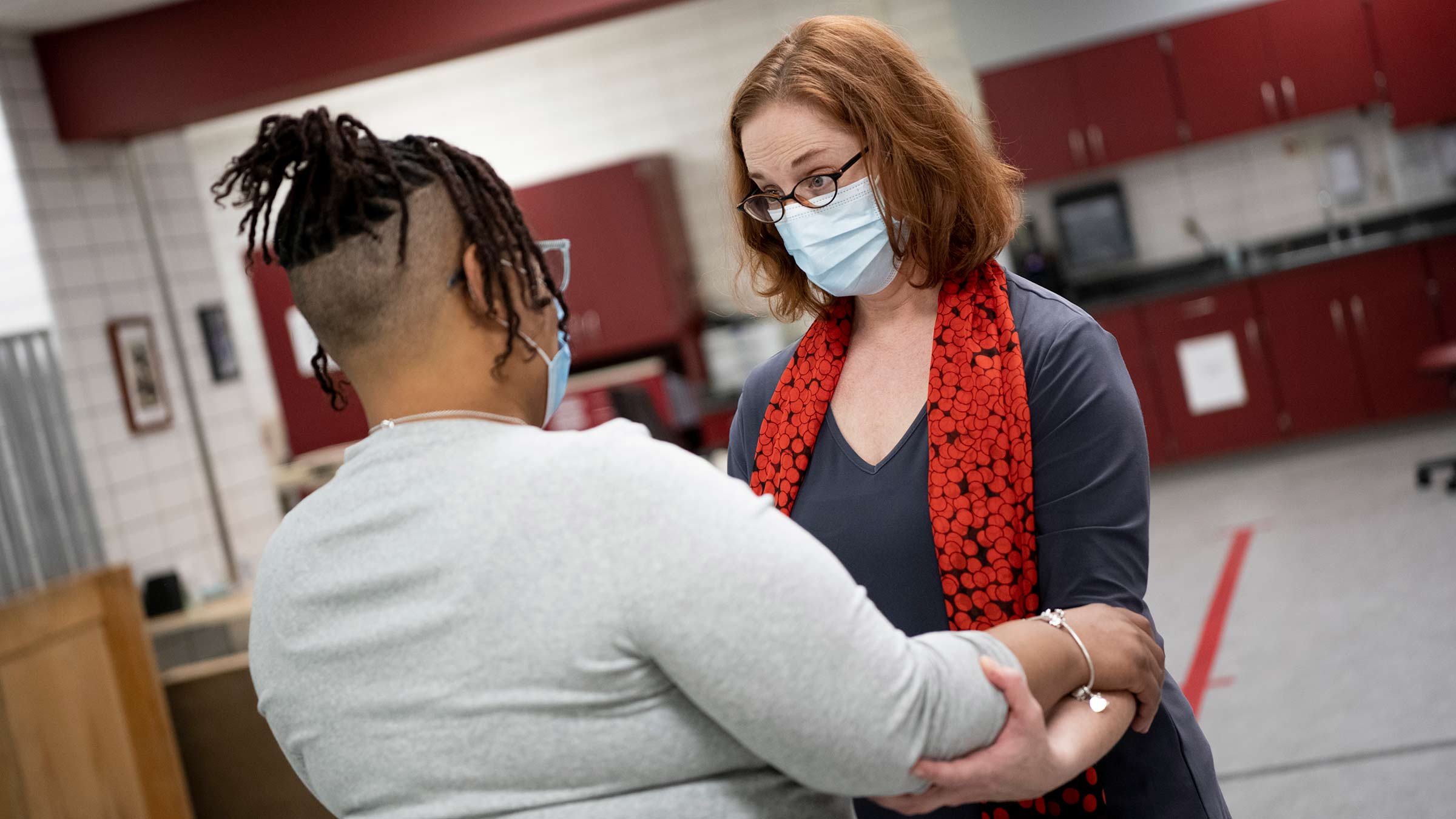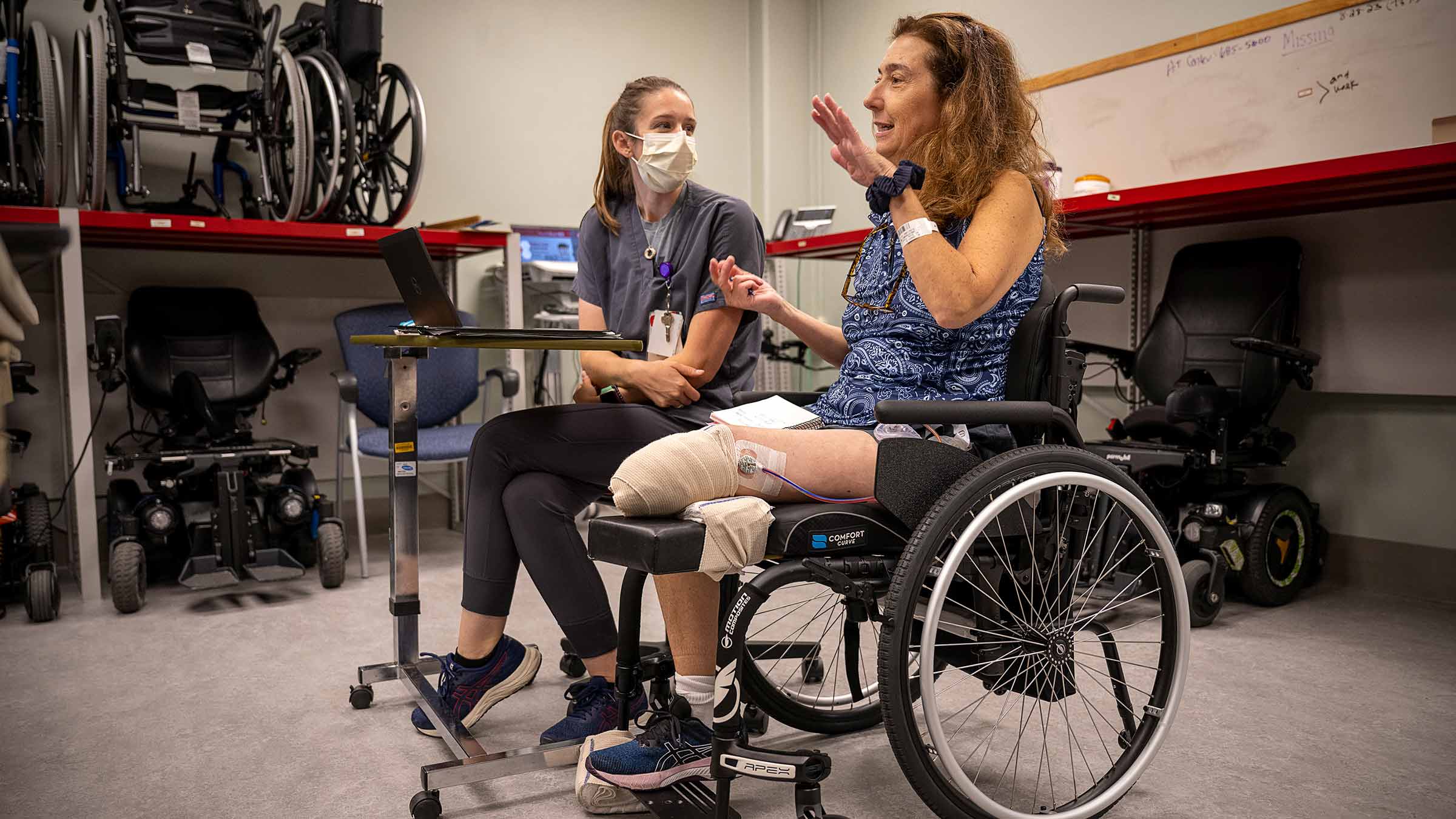 Learning new skills
Haywood pulls on the strap at the end of the hospital bed and tries to hoist herself up. On the first attempt, she can't quite do it. Second try, occupational therapist, Izzy Maher, OTD, OTR/L, steadies Haywood's back, then she rises slowly into a seated position.
"I didn't really help that much," Maher says.
Every attempt after that, Haywood does it without help, using the strap to lift herself up.
"This is always how it is: practice it one time, and just like that, you've got it," Maher says.
Before arriving at Dodd, Haywood had spent about two weeks in bed recovering from surgery. She had only sat up once.
Working daily with Maher and physical therapist Alex Eubank, PT, DPT, she had to learn first to sit up in bed, then to do exercises to build strength in her upper body to make up for the strength she's lost in her legs.
"They taught me how to be mobile," she says of her therapists. "They believed in me. That made it easier for me to think: 'I've got this.'"
Haywood's resolve to learn to do as much as she could by herself helped her catch on so quickly. But sometimes at night, after her parents and husband left the hospital, her thoughts gave way to worry: How will this affect my two children? Will I ever be able to garden again or go back to work? Or walk?
A history of restoring people
Along the halls of Dodd, some patients learn to use a wheelchair, get up and down curbs or walk again after being in a hospital bed for weeks or in a coma.
Since 2015, clinicians at Dodd have treated patients with traumatic brain injuries so severe that they might only be able to open their eyes and look around the room. It's the only program in the state offering comprehensive therapy for patients who aren't fully conscious because of an accident or cardiac arrest in which oxygen was cut off to their brain.
The rate of patients becoming fully consciousness, walking and talking again is significant. On average, 70% of patients treated at Dodd for a traumatic brain injury that left them in a coma have emerged from their minimally conscious state.
The key to their recovery is moving rather than remaining in bed, says Sheital Bavishi, DO, who directs the Disorders of Consciousness Program at Dodd Rehabilitation Hospital and treats patients with traumatic brain injuries. She's also an associate professor of Physical Medicine and Rehabilitation at The Ohio State University College of Medicine.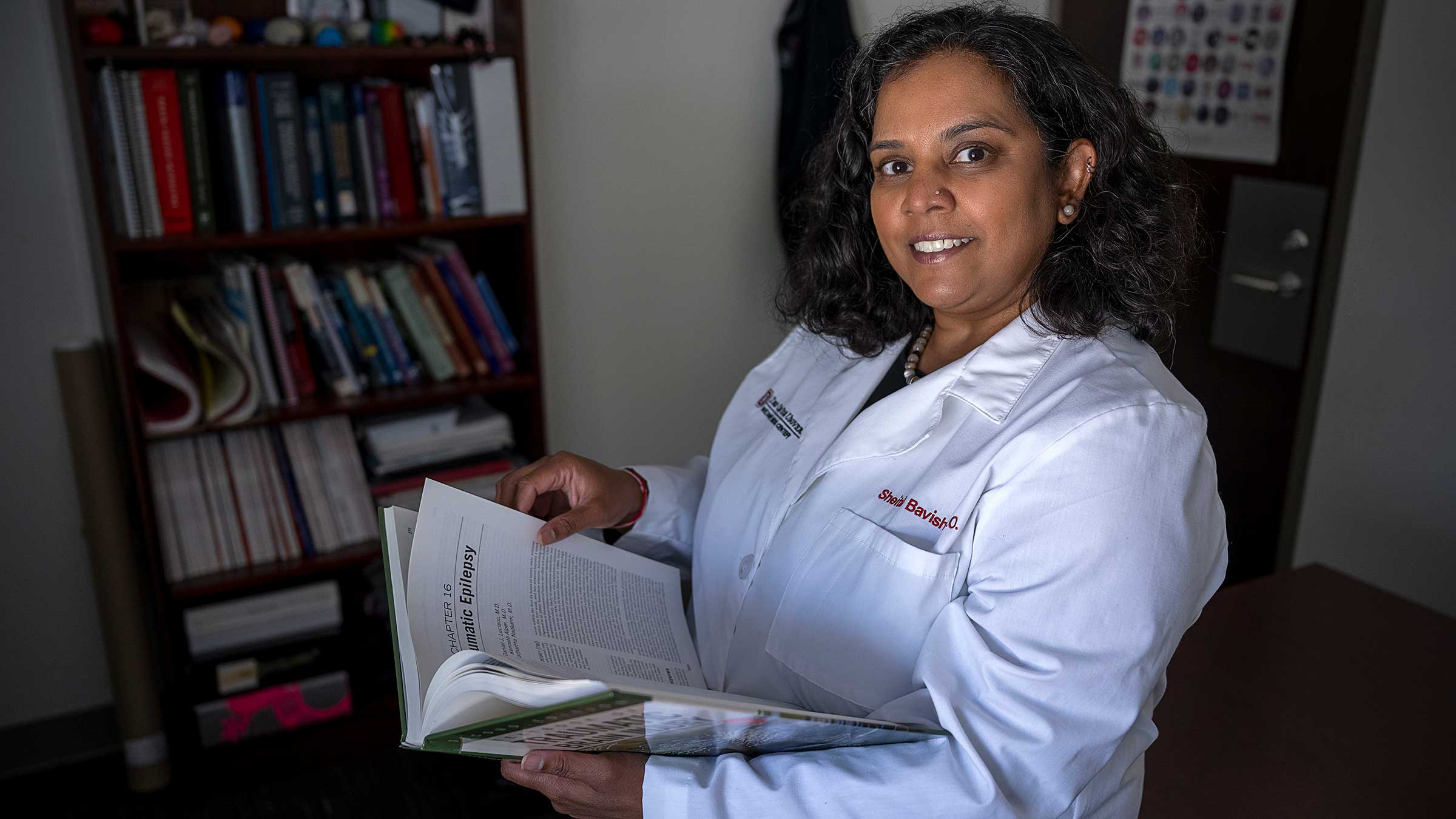 Even if patients are only minimally conscious, physical, speech and occupational therapists try to awaken their body's responses and get them used to being active during the day. Therapists might place them in a harness that holds their body up over a treadmill, then the therapists move their legs as if they were walking. That movement increases circulation in their bodies and can help them train their brain and leg muscles to remember how to walk.
"It's so amazing to see when a patient flips the switch and suddenly they're walking or talking," Dr. Bavishi says. "It's like an awakening, and we see that every day."
Preparing for home
Before leaving Dodd, staff members teach patients and their families how to do the various tasks they'll need to do so they can live at home safely.
Inside one of the facility's two gyms, a parked Chevrolet Monte Carlo offers patients a chance to practice moving from a wheelchair into the seat of a car and back into the wheelchair.
Patients can practice cooking, cleaning and reaching into cabinets in a specialized kitchen. They can relearn how to use a washer and dryer.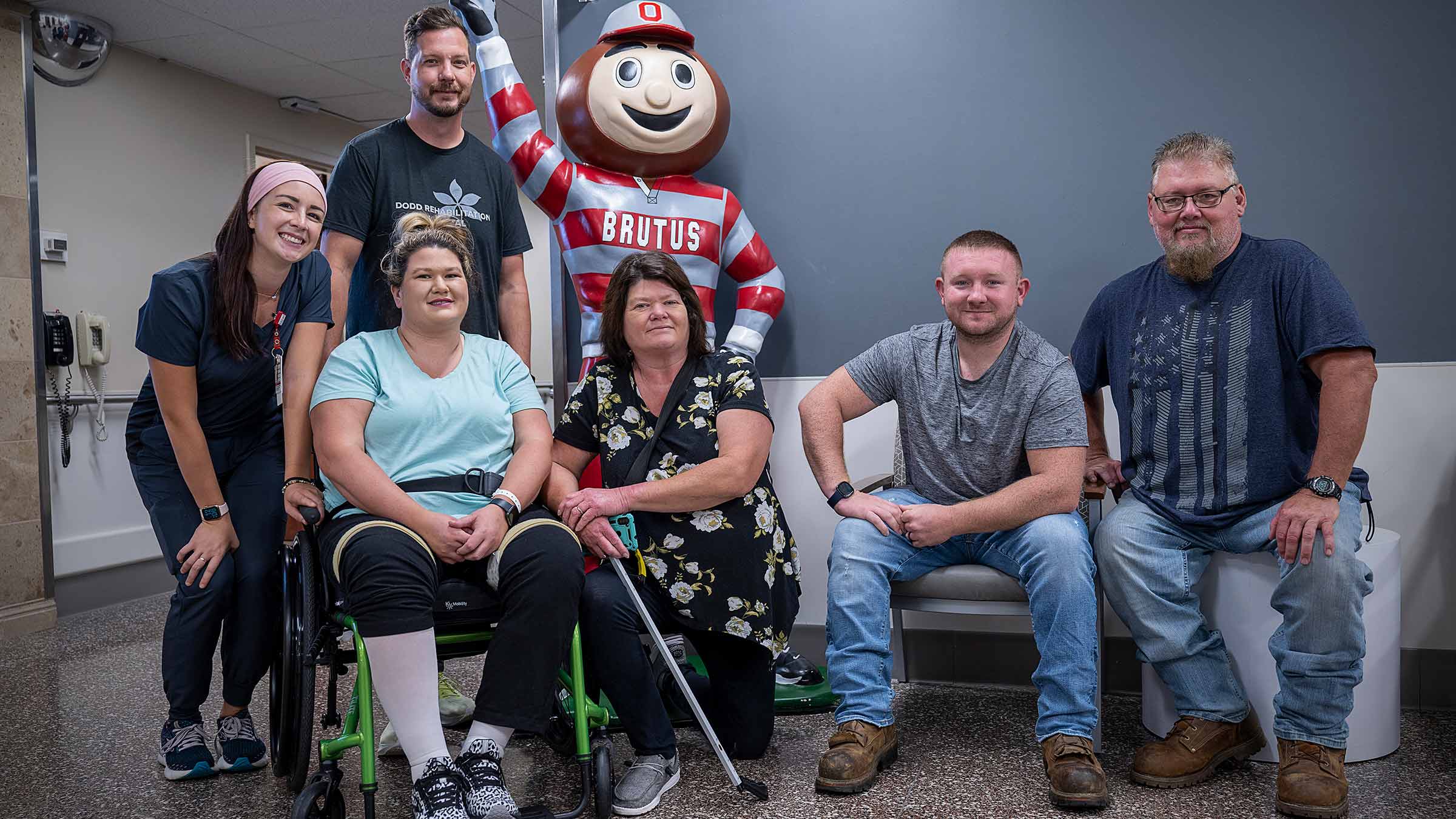 Before patients are released from Dodd, they may have the opportunity to stay overnight in the one-bedroom apartment within the facility. There, they'll have a chance to simulate living at home again while still being able to call for help from staff if they need it.
After about a month at Dodd, Haywood was able to return home near Portsmouth. With help from her husband, parents and her two teenage children, she doesn't get overwhelmed, though her life is so different from what it was.
What remains the same is her strong will. She wants to be as self-sufficient as she can be, a trait her father instilled in her growing up, having shown her how to change her car's oil, change a tire, crawl under the house and fix a leaking pipe or whatever broke.
"We're problem solvers," Haywood says about herself and her family. "I think having that skill, independence and optimism is the key to getting through this."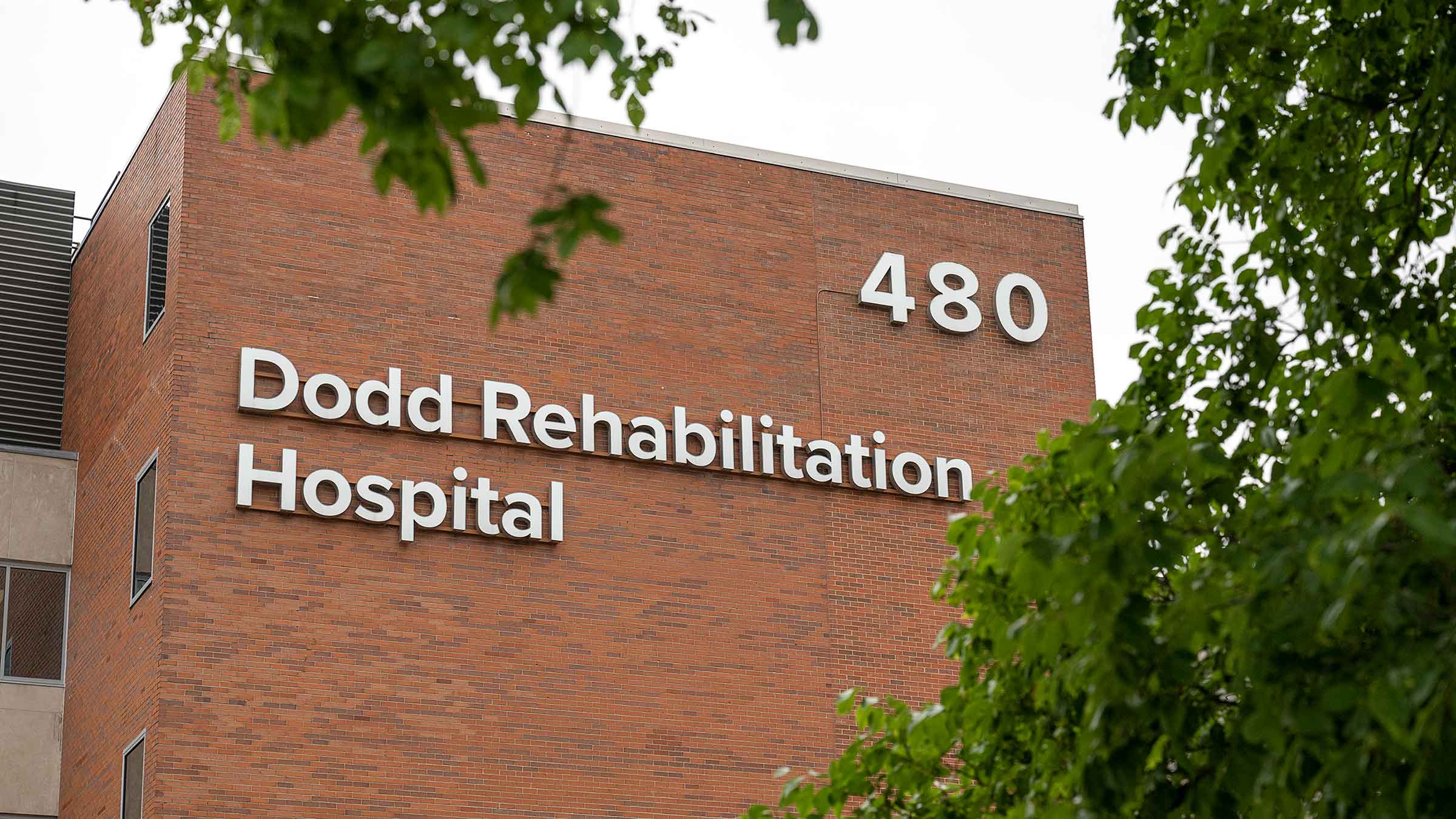 Growing beyond the first 60 years
As Dodd Rehabilitation Hospital celebrates 60 years helping rebuild lives, plans are underway to replace the current building with a new, larger adult rehabilitation center.
The new facility will include private patient rooms, an acquired brain injury unit, multidisciplinary therapy gyms, an outdoor therapy courtyard and more amenities to help patients and their families focus on recovery.
"Although the facilities will be new, the talented nurses, therapists and physicians of Dodd Hospital will still be the clinical teams that take care of the patients now," Dr. Bavishi says. "So, we'll still provide the state-of-the-art care but in a state-of-the-art building."
Rebuilding your life after an accident or other traumatic event is possible
Our nationally ranked team can help you recover.
Learn more