Health
Welder turned wheelchair athlete says osteosarcoma gave her whole new life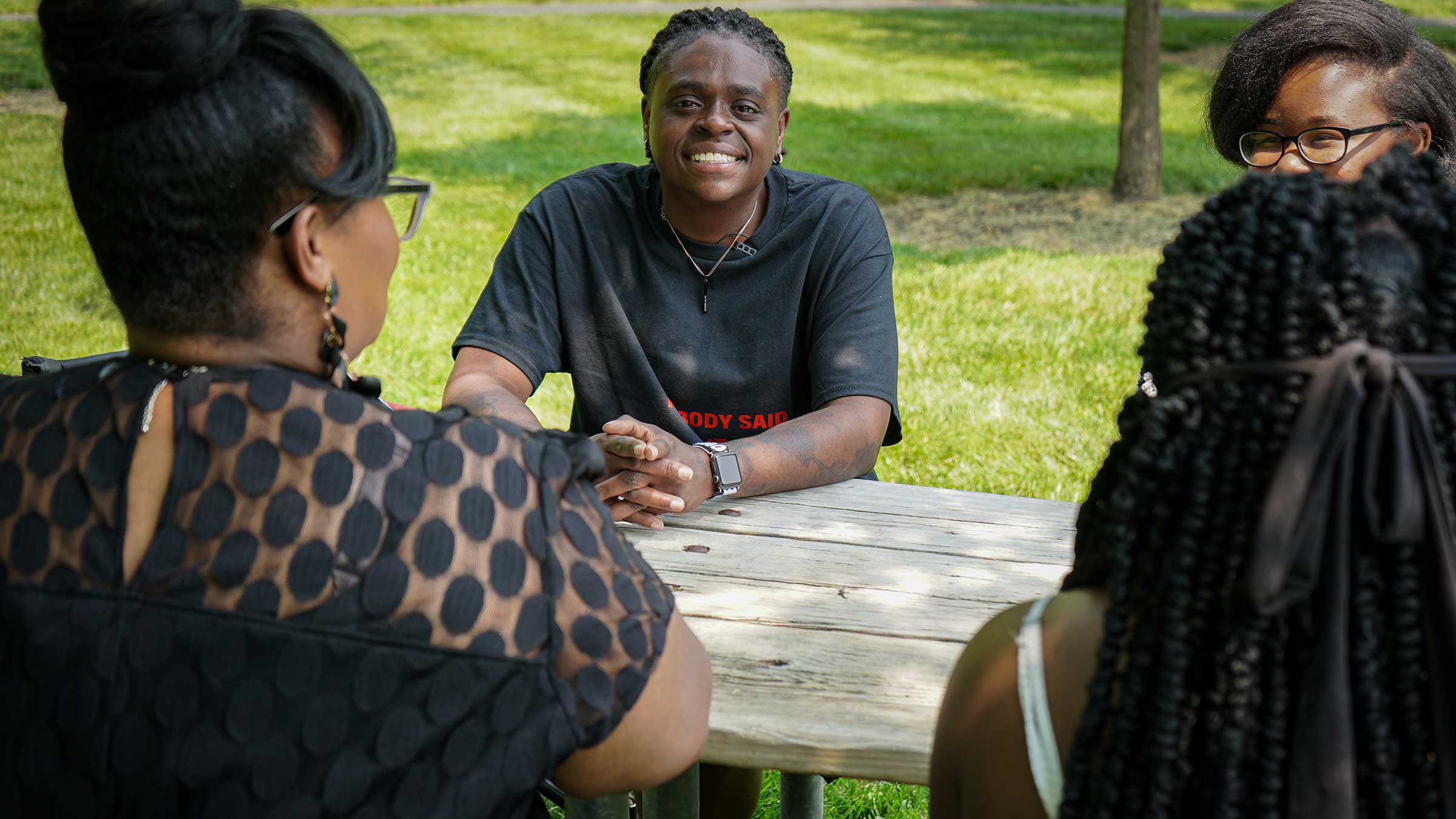 You don't often hear people say that losing a limb is the best thing that could have happened. But Laquinta Haynes, 36, of Canal Winchester, says losing her leg to cancer wasn't an ending — it was the beginning of an entirely new life.
Now, she travels around the country and world as a competitive wheelchair basketball and soccer player and works daily to spread joy through humor to anyone she meets. In September 2023, she traveled to Poland to compete as part of the USA Amputee Soccer Women's World Cup.
An unexpected diagnosis of a rare form of cancer
In 2016, Haynes was hit by a drunk driver in a car crash. Weeks after the injury, she had lingering pain and swelling in her knees that resulted in her consulting with a chiropractor.
She went there expecting relief for pain, but instead she was sent for medical testing that resulted in a rare bone cancer diagnosis. She was referred to start treatment at The Ohio State University Comprehensive Cancer Center – Arthur G. James Cancer Hospital and Richard J. Solove Research Institute (OSUCCC – James).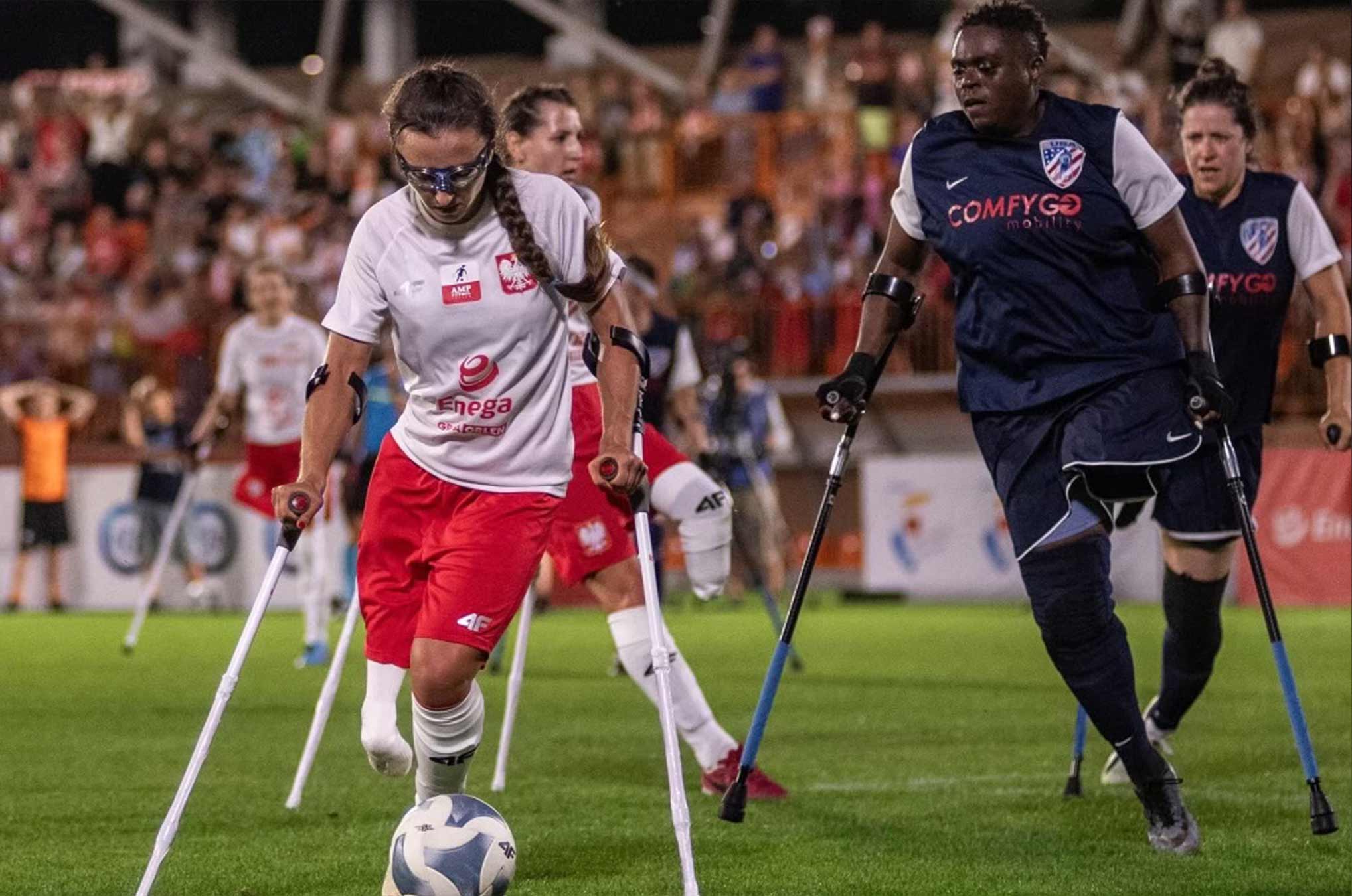 Haynes was diagnosed with osteosarcoma, a form of bone cancer that most often occurs in the long bones of the arms and legs. Because of this, the diagnosis often results in amputation of the affected arm or leg. Fewer than 20,000 people are diagnosed with the disease in the United States annually, and it most frequently occurs in young adults and children.
The diagnosis was devastating, and Haynes struggled with the reality of how it would change her life.
"I was such a downer. I didn't even want to see the daylight in my hospital room. But ultimately, I came out the other side. I tell people now that losing my leg was the best thing that ever happened to me, because it gave me a new beginning and a second chance," she says.
Finding a connection with a team of osteosarcoma experts
Fortunately for Haynes, she was connected quickly with Joel Mayerson, MD, a clinical professor of Orthopedics in The Ohio State University College of Medicine. Dr. Mayerson is an oncologic orthopedic surgeon who specializes in the treatment of osteosarcoma and a pioneer of several radical surgical techniques designed specifically to improve function and quality of life for people with cancer-related amputations.
To control the cancer, her left leg had to be removed, and she underwent extensive chemotherapy. Now, seven years from that initial diagnosis and one year out from any active treatment, there is no evidence of disease.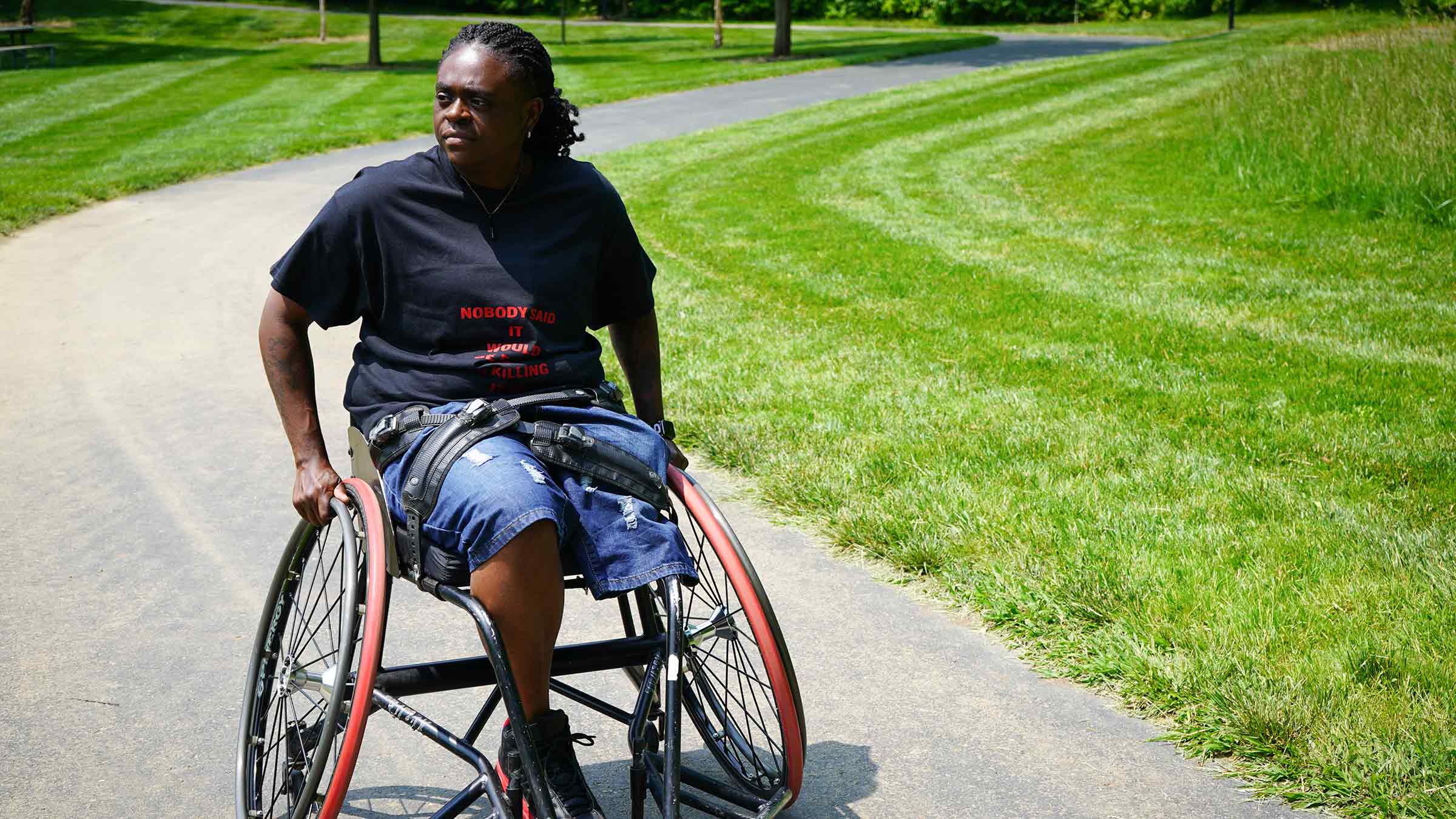 "LaQuinta is the epitome of resiliency, strength and survivorship. Her osteosarcoma diagnosis forced upon her was extremely challenging, and she has emerged from this experience with such a positive outlook and determination — she is truly inspiring to our medical team and anyone who has the privilege of meeting her," Dr. Mayerson says.
Dr. Mayerson and other members of The James Sarcoma Research Program are collaborating with researchers across the Ohio State Colleges of Medicine and Veterinary Medicine as well as Nationwide Children's Hospital to develop new drugs and therapies to slow or stop the progression of advanced sarcomas.
"We have a really unique opportunity to study sarcomas at Ohio State because of these collaborations that bring specialists treating and studying these cancers across the pediatric, adult and canine populations," Dr. Mayerson says.
"This allows us to really accelerate findings, and in rare diseases — where affected populations are small and research dollars are slim, this is critical for advancing the science to help patients at the bedside," Dr. Mayerson adds.
LaQuinta Haynes finds a new purpose in competitive sports
Before her diagnosis, Haynes says she was "obsessed with her job." As a welder who ultimately entered management, and as a stepparent to two girls, she was driven to succeed. But her diagnosis took that path from her, and she found the world of competitive sports.
Until cancer, she had never played a sport as an adult. Now, she plays in softball, basketball, rugby and soccer leagues, including traveling in competitive co-ed and all-women's basketball leagues.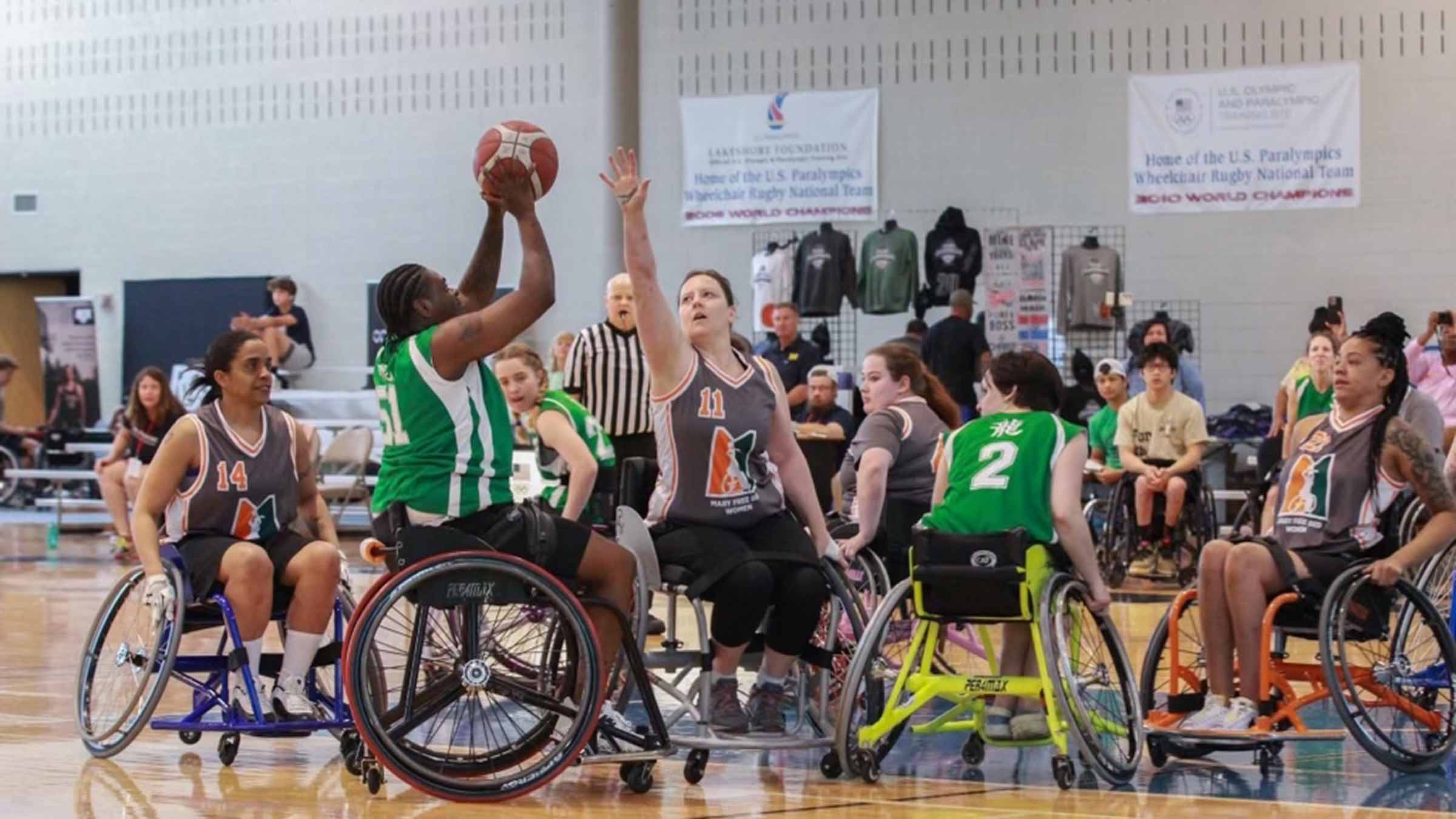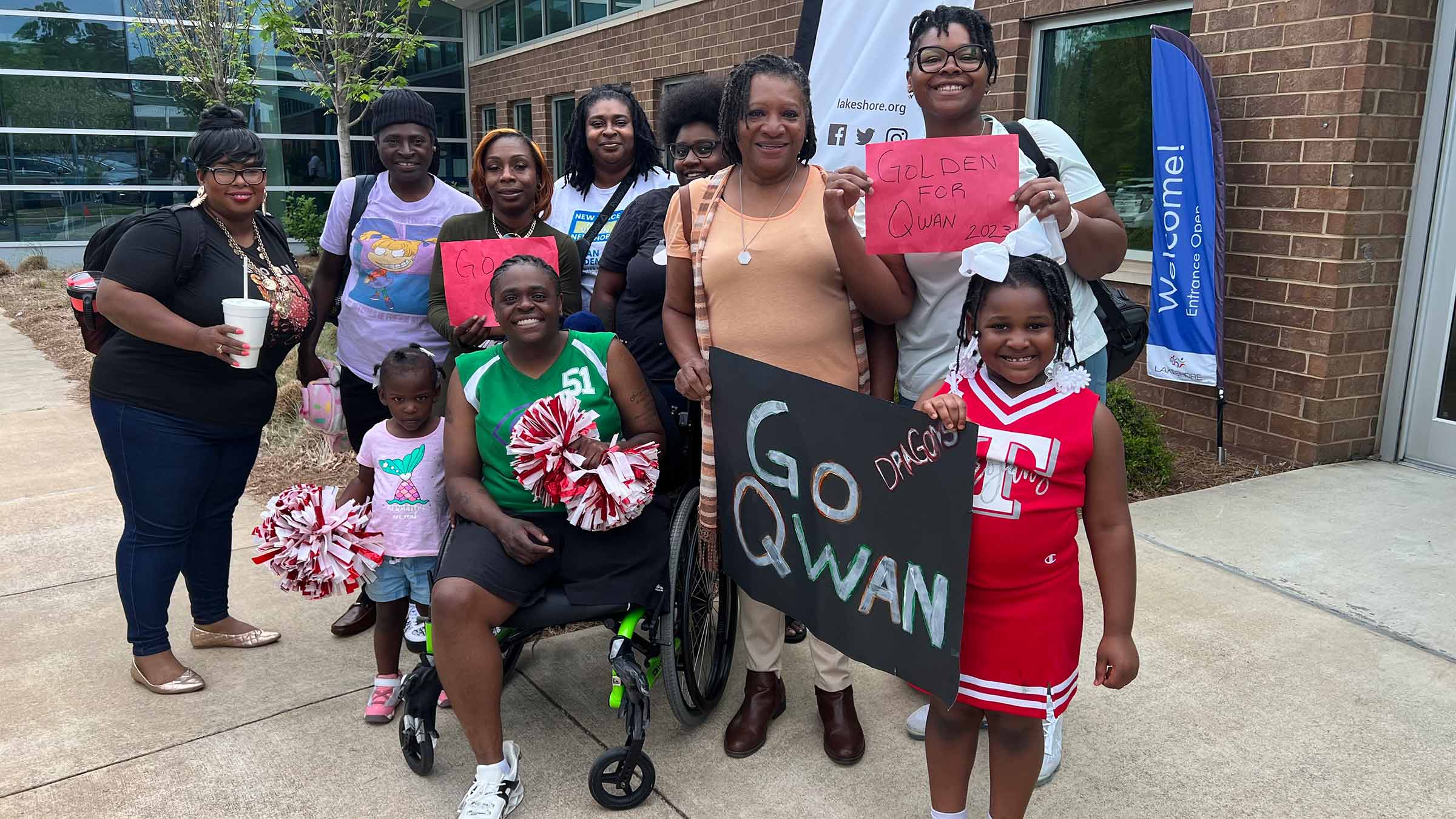 "What I love about basketball the most is you get a whole new family. Everybody is just like you — we are all the same. I love competing in front of a big group of people," she says.
In late March, she traveled with her co-ed basketball team — on which she is the only female player — to Wichita, Kansas, for the National Wheelchair Basketball Association Tournament.
"Alabama is my home state, and I had around 60 family members and friends there to cheer me on," she says. "I really love competing. This was the first time my family saw me play, so it was really special."
She says her humor gets her through everything, noting an array of custom T-shirts she has had made, including one that features a milk carton that reads, "Have you seen my leg?" and another that reads, "$20 for the leg story."
Her message to others facing radical life twists like hers?
"Don't ever give up — life isn't over, it's a start-all-the-way-over. Just keep pushing, no matter what. This is the first day of the rest of your life, and life is a gift."
The experts at The James are pioneering new treatments and research for bone cancers
Trust your care to The James.
Learn more