Health
Dr. Zihai Li's lifelong mission: To unlock the promise of immunotherapy for cancer patients
Zihai Li, MD, PhD, has witnessed cancer "melting away" thanks to the promise of an unfolding therapy that harnesses the body's own defenses to target and kill cancer cells.
As he consulted bedside with his patient, a young and active man with a passion for cycling, Zihai Li, MD, PhD, knew there was little he could do.
The year was 1999, and the patient was fighting stage 4 melanoma. The only medicine that Li and his team were able to offer was for pain; they could not attack the deadly skin cancer.
Fast-forward 10 years. Another young patient with advanced melanoma was in Li's care. But this time, an emerging treatment known as immunotherapy — a biological therapy that boosts the body's natural defenses — was identified as a viable option.
The results weren't just effective, they were transformative.
"Her cancer melted away," Li says.
Ten years later, incredible outcomes following immunotherapy are happening far more frequently for cancer patients. These discoveries are the inspiration for the newly formed Pelotonia Institute for Immuno-Oncology (PIIO), a progressive effort dedicated to collaborative cancer research focused on promoting immunotherapy discovery, at The Ohio State University Comprehensive Cancer Center – Arthur G. James Cancer Hospital and Richard J. Solove Research Institute (OSUCCC – James).
Li, a medical oncologist and immunologist who holds the the Klotz Chair in Cancer Research at The Ohio State College of Medicine, became the institute's founding director in July 2019. There is continued progress in this field, Li says, and it's a message he's taking on the road.
As a rider in Pelotonia, the annual grassroots cycling event that funds cancer research at Ohio State and serves as the namesake of the PIIO, Li still recalls the excitement among participants and roadside spectators about immunotherapy during the 2019 event that announced his arrival at Ohio State. It's a job with big implications for cancer care, and one he doesn't take lightly.
"You can accomplish more through collaboration than you can through individual efforts," Li says.
By providing a collaborative environment for over 100 Ohio State University scientists who work in immuno-oncology, Li and the PIIO share a critical mission: to accelerate the development of innovative and effective immunotherapeutics to fight, prevent and reduce the devastating effects of cancer.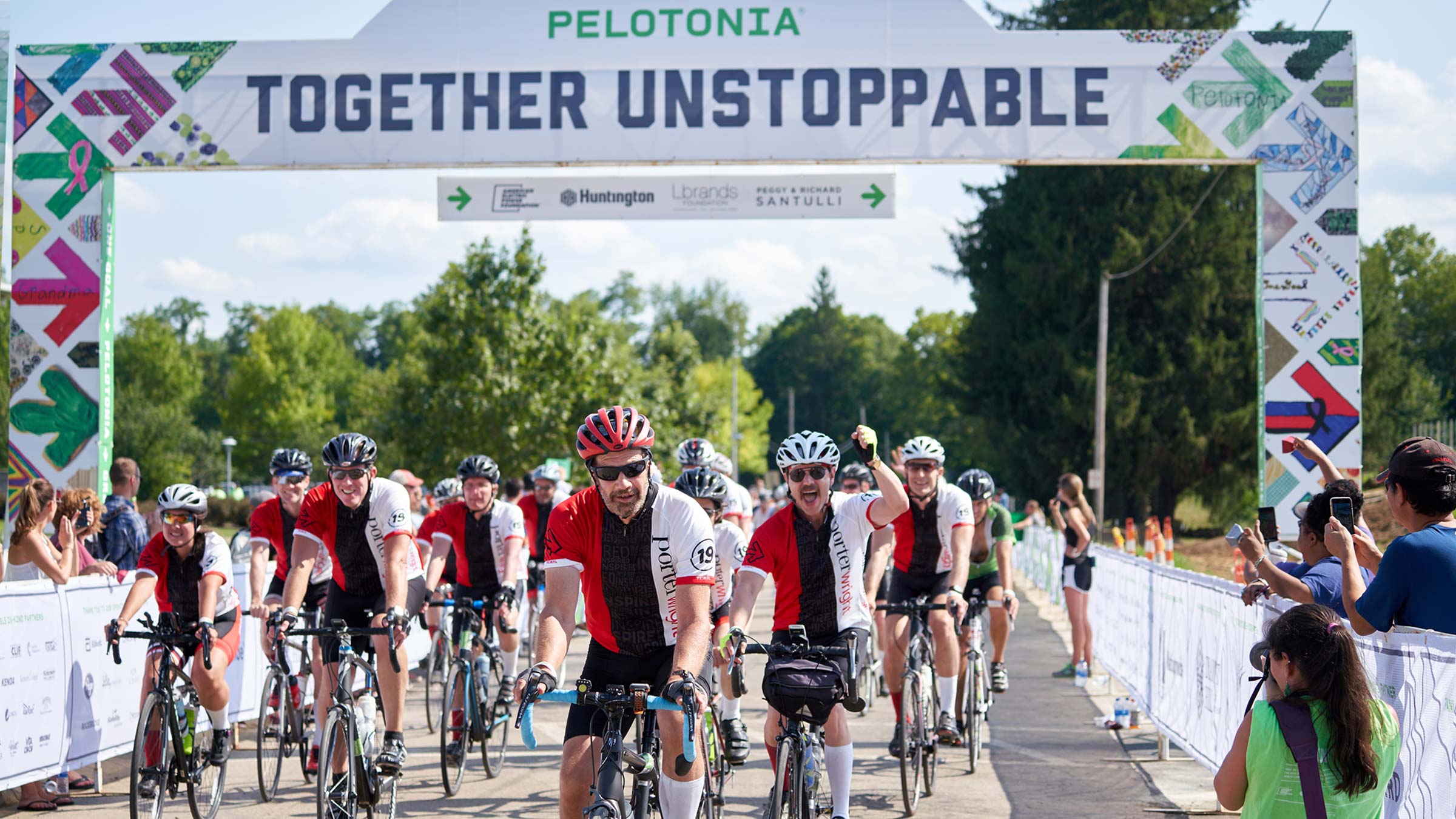 Unlocking the codes of cancer
Just as the human body can be trained to endure the physical demands of a long bike ride, it can also "learn" how to engage in cancer-fighting capabilities by leveraging the existing power of the immune system — a concept known as immunotherapy.
"Our bodies are hardwired to deal with infections," Li says. "Using immunotherapy, we can 'turn on' the immune system to fight cancer."
Flipping that "switch" comes in several forms, including immune checkpoint blockers that take away the brakes of the immune system (such as PD-1 or PD-L1, and CTLA-4), to re-energize the immune system to attack only cancerous cells. Think of it like applying weed killer to a garden; the flowers aren't affected.
Also promising are cellular adoptive immunotherapies that involve re-engineering a patient's own blood and infusing it back into the body to target and kill cancer cells. (The OSUCCC – James was one of the first hospitals in the United States to administer this futuristic treatment, which is called CAR T-cell therapy.)
Other efforts include preventive vaccines against diseases that can cause cancer (such as HPV and hepatitis B) and ongoing research to develop effective vaccines that might be administered after a cancer diagnosis.
Advancing these and other immunotherapy breakthroughs are a priority for Li and his team, who represent a spectrum of scientific disciplines.
"It's daunting and exciting," Li says. "We have the support, the passion and the conviction to make a difference."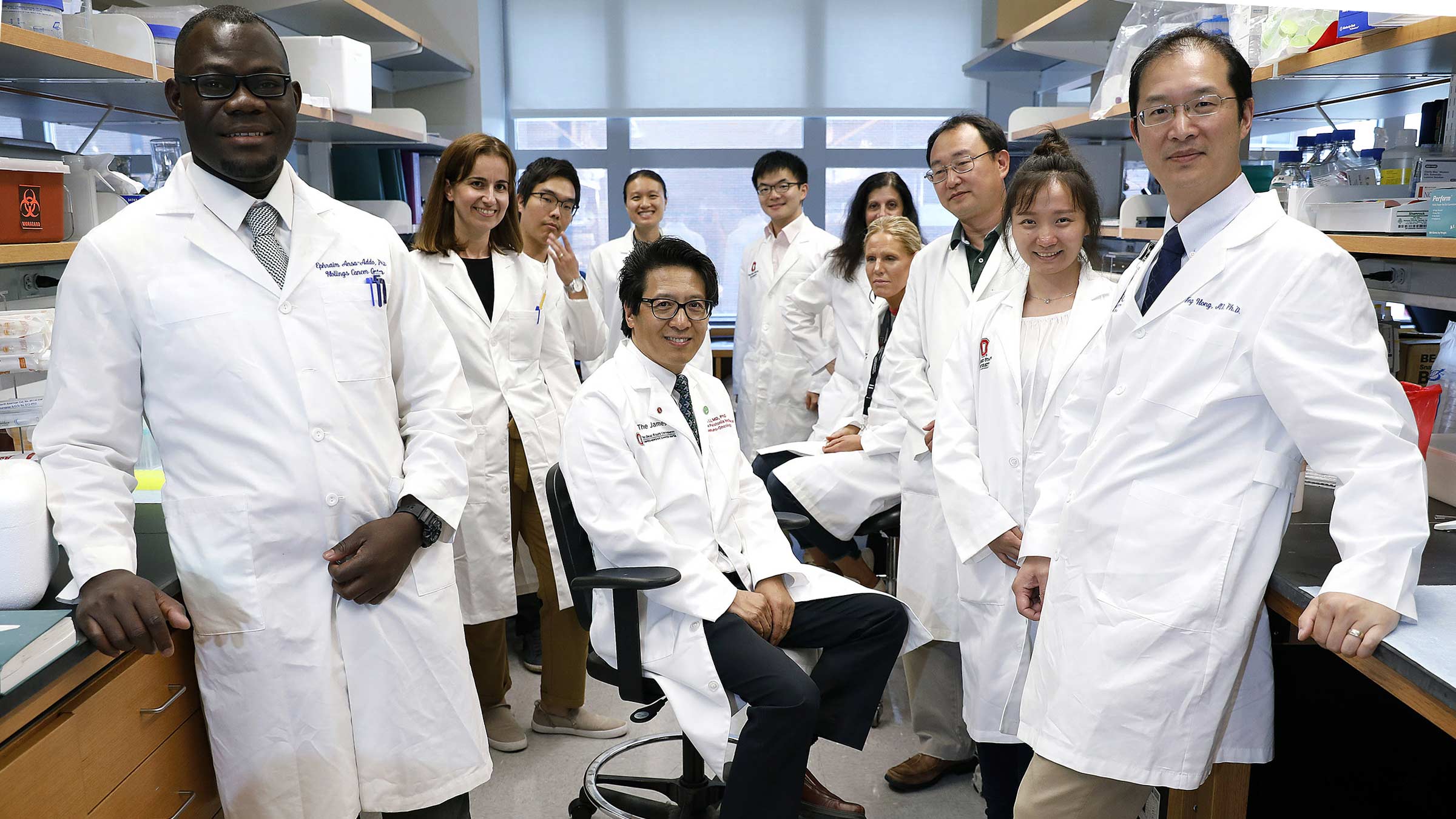 Personalized treatment, shared progress
Immunotherapy can be more precise and more effective than other treatments for some people diagnosed with melanoma, kidney, liver, lung and other cancers, Li says, and it may prompt fewer side effects.
"But we have not won the war yet," he adds.
No two people are alike, after all, so a growing body of research and complex patient data is helping doctors and researchers determine the ideal approach for each individual — and to identify how immunotherapy can combat more types of cancer.
By analyzing data from clinical trials and electronic medical records, among other sources, the PIIO and other centers are developing new and stronger models to put findings into real-life practice.
Li is encouraged by the progress, but he says immunotherapy's current overall success rate is far too low.
Nevertheless, "that gives us hope," he says. "That means it's possible."
This hope underscores the efforts by Li and other PIIO researchers to study the effectiveness of combining different immunotherapies with cancer-centric strategies such as surgery, chemotherapy and radiation. (This field of study, as seen in the institute's namesake, is known as immuno-oncology [IO]).
To further move the needle in the IO field, the PIIO aims to open 130 or more clinical trials over the next five years to create a strong pipeline of cancer therapeutics rooted in Ohio State research that could one day guide widespread clinical application.
"Identifying how the immune system can go wrong can help us develop therapies that correct those errors and deliver effective immunotherapy to more patients," Li says.
Dr. Zihai Li answers your immuno-oncology and immunotherapy questions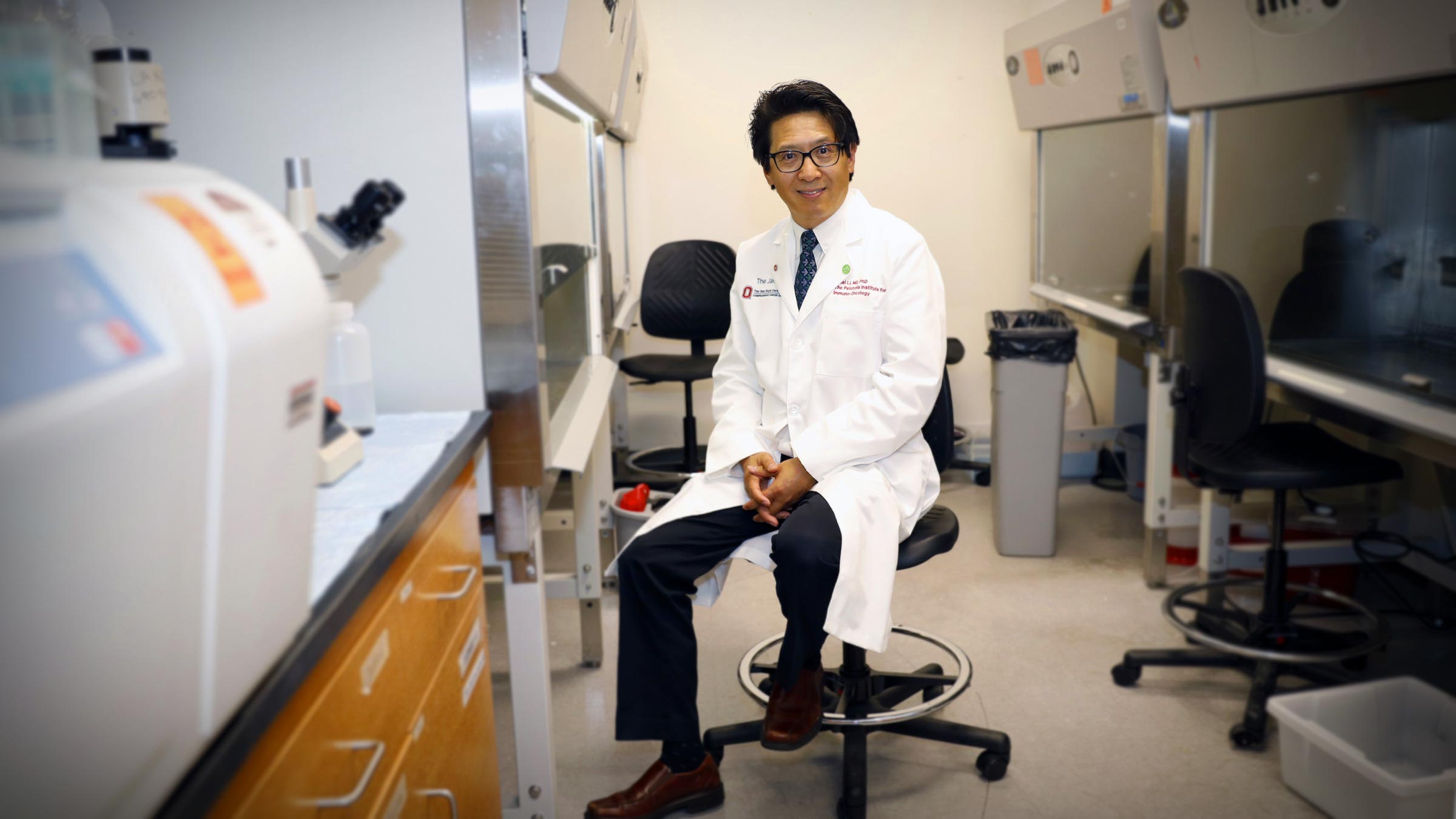 A lifelong passion for healing
Li was raised in a rural area of central China during a time when health care infrastructure "wasn't good," he says. As a teenager, Li was a voracious reader with an interest in science and medicine, and was fascinated by the transformative power of vaccines.
"It became very clear to me that prevention was the key, an economic path toward a healthy population," Li says. "Seeing the massive vaccination effort in China in the 1960s and '70s, it was amazing to me that we could eliminate diseases like measles and smallpox. It was always my dream to do something like that."
By the time Li entered medical school at Zengzhou University in 1979, researchers were broadening their outlook about vaccines.
"People began to wonder: If we can use vaccination to eradicate some infectious diseases, can we do this for cancer?" Li says.
During his medical training, Li focused special effort on understanding the complexity and nuance of the immune system, later pursuing graduate studies in immunology in China, and then in the United States for a doctorate in cancer immunology. Robust clinical and laboratory experience gave Li deep insights into how cancer breakthroughs are developed and how these can transform the lives of patients who receive them.
During his tenure as leader of the Cancer Immunology Program at the Hollings Cancer Center at the Medical University of South Carolina, Li saw the evolution firsthand — both in the field of immunology and among his own patients.
His leadership and passion forged strong collaborative relationships, including with Mark Rubinstein, PhD, who was a colleague of Li and a member of the Cancer Immunology Program in South Carolina. Li recruited Rubinstein to Ohio State in 2021 as an associate professor in the Division of Medical Oncology and as the leader of the Priority Research Program in the PIIO.
Rubinstein says his decision to come to Ohio State was inspired by his relationship with Li, whom he describes as a natural leader who approaches challenges from all angles.
"Not only does Zihai run a laboratory doing amazing and transformative cancer research, he also leads cutting-edge clinical trials that translate findings from the laboratory into the clinic," Rubinstein says. "Furthermore, he is leading an effort to identify and recruit a diverse group of cancer immunotherapy scientists from all over the world to create a leading institute studying IO.
"By creating an environment where researchers can interact and thrive intellectually, Zihai is building an immuno-oncology program that will lead to extraordinary discoveries and advances that will fundamentally improve treatment for cancer patients everywhere."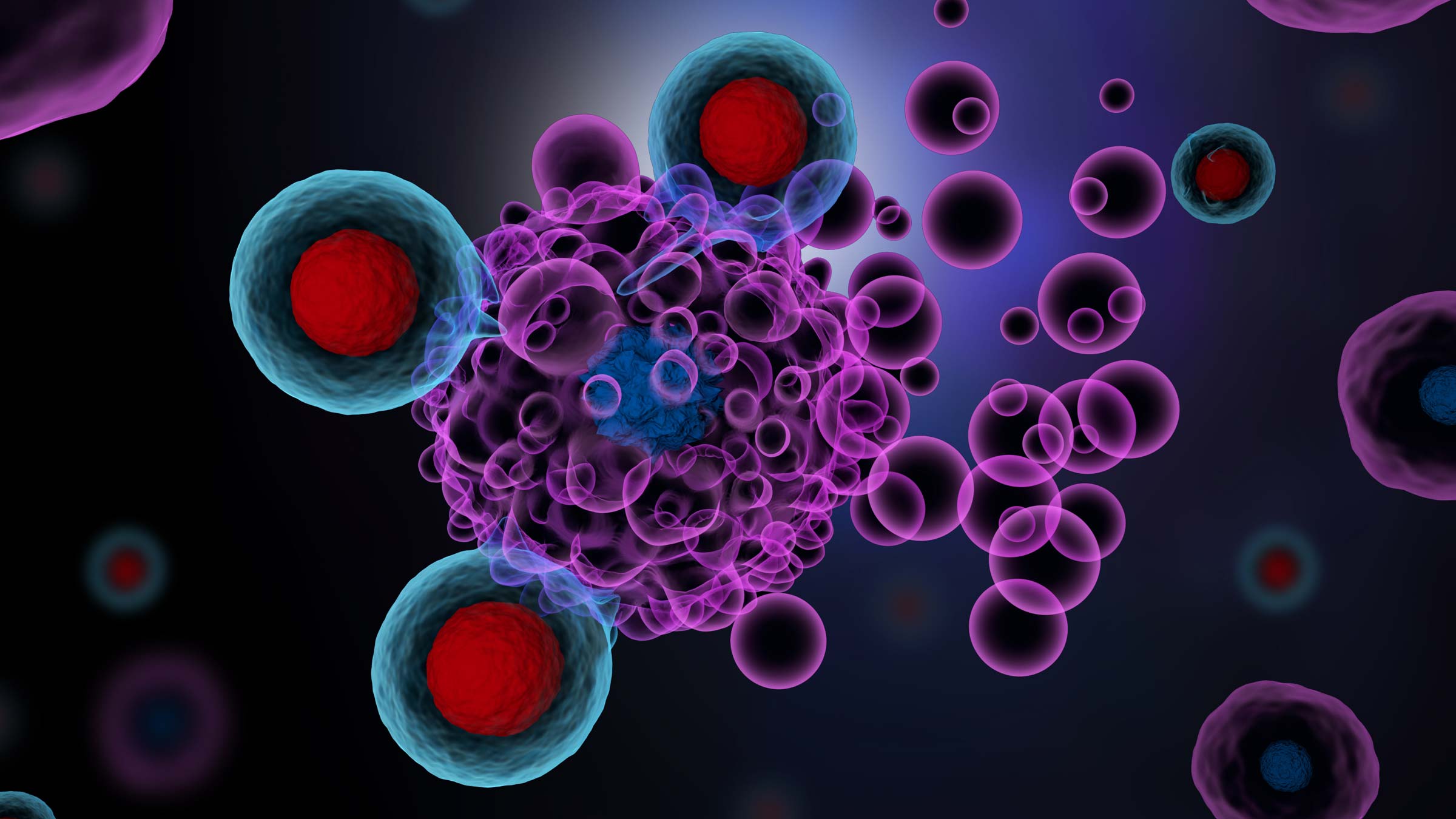 Attacking cancer from all angles
The PIIO's ultimate goal is curing cancer with immunotherapy. To accomplish this goal, the institute focuses on two interconnected research centers:
Systems IO, which seeks a holistic understanding of cellular and molecular circuitry of the immune system to create more efficient and effective immunological tools to fight cancer and better understand the relationship between cancer genomics and immune evasion.
Translational IO, which works to turn discoveries into new or improved cancer treatments and broaden the indications and patient populations that can be treated with cell therapy, immune checkpoint blockers and other combination strategies.
Read how Ohio State researcher, Yiping Yang, MD, PhD, is turning cancer patients' own blood into a cancer-fighting weapon
These centers are supported by the PIIO's Immune Monitoring and Discovery Platform (IMDP), which provides a 360-degree view of the immune system response during treatment with IO agents. The centers are also supported by the PIIO's Immuno-Informatics Group, which uses big data and quantitative science to improve IO research.
"We're building an amazing IO database to bring everything together, including clinical data, molecular data and patient outcomes," Li says, citing the work of Ohio State engineers and computer scientists as another example of strong collaboration within the PIIO.
"It's cutting edge and I'm very proud," Li says.
Still, the momentum following Li's summer 2019 arrival at Ohio State — and his inaugural Pelotonia ride — was soon countered by an unforeseen challenge: the COVID-19 pandemic.
Li doesn't view the public health emergency as a deterrent to his mission. In fact, he felt it underscored the importance of discovery in the field of IO.
"It provided a sense of urgency, more than anything else," he says, noting that PIIO staff took protective measures to safely continue their on-site research, which expanded in scope to examine how COVID-19 impacts the immune system of cancer patients.
This study was particularly valuable due to the lack of peer-reviewed data on how cancer therapy affects the efficacy of the COVID-19 mRNA vaccine in cancer patients. (Cancer patients on active therapy are often excluded from vaccine trials.) It's also a prime example of how quickly and adeptly the PIIO can pivot and leverage its expertise and resources in unforeseen circumstances.
"COVID-19 actually highlighted the importance of our immune system and the knowledge of how it works — how we can turn things off for the benefit of human health," Li says.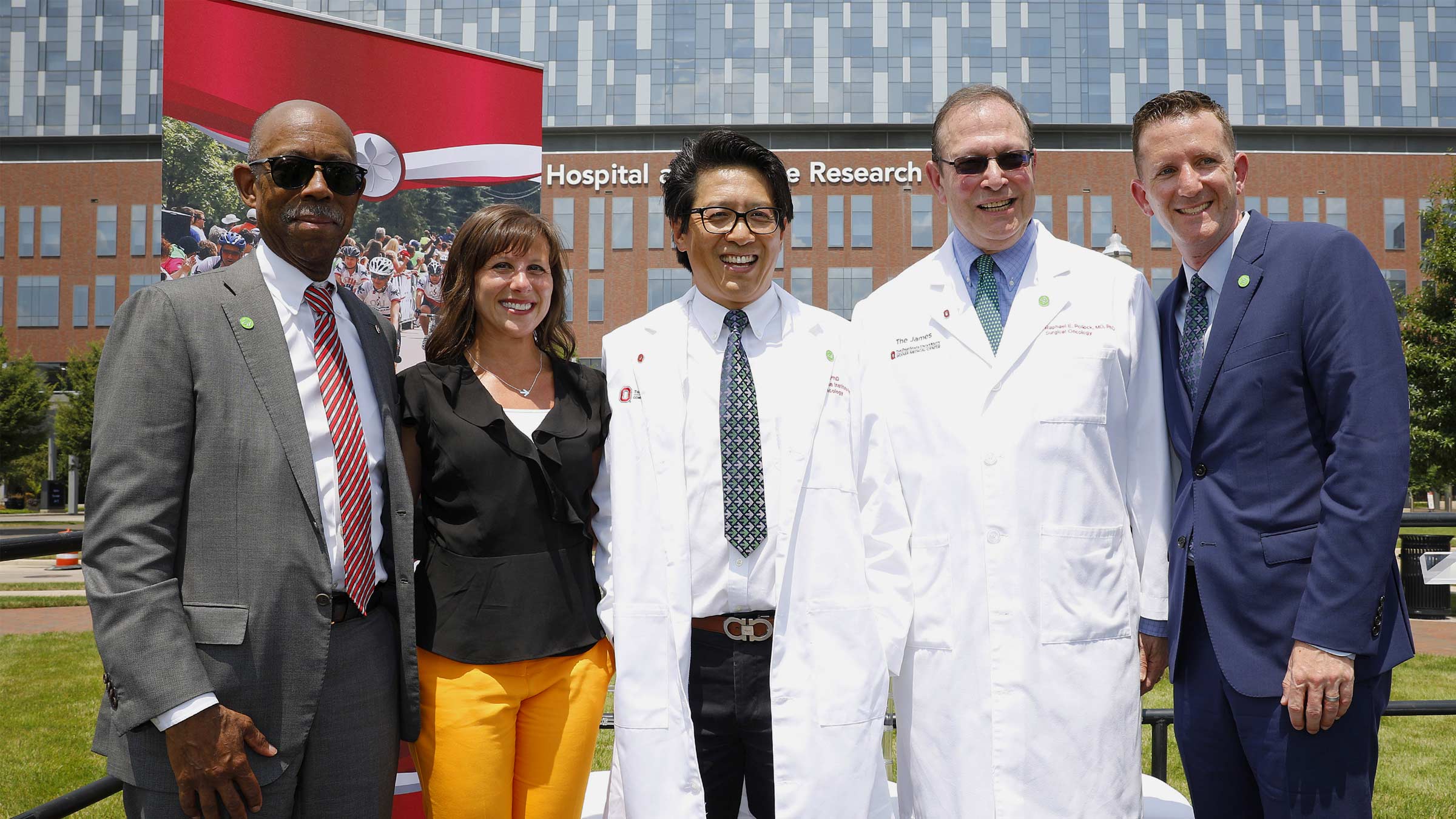 Navigating the road ahead
Groundbreaking research coupled with Li's leadership have already made the institute a strong player in cancer care.
"The PIIO has become an integral part of the James," says David Carbone, MD, PhD, director of the Thoracic Oncology Center at the OSUCCC – James. "Zihai has a ton of energy and enthusiasm for what he's doing. I think he's a terrific leader for this initiative."
Read more about Dr. Carbone's work with immunotherapy in lung cancers
Li is modest about his influence. He prefers to use his platform to educate and excite scientists and the community about the clinical potential of immunotherapy — and to champion the need for more funding, collaboration and accessibility in this space.
Development of cell therapies, he says, is "exceptionally expensive," and the infrastructure to develop and deploy these treatments affordably remains a significant challenge for universities, governments and the pharmaceutical industry. Combined with the many missing pieces still present in the field, IO researchers will face many hurdles.
However, Li and his colleagues in the PIIO see these hurdles as motivation. And just as he witnessed while pedaling across central Ohio, the race has implications for everyone.
"We recognize our obligation to do something as important as immunotherapy because many of us believe it really holds the key to curing cancer," Li says. "This requires everyone to work together to tackle this disease in a fundamentally different way."
Learn more about how the Pelotonia Institute for Immuno-Oncology is transforming cancer care from prevention through treatment and survivorship.
Pelotonia Institute for Immuno-Oncology