Health
A reason to breathe easier: Immunotherapy's big promise for changing how we treat lung cancer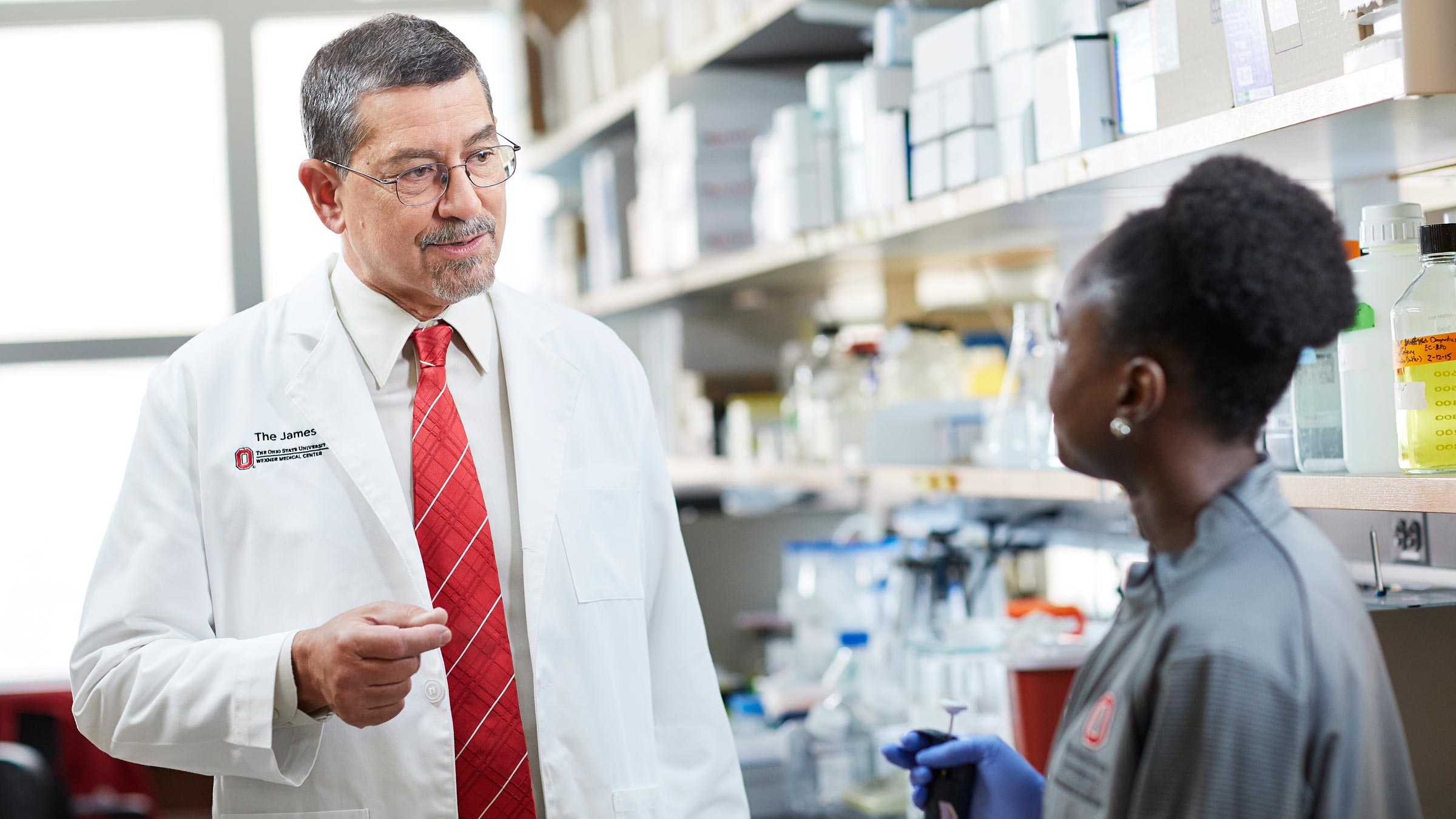 Not too long ago, most people diagnosed with lung cancer would receive a swift and universal recommendation: chemotherapy or hospice. And the delivery would often occur with no consideration of tumor molecular characteristics.
But harnessing that critical information can lead to improved and longer-lasting outcomes, experts say, and it's now becoming a highly personalized standard of care.
"Each patient and each tumor is different, and they require tailored treatment approaches," says David Carbone, MD, PhD, director of the Thoracic Oncology Center at The Ohio State University Comprehensive Cancer Center – Arthur G. James Cancer Hospital and Richard J. Solove Research Institute (OSUCCC – James). "It's nice that we have two major, completely new types of therapies for almost all patients with lung cancer."
The therapies constitute new, effective and less toxic options for patients.
First, the discovery of "driver" abnormalities in lung cancer tumors has driven the development of specific therapies that turn off these driver genes in cancers and cause dramatic cancer shrinkage with minimal side effects.
"The newest-generation targeted therapies are more specific, more durable and have fewer side effects," Carbone says.
The other approach is immune therapy based on the identification of "checkpoint" molecules (such as PD-1/PD-L1 and CTLA-4) that act as a force-field around cancer cells and have allowed a person's disease to avoid the immune system.
Patients whose tumors don't have drivers often have these checkpoints active, Carbone says, and they may be recommended to receive some form of immunotherapy — a treatment designed to "turn off" the corresponding molecular force field so the body's own immune system can spot and attack cancer cells naturally.
"I've seen lung cancer patients who have completed immunotherapy treatment and have had a beautiful response and normal quality of life," says Carbone, who holds the Barbara J. Bonner Chair in Lung Cancer Research at The Ohio State College of Medicine. "Years later, they're still doing fine without any cancer therapy, which is something that was never really heard of in the old days."
For Carbone, the mission is personal.
"I am a lymphoma survivor myself, so I know the toxicities of multi-agent chemotherapy, surgery and radiation therapy," he says. "But with modern therapies, lymphoma survival is better than ever. When I started in lung cancer over 30 years ago, I wanted to attack a major cancer problem using science, and it is gratifying that today science has transformed the way we treat lung cancer patients and is having a major effect on long-term, good-quality survival."
Fighting lung cancer with personalized care, teamwork
This one-two punch for lung and other cancers is a way of life at the OSUCCC – James and the Pelotonia Institute for Immuno-Oncology. Which is why newly diagnosed patients begin their treatment with comprehensive blood-based and tumor testing and a collaborative approach.
"Our entire team is on board — medical oncologists, pulmonologists, radiologists, radiation therapists, thoracic surgeons and research staff," Carbone says, noting that taking the time to request and analyze data from the initial procedures can make a major difference in therapy selection and ultimately patient outcomes.
Read how PIIO director Dr. Zihai Li is unlocking the promise of immunotherapy for cancer patients
"Understandably, patients are very anxious to get started today, but we have to know a patient's biomarkers before we start in order to make the right choices," Carbone says, comparing the process to measuring your foot before buying shoes, rather than choosing a pair at random.
For example, "if you have a high PD-L1 marker in your tumor, you're very likely to benefit from immunotherapy alone with no chemotherapy at all," Carbone says, adding that others may have driver mutations in their tumors and be candidates for daily oral therapies that can deliver "years and years of high-quality life."
More patients know about the concept of immunotherapy, and there's growing excitement about its potential.
"Most patients understand that they get a vaccine against COVID-19, flu, pneumonia, measles, mumps, tetanus or shingles, and that it boosts their body's immune response and protects them," Carbone says.
Applying that approach to lung cancer is much more complicated, he adds. Many factors must align for immunotherapy treatment to work. And chemotherapy or combinations of immunotherapies may be part of the regimen.
But success rates are encouraging: immunotherapy is initially effective for about 40% of lung cancer patients (with chemotherapy alone, the rate is about 20%, Carbone says), but responses to immunotherapy last far longer than those to chemotherapy.
"Every tumor and patient is different, but lung cancer is one of the cancers we're treating more effectively with immunotherapy," Carbone says. "The overall feeling is that things are much more hopeful than they were before."
Read how Ohio State researcher, Yiping Yang, MD, PhD, is turning cancer patients' own blood into a cancer-fighting weapon
Clinical trials for lung cancer expand and evolve
The work, though encouraging, is far from over. Carbone and his team want to improve the number of patients able to benefit from lung cancer therapies and improve the fraction of patients achieving long-term survival.
He is convinced that scientific advances will allow clinicians to better tailor treatments in the future that maximize efficacy and minimize toxicity.
"We're studying a dozen other potential checkpoints" to potentially help more lung cancer patients fight the disease naturally, says Carbone, who also co-leads translational efforts at the Pelotonia Institute for Immuno-Oncology and is a former president of the International Association for the Study of Lung Cancer.
"We want to push the needle forward to improve the fraction of patients benefiting from immunotherapy and the duration of benefit."
Meanwhile, about 50 related clinical trials are underway at the OSUCCC – James.
Among the research is how doctors could use a patient's own cells to fight cancer by harvesting their immune cells and modifying them and amplifying them in the lab to better recognize the tumor.
Carbone says potential candidates shouldn't fear inadequate care by participating in clinical trials.
"Today's clinical trials are based on very solid science and are extensively reviewed for safety and scientific soundness," Carbone says. "The success rate is very high because these agents have been so thoroughly understood and designed intelligently, rather than just randomly chosen chemicals off the shelf.
"I emphasize to patients that this is not experimenting on them, and that today's clinical trial is tomorrow's standard of care."
Overall, the conversation continues to shift in a positive direction, thanks to immunotherapy breakthroughs and team efforts at the OSUCCC – James and other leading research centers.
"I used to tell my patients with metastatic lung cancer that they had an incurable, but treatable, disease," Carbone says. "Now, I can actually tell them that there are situations where it could be curable. I am hopeful that we can continue to increase this number of cures through better science."
Learn more about how the Pelotonia Institute for Immuno-Oncology is transforming cancer care from prevention through treatment and survivorship.
Pelotonia Institute for Immuno-Oncology