Discovery & Innovation
Performing spine surgery with 'X-ray vision'
Augmented reality technology being tested at Ohio State for spinal surgery promises to be a game-changer for patients.
"Incision time is 8:46," says Safdar Khan, MD, a spine surgeon at The Ohio State University Wexner Medical Center.
Dr. Khan and his team have just begun a complicated spine surgery using a new technology that only a handful of hospitals are trained to operate: augmented reality (AR) glasses that provide Dr. Khan with the equivalent of X-ray vision. "This is the future of spine surgery," Dr. Khan says.
This surgery will fuse together three vertebrae in the lower back of the patient, a man in his 50s with a case of degenerative spinal arthritis and instability (spondylosis) so advanced and painful he can barely walk. The goal is to eliminate the pain and improve the patient's quality of life. In the past, this type of surgery would have taken up to eight hours, an invasive procedure leaving the patient with a large scar and weeks of recovery.
The AR glasses are a game-changer, Dr. Khan explains.
Inside the lens of an augmented reality spine surgery
A computerized tomography (CT) scan of the patient's spine appears in the lenses of the AR glasses worn by Dr. Khan and surgical fellow Parker Prusick, MD. The high-definition image they see "virtually peels away layers of the skin without an incision and gives us an enhanced two-dimensional and three-dimensional view of the spinal architecture," Dr. Khan says.
This results in smaller incisions; more precise placement of the metal screws, cages and rods used in spine-reconstruction surgery; shorter operations; and faster, less painful recoveries for patients due to the less invasive nature of the surgery.
It's a big step forward, and the Ohio State Wexner Medical Center is the only hospital in Ohio utilizing AR glasses.
"We've built a real foundation in this science and are at the forefront of the advances being made," says Dr. Khan, the Dr. Benjamin R. and Helen Slack Wiltberger Memorial Chair in Orthopaedic Surgery at The Ohio State University College of Medicine. "Being able to bring this to my patients, to improve their outcomes and provide them with a better quality of life is extremely gratifying and that's what motivates me."
In a family where medicine comes first, Dr. Khan finds a calling in spine surgery
Dr. Khan's commitment to challenging standard practices and utilizing trailblazing technology comes naturally. His mother is a world-renowned scientist in molecular biology research. His father led research at a prestigious hospital in the family's native Pakistan. His family tree reads like a hospital directory, with siblings, aunts and uncles in medicine, hospital administration, surgery and engineering.
"My generation are mostly physicians," Dr. Khan says. "We saw this example in our elders, and my generation is carrying it forward. The mantra of my family is the value of learning, teaching and helping people."
After graduating from the Aga Khan Medical School in Pakistan, Dr. Khan earned a prestigious research fellowship at Weill Cornell Medical College's Hospital for Special Surgery in Manhattan.
"I was 23 and came to New York from Pakistan on a one-way ticket with $400, a suitcase and the phone number of someone who would host me," he says. Dr. Khan quickly "fell in love with spine surgery and decided to craft my career in this area … I saw the innovation going on in spine surgery, the advances in bone grafting and imaging, and I thought this was a field where I could construct a rewarding career."
Next came an internship and residency at UC Davis Medical Center in Sacramento, where Dr. Khan met psychologist Sabrina Sykes, PhD.
"We were both interns," Dr. Khan says, adding that he vividly remembers the exact moment he first saw his future wife. "She walked into a meeting, she was wearing gray pants and a three-quarter-length-sleeve shirt. She was holding a yellow legal pad and I said, 'I need to know this person' and mustered up the courage to talk to her and that was it." They married in 2008.
After a fellowship at Rush Medical Center in Chicago, Dr. Khan and Dr. Sykes, who had two children by this time, thought they'd return to California. But fate intervened.
"I had a friend who worked at Ohio State, and he said they were looking for a spine surgeon," Dr. Khan says. "I came for an interview and was struck by how incredible the vision was and the opportunity for growth. We thought we'd be here for two years, and two years have become 11 years. Two sons have now become four sons." Dr. Sykes now also works at Ohio State as a clinical assistant professor in the Department of Psychiatry and Behavioral Health.
Building a team focused on spine surgery innovation
Soon after he arrived at Ohio State, Dr. Khan was tapped to lead the Division of Orthpaedic Spine Surgery. When he began, there were 15 faculty members in orthopedics, and he has since built a team of 15 orthopedic surgeons and five full-time spine surgeons.
"I look for someone with passion for spine surgery, someone with a track record for innovation and research, and out-of-the-box thinking," he says. What can they bring that's different, that's additive?"
Varun Singh, MBBS, is one of the innovative spine surgeons Dr. Khan recruited. "He is the main reason I came here; he is a great teacher," Dr. Singh says, adding that one of the many things Dr. Khan taught him was utilizing AR technology. "Before he brought [AR] to Ohio State, it was something you only saw at a medical conference. He brought it here and trained our fellows."
Dr. Prusick, who often assists Dr. Khan during surgery, says, "The No. 1 thing he taught me was to have a plan A, but also a plan B and a plan C. That way, when you're in there and things don't go exactly as you anticipated, you can address it appropriately."
Giving patients a life without back pain
One of the reasons Dr. Khan became enamored with back surgery was the impact he could have on the quality of life of his patients.
Back pain was an everyday way of life for Gregory Moran, 58. "The nerve pain ran down my back to my hip and leg, and there were times it was so intense, I'd be in the supermarket and would have to kneel down," he says. In 2022, Dr. Khan operated on Moran, fusing together three vertebrae, using the AR glasses during the surgery.
"Immediately, when I woke up after surgery, the pain was gone," Moran says. "There was some pain from the surgery, but the nerve pain, that untouchable pain, was gone." Moran was walking the next morning. "Then, I asked if I could try some stairs and I walked up two flights." He was back on his bicycle by spring and will ride in Pelotonia in August.
Moran developed a close relationship with Dr. Khan. "He's interested in you as a person and he is so accessible," Moran says. "That gives you so much confidence because you know he's paying attention to your specific situation and that leads to better medical decisions and outcomes."
Using the augmented reality glasses
Dr. Khan and Dr. Prusick stand on either side of the patient, leaning forward as they work. Their heads almost touch, but, like an experienced dance couple, they work in perfect harmony.
"Can we get a retractor?" Dr. Khan asks, and a nurse puts one in his hand a second later.
In the first step of the operation, using a traditional surgical technique, Dr. Khan and Dr. Prusick make an incision about three inches long in the center of the patient's back.
"We're removing the bony arches between the vertebrae causing the compression and the pain for the patient," Dr. Khan explains. "Now, we'll put in two cages, between the three vertebrae [that will take the place of the damaged soft tissue cushions normally between vertebrae] and fuse them together. Before AR, we would have had to put in the cages and then the screws through this one incision. It would have been much longer, impacted more muscle, and there would be more tissue destruction."
Instead, they'll make a small incision on either side of the spine and insert the inch-long titanium screw through these small openings.
At 9:33 a.m., a CT scan takes a high-definition image of the patient's spine. This will allow the surgeons to see under the skin of their patient.
"It's calibrated; I can see it," Dr. Khan says, as the image of the spine appears in his and Dr. Prusick's AR glasses. The same image appears on a monitor the rest of the team can see. "We're synched up and ready to go."
At 9:50 a.m., the two surgeons begin inserting the first of six screws that will fuse the titanium cages in place. Although the cages are hidden to the naked eye, the surgeons have a clear image of them through their AR glasses.
"That took 11 minutes total," Dr. Khan says. "Without the AR glasses, it would have taken five to seven minutes for each screw, and we would have had to wear lead vests to protect us from the radiation from the multiple X-rays we would have had to have taken."
This surgery was completed in less than three hours.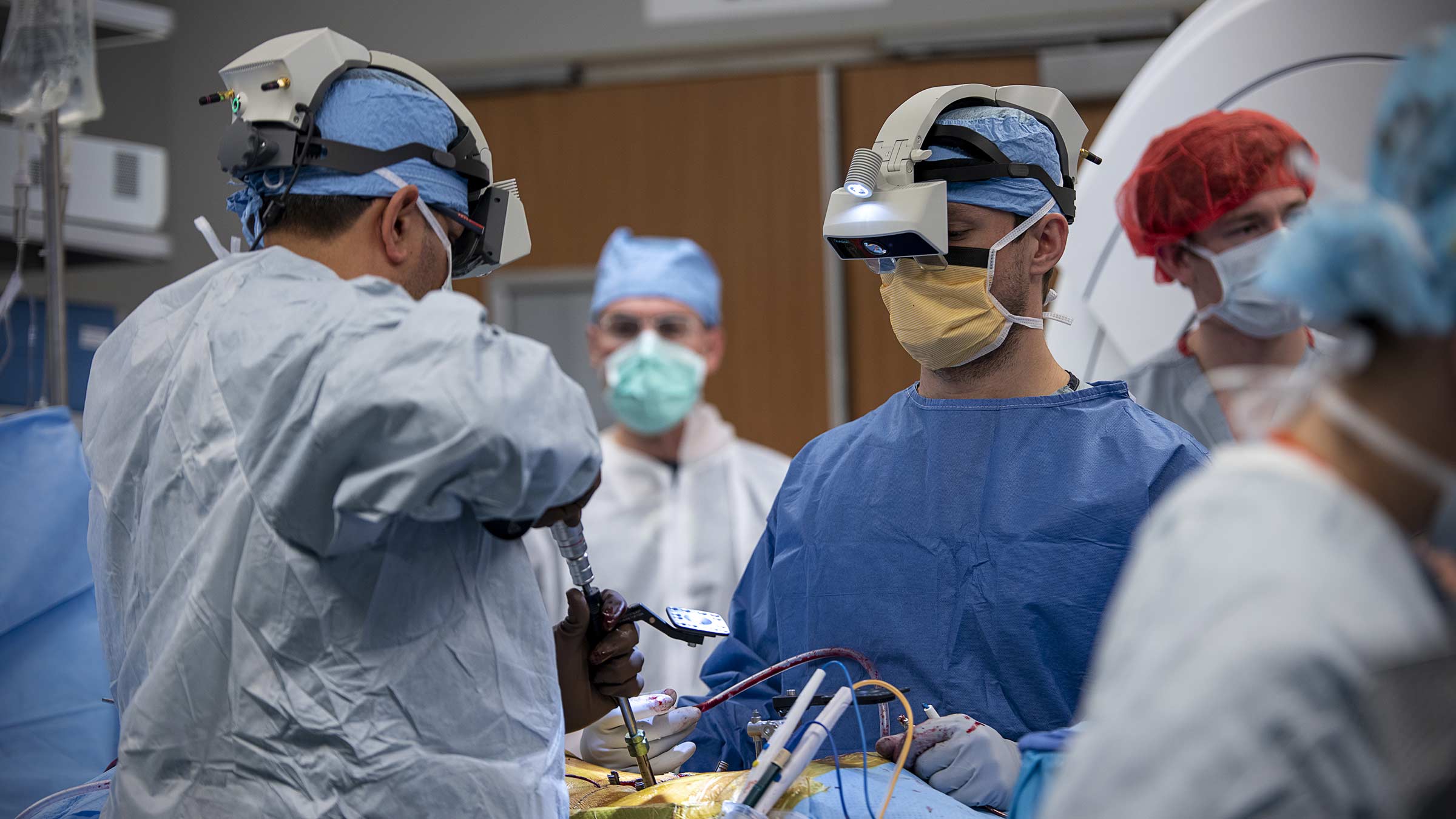 Scratching the surface of augmented reality technology in spine surgery
Dr. Khan has performed about 50 spine operations using the AR glasses and believes the potential for AR technology has just scratched the surface.
"Eventually we'll be able to use the AR glasses to remove the diseased portions of the spine and put in the cages and screws, all though one small incision," he says. The cages currently come in a few different sizes, which means he must select the one that best fits each patient. "I see a day when we'll take exact measurements of each patient and then, with a 3D printer, make personalized implants that are an exact fit for that patient."
Dr. Khan also envisions the day when AR surgery will advance to the point where he'll perform spine surgery in an outpatient clinic. The patient will be able to go home the same day with only minimal pain.
"There is so much more we can do for our patients, and I want to lead that charge."
Long-term solutions to spine problems
Expert, personalized approaches to solving your spine issues.
Learn more