Health
Making more organs available for lung transplants
Transplant surgeon and researcher Bryan Whitson, MD, PhD, is pushing the limits of transplant science.
Meet Bryan Whitson, MD, PhD, on the sidelines of a soccer field, and you'd never know he leads a team of researchers on the verge of making previously unsuitable hearts and lungs viable for organ transplant. Or that after cheering on his kids, he's headed back to the hospital to spend his night performing a complicated lung transplant surgery.
That's because Dr. Whitson is a soft-spoken, salt-of-the-earth man whose humility masks his impressive resume.
He became a professor of Surgery at The Ohio State University College of Medicine in seven years, when most take 10-15. There, as the Jewel and Frank Benson Family Research Professor, he co-directs a team on the cusp of significantly expanding the organ donor pool. Using state-of-the-art technology called ex-vivo lung perfusion (EVLP), they're able to assess the quality of donated lungs, as well as rehabilitate and repair damage to some donor lungs, making more organs available for those awaiting a lung transplant.
In his current role of interim co-director of The Ohio State University Heart and Vascular Center, he inspires colleagues and mentees to be better physicians, researchers and even people.
"He brings people together with reason and inspiration and never by forceful opinions or assertions," says David Nunley, MD, medical director of the Ohio State lung transplant program and professor of Internal Medicine, who considers Dr. Whitson among the most congenial people he's worked with in 30 years. "When you see somebody leading that way, you want to emulate them."
Relaunching Ohio State's lung transplant program
Just out of a fellowship program, Dr. Whitson joined the faculty at The Ohio State University Wexner Medical Center in 2012 with the mandate to breathe life back into the lung transplant program. To qualify for Medicare and Medicaid reimbursement, a transplant center must perform a minimum number of surgeries. The lung transplant program at the time lagged.
Dr. Whitson and now-retired pulmonologist Amy Pope-Harman, MD, spent over a year resurrecting the program. They labored for months working on administrative tasks, assembling a team, developing protocols, applying for credentialing and more.
"There was tremendous pressure, and he was very calm and graceful," recalls Sylvester Black, MD, PhD, a transplant surgeon and professor of Surgery.
Once the program was ready to relaunch, retired nurse Rebecca Cason was the first patient to receive a lung transplant. "She was brave enough to put her life in our hands, and she went on to run 5K races and a half marathon," Dr. Whitson says.
Within a few years, Ohio State became one of the highest-performing lung transplant programs nationally.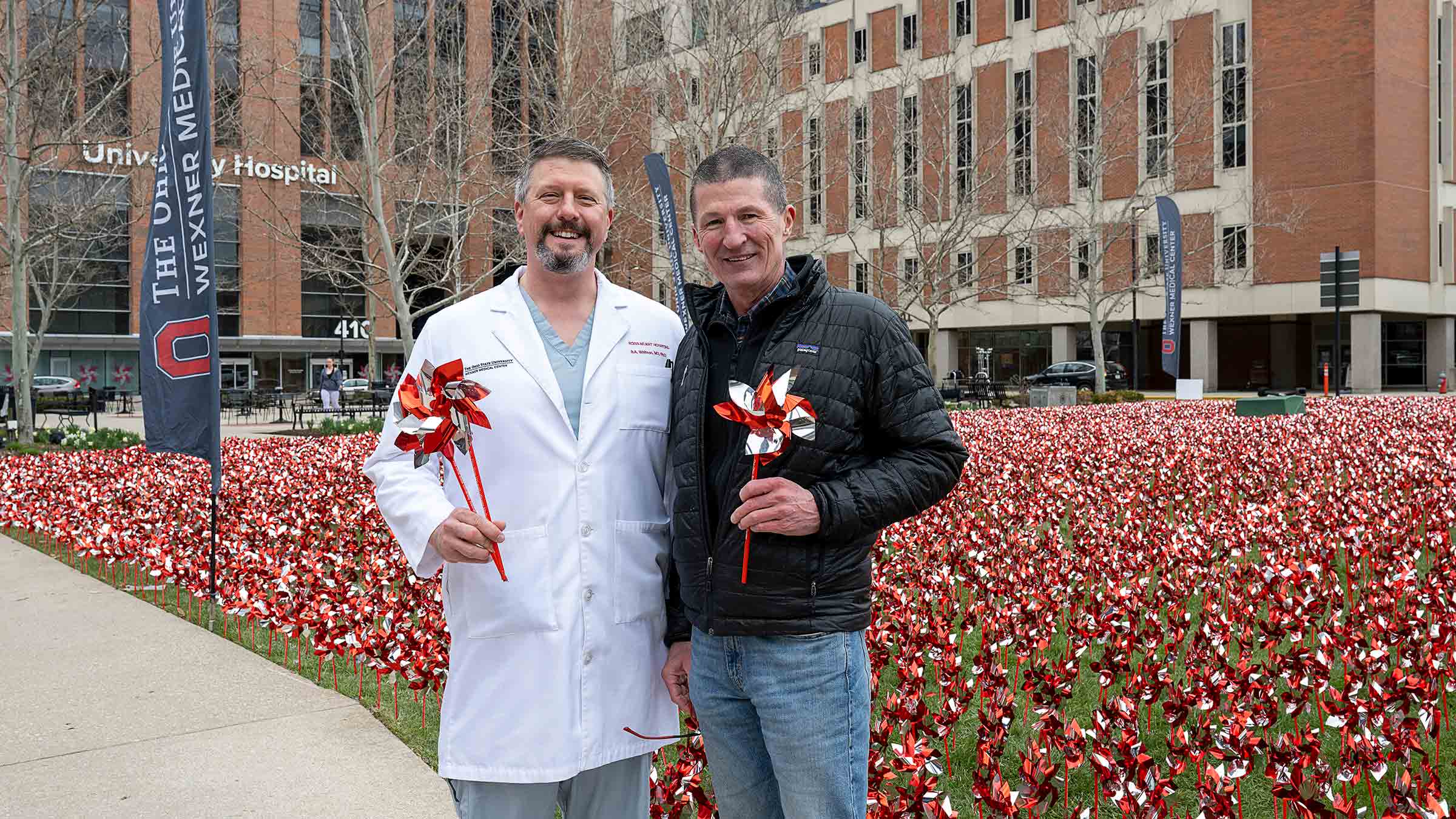 The lung transplant team performs around 10 critical surgeries each month in a demanding field that sits quite literally at the apex of life and death. "There's a great positive benefit for an organ recipient and their family that comes after a huge loss," Dr. Whitson says.
Getting the call: What happens when an organ becomes available for transplant
A friendship that pushes organ transplant and research forward
Dr. Whitson and his colleague and best friend, Dr. Black, have grown their careers and families together. At work they collaborate on surgeries and research, and at home they spend holidays together with their extended families.
The two met in residency and came to Ohio State together. Dr. Whitson works above the diaphragm, and Dr. Black works below when they collaborate on combined heart and liver transplant surgeries.
During high-stakes procedures, while many people in an operation's most stressful moments tend to raise their voices to gain control, Dr. Whitson does the opposite. He gets calmer and speaks softly, according to Dr. Black.
"The whole team feeds off of that," Dr. Black says.
When it comes to research, the two share a common goal: Save more lives by repairing more organs for transplant. They co-direct the Collaboration for Organ Perfusion, Protection, Engineering & Regeneration (COPPER) Lab, researching multiple ways to make more organs eligible for transplant use.
When they first arrived at Ohio State, they mapped out a timeline for their careers and research goals. They've been methodically pursuing that list ever since. "We think now we're at the point, we're really going to have some significant things that can help our patients," Dr. Black says.
Improving organ transplant with focused research projects
When not in surgery, Dr. Whitson and Dr. Black can be found in the COPPER Lab.
A key way to expand organ donation is ex-vivo organ perfusion (EVOP). EVOP is a mechanical system that respirates, warms, nourishes and repairs donor organs outside the body. These clear plastic dome incubators can actually resuscitate organs at the cellular level that would normally be rejected by transplant centers. The technology allows transplant physicians to make marginal organs usable and make healthy transplant organs even better.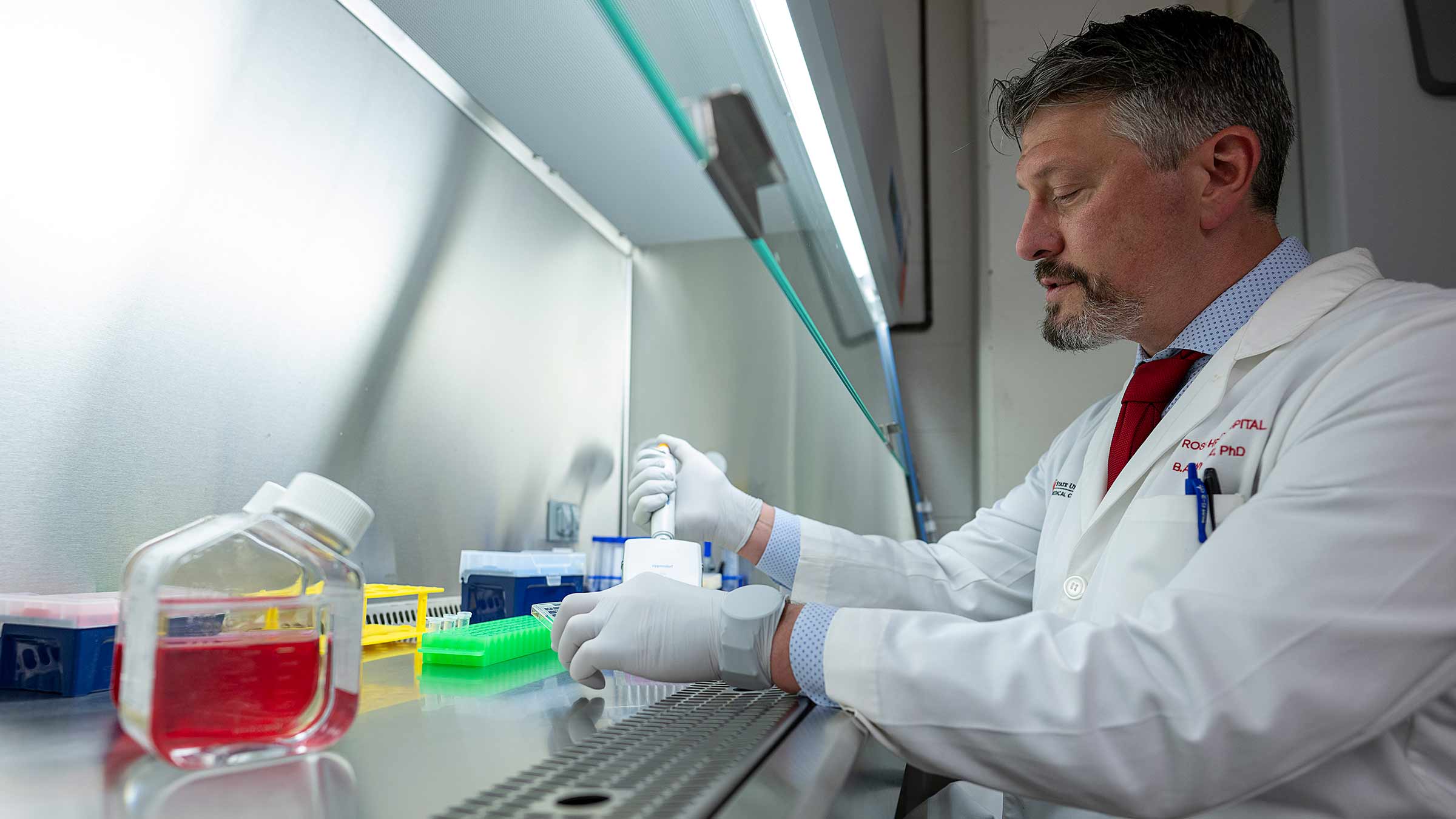 In lung transplants, for example, a three-to-six-hour EVLP process protects and preserves the lungs while physicians monitor their function. Lungs that pass the test can be immediately transplanted into a waiting patient. The more this technology improves, the more organs can be repaired.
In ex-vivo heart perfusion, a novel system preserves donor hearts in a near-physiological, beating state by perfusing them with a warm solution that contains donor blood, nutrients and oxygen. Ohio State is among the first to test perfusion on donor hearts and currently perfuses livers and kidneys, too, in the Organ Assessment and Repair Center.
In addition to EVOP, research at the COPPER Lab is dedicated to organ transplant progress on these parallel fronts:
Artificial blood substitutes: treating organs with a nutrient- and oxygen-rich antibiotic solution that keeps them alive during EVLP and repairs them so the research team can deliver oxygen, assess organ compatibility, inhibit inflammation and repair molecules
Biometric signatures: working to find more advanced ways to identify which organs will fare best for transplant on a molecular level
Engineering endothelial cells: finding ways to protect endothelial cells, commonly known as blood vessel cells, replacing injured ones with healthier ones
Therapeutics: delivering drugs directly to the cells to heal and modify them, returning organs to a healthier state
Researching these areas in parallel will improve organ donation as an aggregate. "We're making marginal lungs usable and potentially good ones even better," Dr. Whitson says.
In the next three to five years, Dr. Whitson hopes to begin clinically testing new ways to repair damaged organs with oxygen, nutrients and therapeutics. "With enough time and support, we can change those organs on the genetic level so the organs function as well as a native organ. That's the next big move in transplant."
Actions speak louder than words
Colleagues consider Dr. Whitson's character to be as solid as his research and work ethic. Asvin Ganapathi, MD, a cardiac transplant surgeon and assistant professor of surgery at the Ohio State College of Medicine, shares an experience that physicians in the heart and lung transplant team know all too well.
It was a Saturday night transplant around 10 p.m. when the patient's anatomy made the procedure harder than Dr. Ganapathi expected. He called Dr. Whitson at home for help. After already working a 12-hour shift and finally at home with his family, Dr. Whitson headed back to the hospital to scrub in for the surgery.
"That's a testament to the kind of person he is," Dr. Ganapathi says. "I've learned from him how to be an effective leader by being a participatory leader."
During the pandemic, Dr. Whitson was one of the catalysts who made Ohio State a national leader in both volume and results for rapid evaluations and transplants for acute COVID-19. Dr. Nunley cites those lung transplants as the most challenging patients he's ever experienced. "That took incredible foresight to muster the resources and get everybody on the same page. This was not a path many programs chose to take," Dr. Nunley says.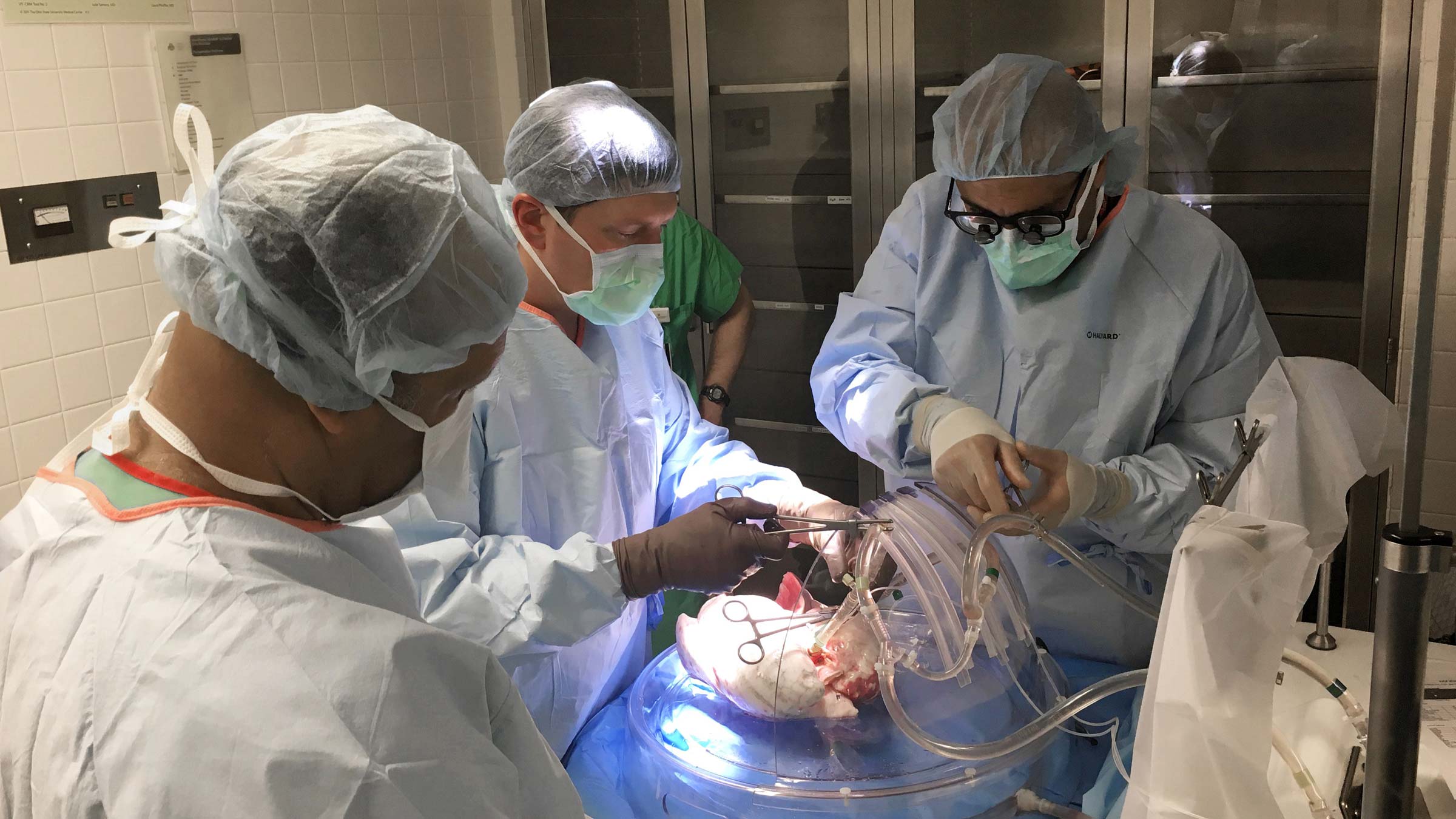 Dr. Whitson manages his exacting work while still finding time for family, dashing out of the hospital to watch his kids play competitive sports.
"He's been doing that for as long as I've known him, and the amount of energy he has is remarkable," Dr. Black says.
To Dr. Whitson, staying grounded by family guides him through his job's demands. After he performs a transplant, he finds time to hug his kids and tell them he loves them.
"We see all these tragic stories for organ donors and people needing transplants. We've all got a little bit of time on this planet to do the best we can," he says.
Of every 8-10 people who need a lung transplant, only one typically qualifies. The stories of those Dr. Whitson and his team save drive him to find ways to help more patients. There's the painter who returned with a gift of artwork that hangs in the Ohio State Richard M. Ross Heart Hospital gallery. There's the umpire who was transplanted nearly a decade ago and still sends notes about baseball news. And there are those patients who invite Dr. Whitson to join them as a guest at their weddings or other milestones.
The future of lung transplant is near
For all Dr. Whitson's success helping patients get a new lease on life, it's those he can't help who stay with him.
"If we can get to the point where people aren't dying on the waiting list — if I can have an impact on that — it's something I'll be proud of," he says.
Consider becoming a Buckeye for Life through organ donation.
Learn how