Wellness
Moving a relative to assisted living: How to talk about it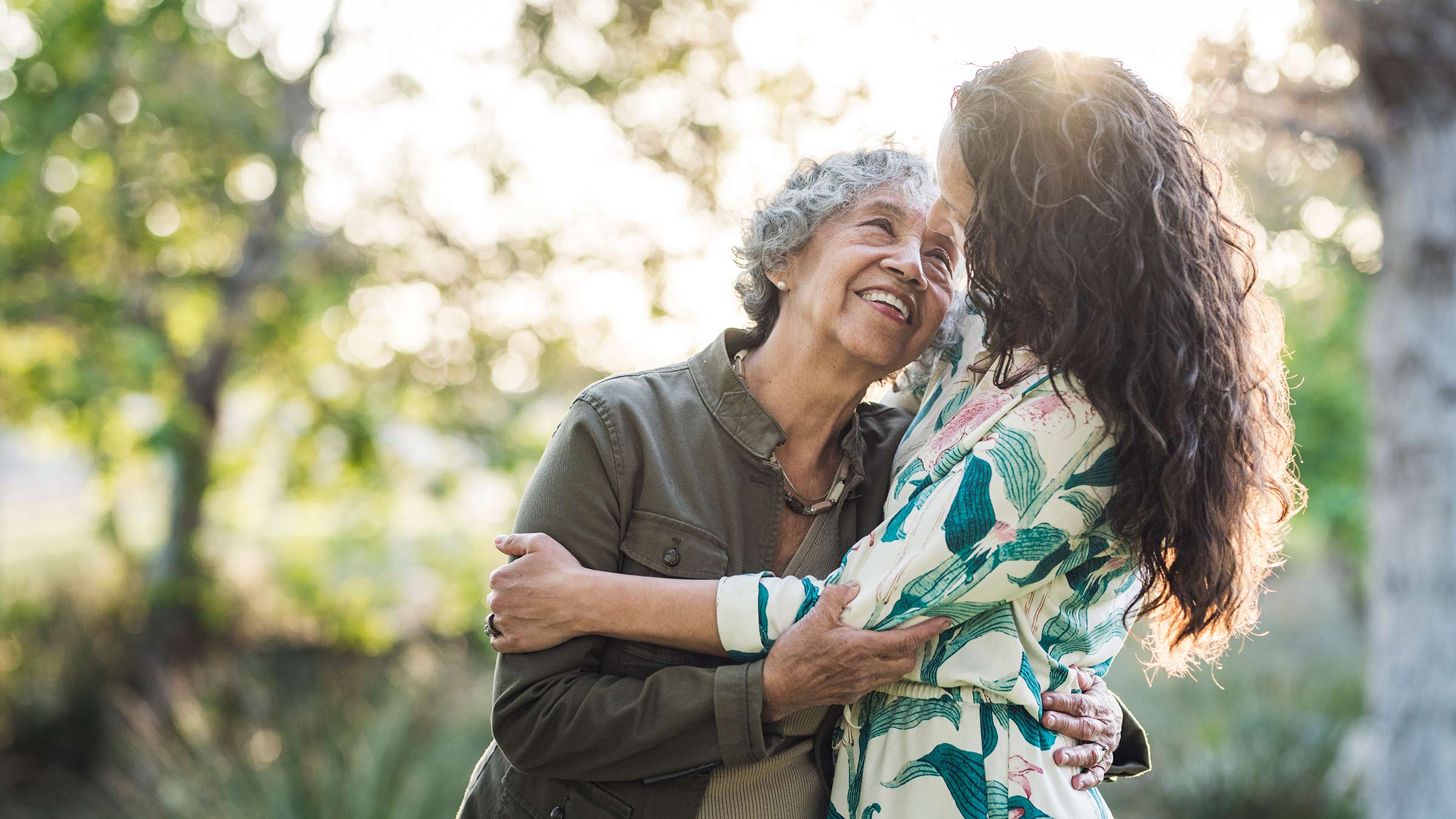 In my 16 years as a physician for older adults, I've never met a patient who wasn't committed to living independently for as long as possible. Being "put in a home" against their will is one of the greatest fears among seniors I encounter.
Coercing a loved one to move out of their home is never ideal. It's not even particularly helpful. Instead, I recommend making decisions together as a family when an aging adult needs more support.
The truth is that assisted living can enhance an older adult's ability to live as independently as possible. When a senior would benefit from an assisted living community, it's important to come to a mutually agreeable solution.
Making these decisions easier means starting conversations early — before they are necessary or urgent.
When to start the conversation about assisted living
The time to open up dialogue about how your loved one wants to live as they age is now. It's a good idea to speak to your loved one regularly about their goals for independent living. Find out what they think might be helpful down the road as they're living on their own. Reassess that annually as health and needs change.
Because these can be stressful conversations, consider having them periodically rather than when it's urgent. That way, when a need becomes more immediate, planning can be smoother.
Opening up the discussion about an older adult's living space and the pros and cons of remaining home makes finding solutions easier.
Signs someone should consider moving to assisted living
Sometimes the fact that an aging adult needs more help is irrefutable. The biggest indicator that it's time to consider new living arrangements is when challenges arise without a concrete plan to manage them.
For example, if the home environment has stairs or other environmental hazards that are becoming increasingly difficult, an aging adult will need a plan to navigate that successfully. If installing a ramp or chair lift proves too expensive or daunting, it might be time to consider moving.
When there's a lack of ability or no clear idea about where resources can come from, it becomes necessary to start talking about finding other living arrangements that can help support an older adult.
Following are some indications that your loved one may no longer be safe living in their home independently:
Low vision increases the likelihood of falls, limits mobility and makes daily tasks hard to manage.
Physical ailments that get increasingly worse.
Cognitive impairment that progresses.
Loss of driver's license and the inability to take public transportation or ride shares.
Isolation from friends, family and community.
Can you move someone to assisted living against their will?
The short answer is no. It's very hard in the United States to move someone to assisted living against their will. In the case of someone unable to make decisions on their own, there is a court-assisted evaluation process.
In advanced care planning, especially in a case of cognitive decline, there are situations where you can make decisions on a loved one's behalf by having a power of attorney. This involves becoming a court-appointed guardian.
But when an older adult can make decisions, this cannot be activated. Autonomy is highly preserved in our culture. The way we approach health care decision-making reflects that value.
This is why it's important to start the conversation early about your loved one's goals for living as independently as possible. You don't want to wait until a crisis arises to make a plan.
Questions to consider when deciding if it's time to move to assisted living
Multiple challenges typically make it apparent that an older adult needs to move to assisted living. The following are questions to discuss when deciding with your loved one.
What's your loved one's current health status and everyday function?
Are you concerned about isolation and loneliness that can't be remedied in the home environment?
Is there a cognitive disorder that will limit the person's ability to safely live alone?
Does your loved one have a spouse or partner who can provide support at home?
Does your loved one need help with basic or higher-level care that can't be met through formal (paid) or informal (unpaid) support?
Does a physical issue affect the person's safety or increase the likelihood of frequent falls?
Are there sensory impairment issues, such as vision and balance problems, that can't be effectively managed in the home environment?
What are the environmental concerns in the home?
How to address common fears about moving to assisted living
If you think your loved one could be better supported in assisted living, gently bring up the idea of moving. It's important to find the right language. What is most helpful is having casual conversations about the topic regularly.
Start by asking your loved one how their environment works for them. What's not working? How can you make that situation better?
Medical visits can be important to move the needle on some of those discussions.
Here's an example of how I typically have that conversation in my office:
The last time we talked, you were living in your home. You have some occasional visits from family. How is that working for you?
Depending on the response, I'll follow up with this:
I'm taking into consideration some of the things you've been telling me about how it's getting harder for you to get around in your home, that you're starting to limit the amount you drive and that your mobility challenges are making it harder to get out of the house.
Are any of the things about your home environment making it difficult for you to live as independently as you would like?
What can we do to make that go better? I'm thinking of a home-based community program that can provide more support.
Have you thought about a living community that can offer more support with basic care needs like doing your laundry, meal preparation and transportation? You'd also have some access to health care there.
It would be a smaller living accommodation, but it could help limit some of your stress around managing the house and navigating your environment.
Often, at that point, my patient will mention a place they visited. I'll acknowledge their impression with something like the following:
I know it's not home, but are there things about it that might be workable?
This typically ends up being a productive discussion.
Checklist for moving a loved one to assisted living
Moving a loved one to assisted living is never easy. Being prepared can help ensure a smooth transition.
1

Research assisted living facilities

Research and visit multiple assisted living communities together with your loved one. Consider location, services, cost, reputation and staff qualifications.
2

Determine cost

Understand the cost structure and payment options. Be sure to ask about any extra fees. Assess your loved one's financial resources and explore potential funding options such as long-term care insurance, veteran benefits and Medicaid.
3

Coordinate medical care

Obtain medical records and prescriptions from their current health care providers. Coordinate with the new assisted living facility to transfer medical care and manage medication.
4

Downsizing and packing

Help your loved one sort through their belongings and decide what to keep, donate or sell. This can be one of the biggest hurdles for seniors with a lifetime of belongings, so be patient. Pack and label boxes.
5

Notify relevant parties

Provide family, friends and neighbors with new contact information. Like any move, update relevant banks, insurance companies, health care providers, etc.
6

Set up the new living space

Visit the new room or apartment beforehand to familiarize yourself with the layout.
Arrange furniture, personal belongings and any necessary medical equipment. Ensure safety measures are met, such as grab bars and non-slip mats.
7

Support emotional well-being

Offer emotional support and reassurance throughout the transition. Consider participating in activities and socializing with other residents, especially in the beginning.
8

Stay in touch

Schedule follow-up meetings with the assisted living facility staff to discuss your loved one's well-being and address concerns. Continue to advocate for your loved one's needs and ensure they receive appropriate care.

When it becomes more challenging for seniors to live on their own, extra support at an assisted living facility can help them remain as independent as possible. The companionship, activities and socialization these communities offer might be exactly what your loved one needs.

But most importantly, consider what the older adult in your life needs and prefers so you can decide together what's best.
The first step in the journey to your best health begins with a primary care provider who cares
Get started today