Discovery & Innovation
Inspired by personal experiences, philanthropic giving fuels gene therapy at Ohio State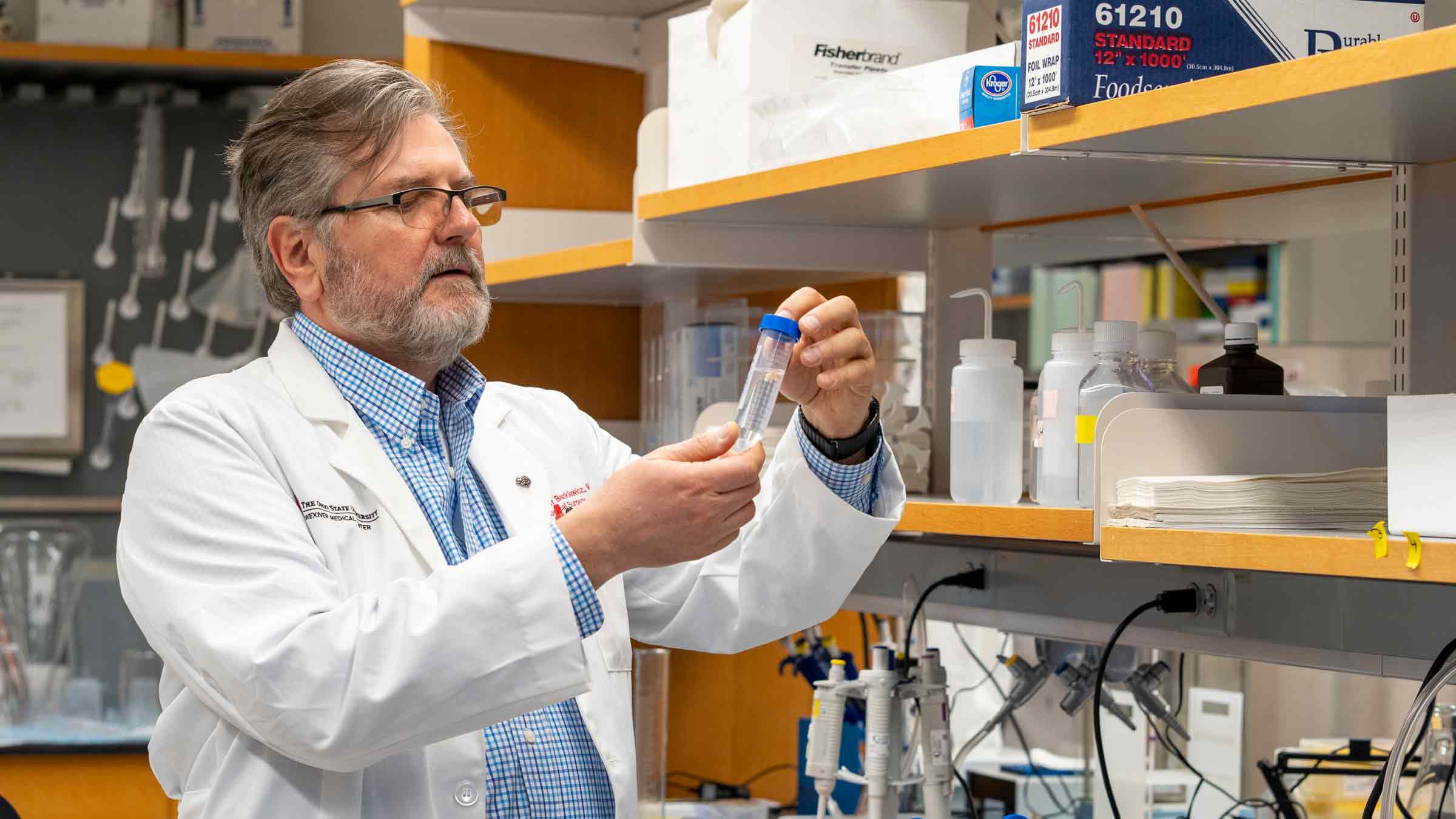 Private philanthropy fuels faculty and researchers in their pursuit of creative, unorthodox ideas that challenge conventional wisdom and have the potential to revolutionize medicine. One of those revolutionary ideas is gene therapy. A fairly new advancement in science — only around for about 30 years — gene therapy is designed to correct mutations in a person's DNA, the genetic material we inherit from our parents. The gene therapy research taking place at The Ohio State University Wexner Medical Center has been moved forward by Stan and Jodi Ross of Columbus and the Harry T. Mangurian, Jr. Foundation based in Ft. Lauderdale, Florida, as its initial philanthropic partners.
Despite the 1,200-plus miles that separate them geographically, the Rosses and the Mangurian Foundation were similarly driven by personal experiences to invest in neurological research — including gene therapy — at Ohio State.
A longtime car racing enthusiast, Stan Ross passed on his love for the sport to his son, Malcolm, at a young age. On the day of his high school graduation in 1993, Malcolm broke his neck in a race car accident at the Indianapolis Raceway Park. After being treated at a nearby hospital, he was transferred to the Ohio State Wexner Medical center, where a team of neurologists, physical therapists and other medical professionals helped him recover over many months.
The Rosses say the care their son received at Ohio State inspired them to donate $10 million in 2015 to establish the Stanley D. and Joan H. Ross Center for Brain Health and Performance. A portion of their gift has bolstered research led by Krystof Bankiewicz, MD, PhD, a world-renowned neurosurgeon and pioneer in gene therapy who serves as the Center for Brain Health and Performance director and holds the Gilbert and Kathryn Mitchell Chair.
How gene therapy is changing lives at Ohio State
"The brain is the last frontier in medicine, and we're just at the beginning of discovering what can be done to optimize it and help millions of people," Stan Ross says. "It's exciting to see the impact that gene therapy can have on neurological conditions, and we are proud to support the work of Dr. Bankiewicz and his team to make Ohio State a global leader in this field."
Like the Rosses, the Mangurian Foundation also has been a champion of the promise of gene therapy.

Formed in 1999 by Harry T. Mangurian Jr., a Florida businessman and former owner of the Boston Celtics, and his wife Dorothy, the Mangurian Foundation supports medical, educational and environmental organizations throughout the world. In addition to supporting leukemia research after Harry died from the disease in 2008, The Mangurian Foundation has provided funding for neurological discoveries following Dorothy's death from Lewy body dementia in 2015.
As part of its $10 million commitment to Ohio State in 2020, the Mangurian Foundation has helped advance new diagnostics and treatments for neurological conditions, which include gene therapy.
"Our goal as a foundation is to help accelerate research that will change and save lives," says Stephen Mehallis, president of the Mangurian Foundation. "Gene therapy is collaborative, visionary and innovative, and Ohio State is at the center of this groundbreaking work. We are thrilled to support it."
A critical component of the gene therapy treatment model is producing adeno-associated viral (AAV) vectors. AAV vectors, which are used in 90% of gene therapy trials, are the vehicles that carry therapeutic genes to their targeted location in the brain during treatment.
The respective gifts from the Rosses and the Mangurian Foundation have aided the Bankiewicz Lab in purchasing equipment for its new AAV vector production core. The ability to manufacture research-grade AAV vectors has helped diminish outsourcing of productions that typically would take two to six months. As a result, potential therapeutics can be expediently tested, accelerating preclinical development and progress toward clinical trials.
Philanthropy key to launching Ohio State's Gene Therapy Institute
Support from these donors also has been instrumental to the creation of Ohio State's newly announced Gene Therapy Institute. With the world's largest portfolio of first-in-human clinical trials and significant grants – including a $14.6 million award from the National Institutes of Health — for gene therapy, the institute will allow for further growth and breakthroughs.
"The Gene Therapy Institute represents the breadth and depth of our research, educational programs, partnerships and technologies," says Russell Lonser, MD, professor and chair of the Department of Neurological Surgery, who'll lead the institute with Dr. Bankiewicz. "By bringing these strengths together, we will effectively and swiftly advance gene therapy treatments for patients – and it would not be possible without philanthropic partners like the Ross family and the Mangurian Foundation."
The Gene Therapy Institute will make its home in Ohio State's Interdisciplinary Research Facility (IRF) opening in 2023. This anchor facility for Carmenton, the burgeoning innovation district located on the university's West Campus, is also supported by the Rosses and the Mangurian Foundation.
"The IRF will be the place where science and the community can converge to find solutions that will improve people's lives and inspire the next generation," says Peter Mohler, PhD, vice president of Research at The Ohio State University and chief scientific officer at the Ohio State Wexner Medical Center. "This collaborative institute will have a prominent presence in the IRF, and it is inspiring that these incredible donors who have supported gene therapy's potential in the past are continuing to invest in its future."
Your support fuels life-changing gene therapy
Give to support groundbreaking gene therapy research at Ohio State.
Ways to Give
Transforming lives for people with brain and spine disorders
Learn more and schedule an appointment.
Expert care starts here